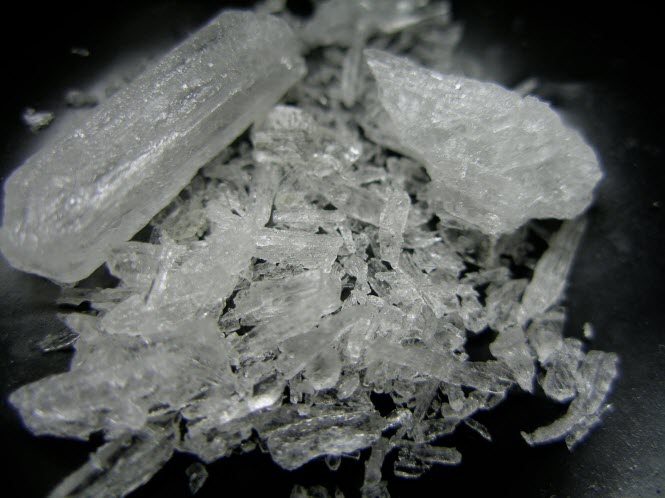 On Saturday morning I was perusing the local news when I saw a story in the Sacramento Bee whose headline was, "Woman accused of drug offenses after bicycle stop in West Sacramento."  My first thought was, "Ah, let me guess, a person of color was arrested."
Sure enough, reading the story it was a 24-year-old woman with a Hispanic name.
But that's not all we have that is curious here.  The woman was stopped for an unspecified bicycle violation and arrested after she was allegedly found to be in possession of meth.
The story reads, "A Yolo County Sheriff's deputy stopped the bicyclist on southbound Sixth Street about 8:43 p.m. Thursday. The woman told the deputy that she was on probation in Yolo County for receiving stolen property, and a subsequent search revealed that she had 0.14 grams of methamphetamine, according to a Sheriff's Office news release."
Unlike the Bee, we do not think the 24-year-old West Sacramento resident needs to have her name re-printed.  According to the story, she "was arrested on suspicion of possession of a controlled substance, possession of controlled-substance paraphernalia and a probation violation. She was booked into Yolo County Jail with bail set at $90,000."
This leads us to a number of questions that frankly far outweigh the importance of this story.
First of all, for some reason the Yolo County Sheriff's Department actually sent out a press release about a Latina woman who had .14 grams of meth.  Think about that – they don't send out press releases on every arrest – so why this one?
There is nothing in the story that appears unusual or interesting, which is, ironically, what caught my attention here.
But more than this, this Sacramento Bee chose to print this story.  I get a lot of press releases, and unless they are highly interesting, we do not print them or comment on them.  There has to be some discretion here.
They listed the lady's name in their story, so they are putting her name in the public record for a most minor drug violation.
But the story actually gets a lot worse from here.  She was on probation for receiving stolen property, so she will be facing a violation of probation (VOP) to begin with.  But her possession of .14 grams of meth is actually a felony.
The other point here is that her bail was set at $90,000.  The bail schedule for possession of meth is normally about $10,000 and, even with the VOP, the schedule should increase only by that much.
Think about this: most likely, she is not going to be able to make bail.  What that means is that she will be held in custody at least until she can appear in front of a judge and have an attorney appeal for a reduced bail sentence.
Now, in a county that has complained that they do not have a lot of space in their jail and complained that AB 209 has caused them to have to release dangerous criminals into the population or, at the very least, expand the jail cell, this type of pre-trial custody situation cannot be helping the problem.
Think about this … while this woman is sitting in custody for possessing .14 grams of meth, Clayton Garzon, who committed an assault with a deadly weapon, was out on bail when he attacked Mikey Partida last spring, and Mr. Garzon, even after that brutal attack, was free on bail.
At the same time, this woman will be sitting in custody.
As it turns out, perhaps the sheriff's department and the Sacramento Bee were right to have publicized this case.  They severely buried the lead, but this case, ironically enough, shows us everything that is wrong with our criminal justice system.
While Yolo County's DA continues to perpetuate this system that he has acknowledged is broken, San Francisco District Attorney George Gascón and San Diego Police Chief William Landsdowne filed an initiative with state officials Thursday that would defelonize most drug possession and non-violent offenses.
"The Safe Neighborhoods and Schools Act," would "ensure that prison spending is focused on violent and serious offenses, maximize alternatives for non-serious, nonviolent crime, and invest the savings generated from this Act into prevention and support programs in K-12 schools, victim services, and mental health and drug treatment."
It would "require misdemeanors instead of felonies for non-serious, nonviolent crimes like petty theft and drug possession, unless the defendant has prior convictions for specified violent or serious crimes."
Moreover, it would also authorize re-sentencing for anyone sentenced as a felon for acts which would become misdemeanors.
"I really think the timing is right – it's a great opportunity to reform a part of our criminal justice system that's been broken for so long," District Attorney George Gascón told the San Francisco Chronicle. "We are looking basically at creating a scenario where we can prioritize violent crimes, we can keep dangerous criminals locked up, but move away from locking up people who basically just need medical help."
As we wait for the day when these kind of common sense solutions can become the law of the land, we must extend our gratitude to the sheriff's department for keeping us safe from people possessing minute quantities of meth and for the Sacramento Bee's efforts to investigate the racket that is drug enforcement.
—David M. Greenwald reporting