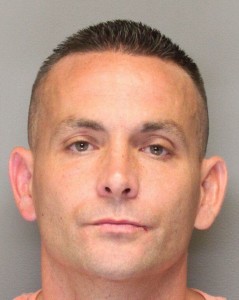 by Antoinnette Borbon
Judge Rosenberg Finds Victim's Testimony Believable - After a long emotional hearing for both the victim's family and the Dixon High coach and his family, Judge Rosenberg read his ruling this morning. He stated, "I do believe the testimony of the victim."
In a Penal Code section 1204 sentencing hearing, Defense put one of the young boys of the defendant on the stand to talk about what kind of father his dad had been, Mr. Hensley's 14-year-old son, told the court, "I cannot imagine what it would be like to not have my dad with me when I play, it would be difficult."
The young man gave testimony of a good father, one that had not only been a great coach to him but several others in years past. He stated, "My dad took in kids who wanted to play sports in Dixon but couldn't because they lived out of town."
He said his dad has always been there for him and his siblings.
Testifying later was the wife of Mr. Hensley. In very emotional and tearful testimony, she would describe life with Troy. She said they struggled in their marriage but stayed together. She said her husband had coached for years with little or no pay and the family had helped raise money for the school to keep a sports curriculum going.
"I can't remember a time when Troy was not coaching." said a tearful Mrs. Hensley. "He has been a good role model for our boys."
Deputy District Attorney Deanna Hays asked in cross-examination, "Do you think it's being a good role model to have your husband be involved with other women?"
"No," answered Mrs. Hensley.
Mrs. Hensley told the court Troy Hensley has been in counseling for his problems and has remorse for what he has done to both families.
After testimony wrapped up, four members of the victim's family, including the victim herself, read statements to the judge.
Troy Hensley received a plea deal of one year in county jail, and four years' probation, with a stipulation that he do no more coaching, mentoring or tutoring of any youth, but Judge Rosenberg added, "I am not going to make him register as a sex offender."
Judge Rosenberg said, "This was a difficult case but I do believe the victim."  But he also stated in reviewing the psychological evaluations of Hensley that he felt he was not a risk to the public.
Mr. Hensley was arrested in June and held to answer in August on charges that he carried out a lengthy sexual relationship with a then 17-year-old student for four months while she was underage.
Judge David Rosenberg, despite holding Mr. Hensley to answer for all of his felony charges, had suggested that this case was ripe for some sort of plea agreement.  Following the preliminary hearing, however, the DA suddenly added additional charges, reasoning that the illegal sexual contact had begun earlier than the DA originally charged.  Mr. Hensley faced 44 felonies at this point.
In November, Troy  Hensley, now 38, admitted to three of those 44 charges against him, two counts of unlawful sexual intercourse with a minor and one count of digital penetration. The remaining 41 counts, including dissuading a witness and criminal threats, considered the most serious charges against him, were dismissed under the plea deal.
During the preliminary hearing, defense attorney Stephen Sabbadini was able to note the discussion with the alleged victim and Davis Police Corporal Keirith Briesenick, who warned her that the criminal threats were the most felonious conduct and that the sex charges were wobblers (may be charged as misdemeanors).
The threat charges, dissuading a witness and criminal threats, were going to be nearly impossible to prove.  The most serious allegedly occurred on a couch of a hotel room in Davis in March, in which he told her that he would kill her, her family, his family, his kids, his wife, if they found out about the relationship.
At first the alleged victim indicated that there were threats via text message.  However, Mr. Sabbadini would be able to get her to acknowledge that no threats occurred via text message.  There appeared to be no witnesses to the actual threat, though Corporal Briesenick was able to note from her taped conversation with the alleged victim in May that she made those allegations.
Defense attorney Sabbadini released this statement yesterday and Hensley was cuffed and taken into custody to serve his time in custody.
Steven Sabbadini, Attorney for Mr. Hensley, issued a statement that read, "This was an exceptionally polarizing case.  There has been a lot of misinformation released to the news outlets by the young woman involved in this case and her family, especially regarding how this relationship was initiated and regarding threats allegedly made by Mr. Hensley to her and her family when he terminated the relationship and this case became public."
"I believe there was a lot of denial and embarrassment on the part of this young woman and her family regarding this inappropriate relationship with Mr. Hensley," Mr. Sabbadini stated.  "Our office conducted a thorough investigation in order to dispel this misinformation with facts, and the facts revealed that this was a consensual, mutual, but unlawful relationship with a woman that was close to 18 years of age, and that no threats or intimation were involved."
He continued, "As a result of our investigation, we were able to reach a reasonable resolution of this case on behalf of Mr. Hensley.  Mr. Hensley was charged with 45 felony counts. Forty-two of those felony counts were dismissed, including allegations pertaining to threatening and/or intimidating a victim."
"Our office and the prosecution both supplied the court with a substantial amount of information that the Judge evaluated. As much as she and her family disagree, I believe that Judge Rosenberg got it right," Mr. Sabbadini continued.  "He reviewed all of the facts and circumstances involved and granted Mr. Hensley probation without requiring sex offender registration or any terms or conditions of probation typically given to sex offenders."