In light of four high profile shootings in a two month period there were concerns growing in the community that these shootings were a reflection of a rise in crime that threatened the city of Davis.  Accordingly, the Vanguard acquired the last two years of uniform crime statistics, the same statistics that the city sends on a monthly basis to the Justice Department.
A cursory examination of these statistics however, show little evidence of an increase in the crime rate in Davis over the last two years.  And if anything the categories of burglary and larceny have trended down over that period, assault has remained stable if not a slightly downward trajectory, and motor theft has fluctuated but has at most remained stable if not also a slightly downward trajectory.
The shootings triggered a
Vanguard article on October 4
, which asked whether they were a sign of things to come or an aberration.  At this point, the answer seems to be an aberration.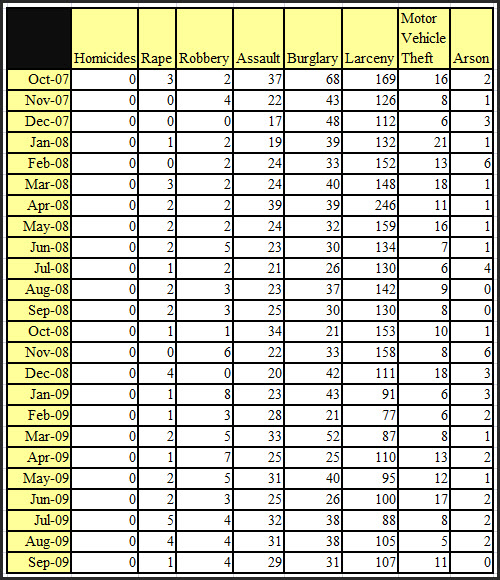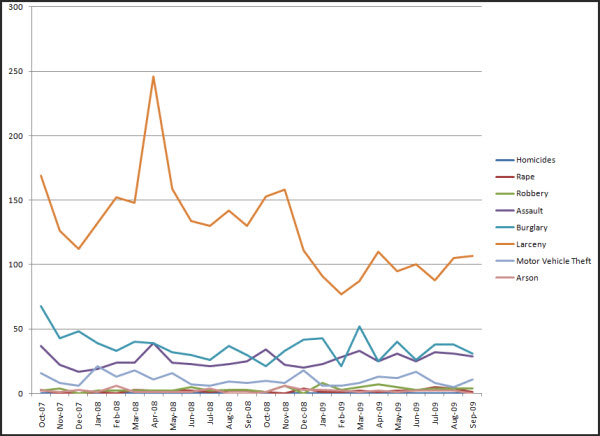 Police Chief Landy Black suggested the nature of these shootings could not have been more random.  And that while the close proximity might cause a blip in the statistics, if we do not have any more shootings for a while, it would be well within the norm.
On August 8, someone shot into an occupied apartment on the 1100 block of J Street.  There were neither injuries nor arrests in that case.
On September 13, police responded to an individual shooting at another individual in the downtown area after a large fight had been broken up.  Again no injuries and no arrests.
Then on September 26, four adults were arrested at an apartment complex on Cantrill Drive.
Most recently, a Sheriff's Deputy tried to serve eviction orders on a resident in an apartment complex on Hanover Drive.  The resident opened the door baring a knife, was shot and then threw the knife at the deputy after being shot.  She only suffered minor wounds.
Of the incidents, the most concerning according to the Chief might have been the fight in the downtown area which might have the potential to repeat itself if care is not taken.  Otherwise they are simply random events that are only coincidental in terms of time.
The crime statistics show little indication of even the slightest of upticks in crime rate.
—David M. Greenwald reporting