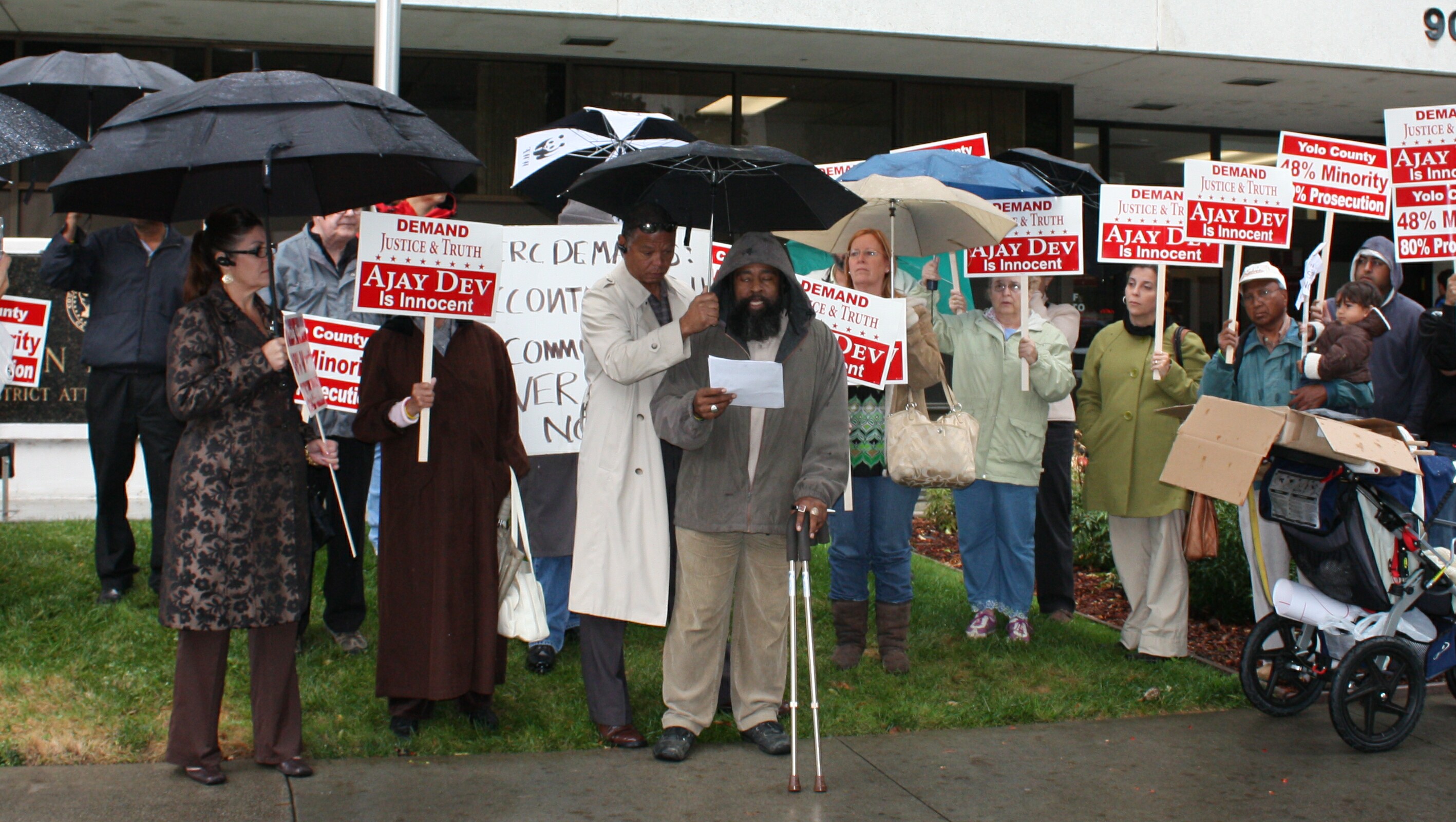 Around 30 protesters carrying signs and braving a light but steady rain gathered in front of the Sacramento District Attorney's Office and then marched to the Matsui Courthouse in order to deliver a letter to US Attorney General Eric Holder asking for an investigation into the District Attorneys–Jeff Reisig of Yolo County and Jan Scully of Sacramento County.
Organizer Rev. Ashiya Odeye from the Justice Reform Coalition told the Vanguard late Monday:
"We are asking the AG to investigate both DA's and their departments for violations of Title 6 of the Civil Rights Act. We also want him to stop all funding until after the investigation concludes. Our ultimate is to have both DA's removed or resign."
While there were a number of experiences mentioned from both counties on Monday, a large contingent of the protesters came in opposition to the Ajay Dev case.
Rev. Odeye told the Vanguard that they are asking for intervention because their experience tells them
"The Judges and DA are in such collusion, that you can't expect to get a fair trial."
The letter that Rev. Odeye delivered with supporters to the Attorney General and also Congresswoman Doris Matsui's office read in part:
"The "justice train" has been derailed here in California. Over the past three years, the advocates and organizations that are a part of the Justice Reform Coalition, and those we work with have been dealing with the fallout caused by the abusive, wasteful, racist, and reactionary practices and policies of the DA's of Sacramento, and Yolo Counties. We see instance after instance of the negative effects of these overtly discriminatory policies on people, families, and the community in general. Together they form a pattern of abuse and disregard for the law and the rights of our citizens, especially those of color and on the lowest rungs of the economic ladder. Our communities are no safer than they were before these tyrants took office."
It continued:
"The DA's in both counties run their departments as their personal fiefdoms, subject to their prejudices special interests and attitudes. Exaggerated charges, and overly long sentencing used to coerce plea taking to get high conviction rates to keep government funded grants, and vindictive prosecutions, and intimidations especially against people of color, are part of the usual tactics of these departments run by these two DA's. Racism and racial profiling abound. These policies affect the courts and allow for judicial and law enforcement misconduct to happen and go unchecked.
Attorneys know that under Jan Scully and Jeff  Reisig, their clients are guilty until proven innocent. They tell their clients so. We hear it from people all the time. This is a violation of the basic tenet of our country's legal system and the Constitution. These DA's are the law, attorneys say to their clients, and their clients tell us. Attorneys that practice in the domains of these DA's, fear retaliation when they fight for their clients, and characteristically fail to give their clients effectual counsel and  over 90% plea out their cases. Black and Latino defendants are subjected to this more than Whites.

Because of this, most don't get their true due process as guaranteed in the Constitution. The wholesale violation of people's rights is then tolerated and many innocent people go to jail and others are given sentences that don't fit the crime. This is especially true for people of color. Children of color are charged as adults more than Whites, especially in Sacramento. They are routinely given "gang enhancements", when they are not gang members. Their futures are ruined in the name of the law and more grant money. Prosecutions for pay! These DA's take pride in this, saying it shows they are "tuff" on crime."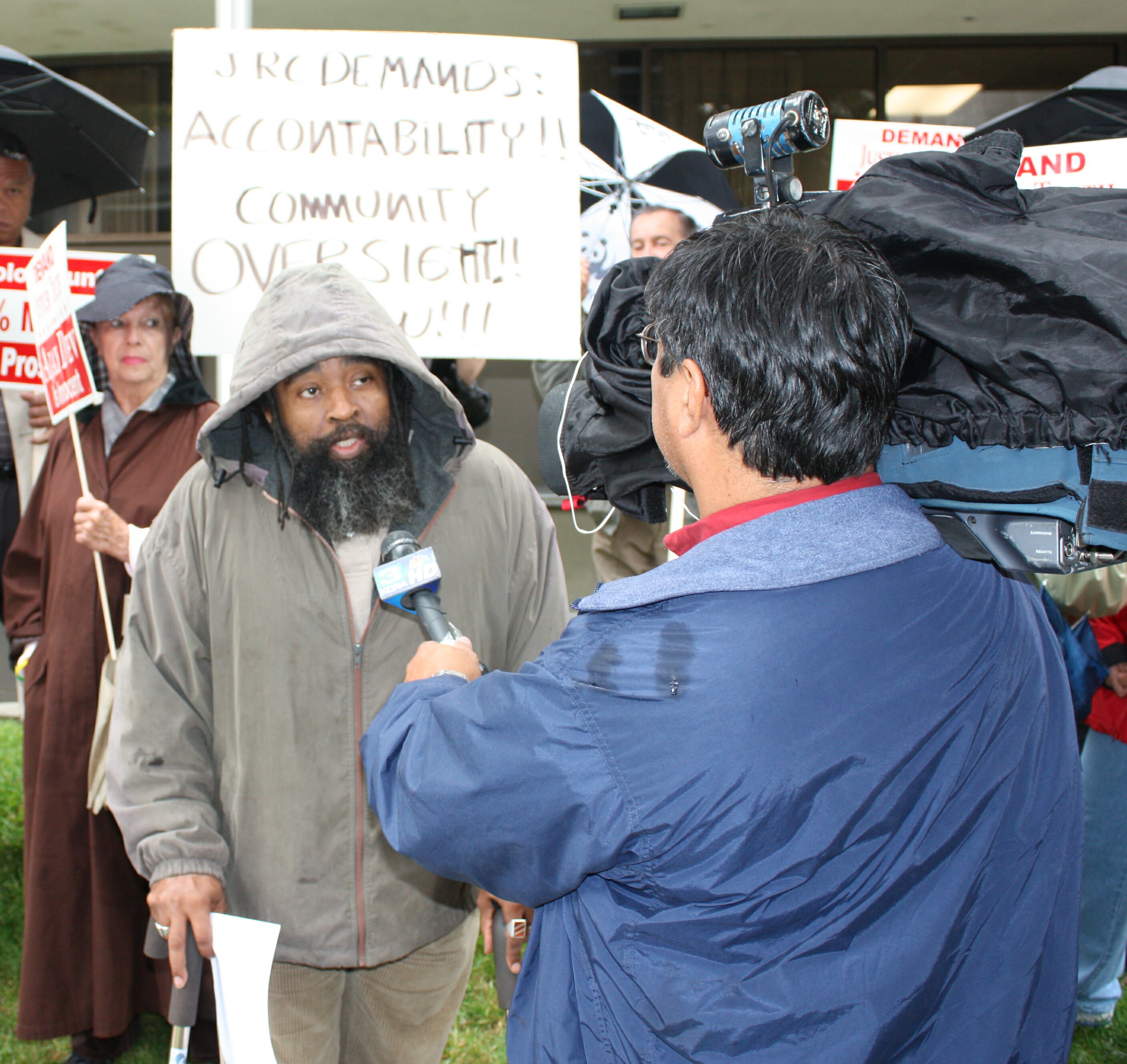 They call on an investigation into the respective District Attorneys and their offices.
"Therefore the JRC is demanding that the DOJ do its duty and initiate an investigation into DA Jan Scully and Jeff Reisig, and their departments. There are several recent cases which illustrate the things we are referring to which you can use as a point to start your investigation."
Yolo County District Attorney Jeff Reisig recently touted his 90 percent conviction in an early October fundraiser.
He has linked his high conviction rate to lower crime.
"Crime in Yolo County has decreased every single year, ever since I've been DA."
Of course he fails to note that crime across the map has declined in most locales since 2007 when he took over.  For protesters this 90% comes with a high cost.
A spokesperson for the family of Ajay Dev told the Vanguard that the District Attorney Reisig has carefully constructed that figure.
"The DA's office prosecutes weak cases.  They prosecute 99.4% of all complaints no matter how strong/weak the case is.  In fact, Reisig states in an article that he has prosecuted 20,000 cases in the past three years. That is 26 new cases beginning every single weekday."
Moreover,
"The DA's office inflates the charges in order to get a conviction.  The strategy of listing a lot of counts against a defendant tends to make juries feel that the defendant must be guilty."
The Dev Family and his supporters sent their own letter to the Attorney General.
Said the spokesperson,
"We are going to Eric Holder's office because the injustice that has happened to Ajay seems to be a pattern of injustice that is happening in Yolo County.  As we have talked about Ajay's case to others in the community, we have started to hear about other cases in Yolo county that have suffered similar injustices.  If we didn't witness what happened in Ajay's case, we probably wouldn't believe that injustices like this happen in America.  But now our eyes are open."
Asked why they believe that they cannot get justice in Yolo County, the spokesperson responded,
"We do not feel that we can get a fair trial in Yolo County because we have witnessed DDA Mount lie in court to the jury on several occasions.  We have witnessed the DA's office lie to the media about this case.  We have watched a DA's office push forth a weak case with no evidence and fabricate stories to get a conviction. We watched the judge give DDA Mount 16 days to present very little evidence, and then he limited the defense to 6 1/2 days."
Currently the case is going through the appeals process, however the length of time could be considerable, taking at least two to three years.
"At this juncture, I hope we can trust the appeals process to be much more judicial than what we witnessed in Yolo County. We hope very much to win the appeals process, but also realize that it can take quite a bit of time."
The spokesperson continued,
"We of course, do not want Ajay in jail for that long when we know he is innocent."
The Dev family and friends sent a separate letter to Attorney General Holder.  It reads:
"Friends, family and supporters of Ajay Dev are here today in unison with others who have been victimized by the corruption of the Yolo County Justice System. Ajay Dev was sentenced to 378 years in prison in a case where there was NO physical evidence. Ajay is the victim of an overzealous prosecution and unfair trial.

It is common practice for the Yolo County District Attorney's office to stack up charges against minority defendants. Charging Ajay with 92 counts was a tactic used by DDA Steve Mount to prejudice the jurors against Ajay right from the beginning so he could win a conviction.  THIS IS NOT FAIR – THIS IS NOT JUSTICE. Currently, another minority in Yolo County is facing 150 charges. With each conviction of a sexual nature, the District Attorney receives grant money for the prosecution of these crimes. Each count is a conviction. Not all counties receive these types of grants, only a handful. The Yolo County District Attorney's office has a record of prosecuting nearly ALL complaints, no matter how weak or strong the case—99.4 %.

Over 200 supporters of Ajay know he is innocent and has been another victim of the corruption in Yolo County. We MUST raise our voices loud and clear so that SOMEONE will take notice of the many injustices the Yolo County Justice System is waging against its citizens—citizens like you and me, like all of us here today. As people who are united in the belief and pursuit of truth and justice, we ask that our federal government take notice. We ask that they hear the unity of our voices and root out the corruption that has taken the freedom of too many innocent people. We demand that they form a formal investigation into the Yolo County Judicial System."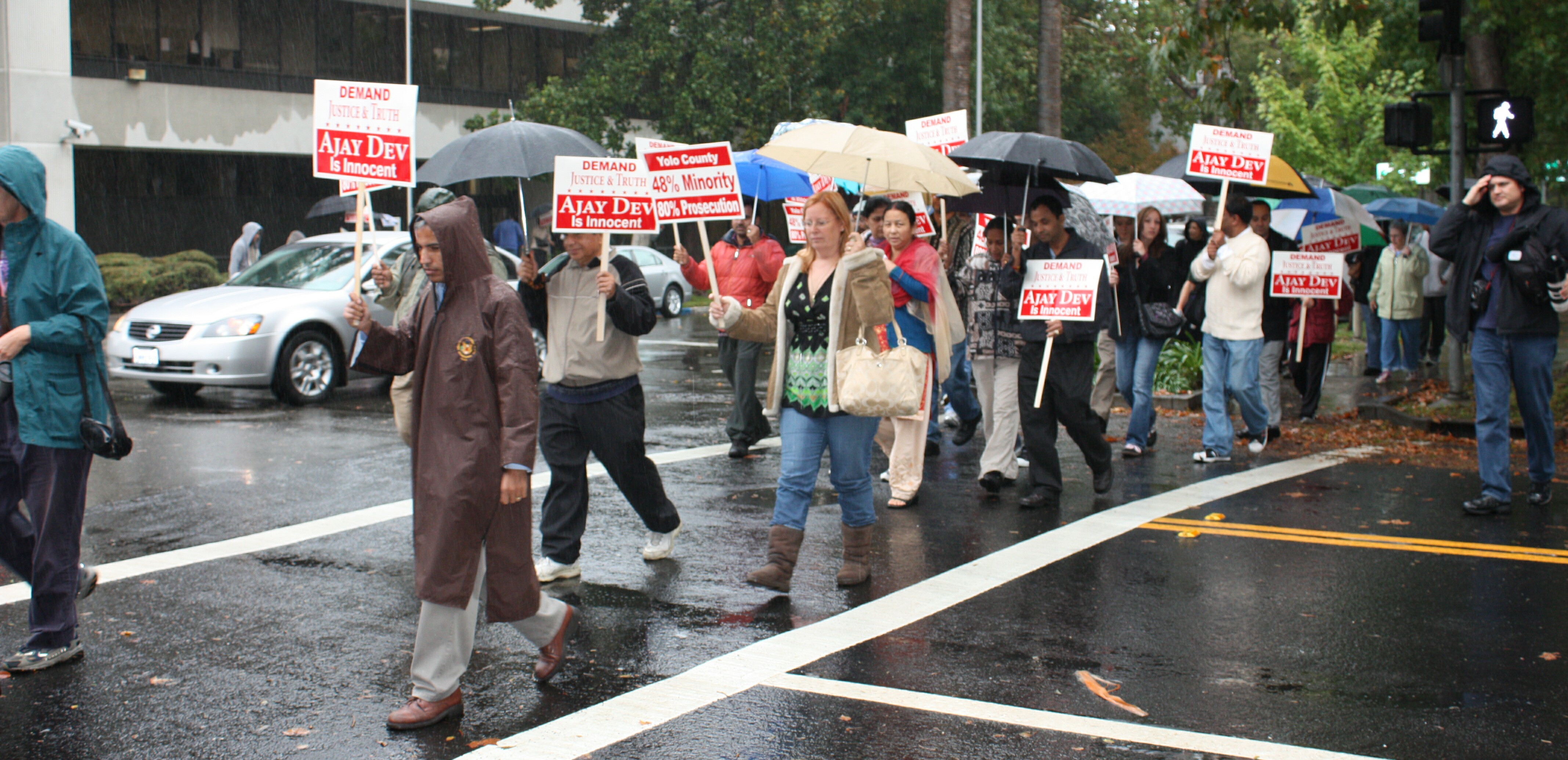 As we learned on Monday, and already suspected beforehand, the Dev case is but one example of justice in Yolo County.  There are many other stories that remain to be told both in Yolo and Sacramento Counties.  Family members told the Vanguard that they had actually expected over 200 attendees of this rally, but the numbers were cut down by not only the rain but by a Napalese festival, akin to Christmas and Thanksgiving in the Napalese culture.
—David M. Greenwald reporting