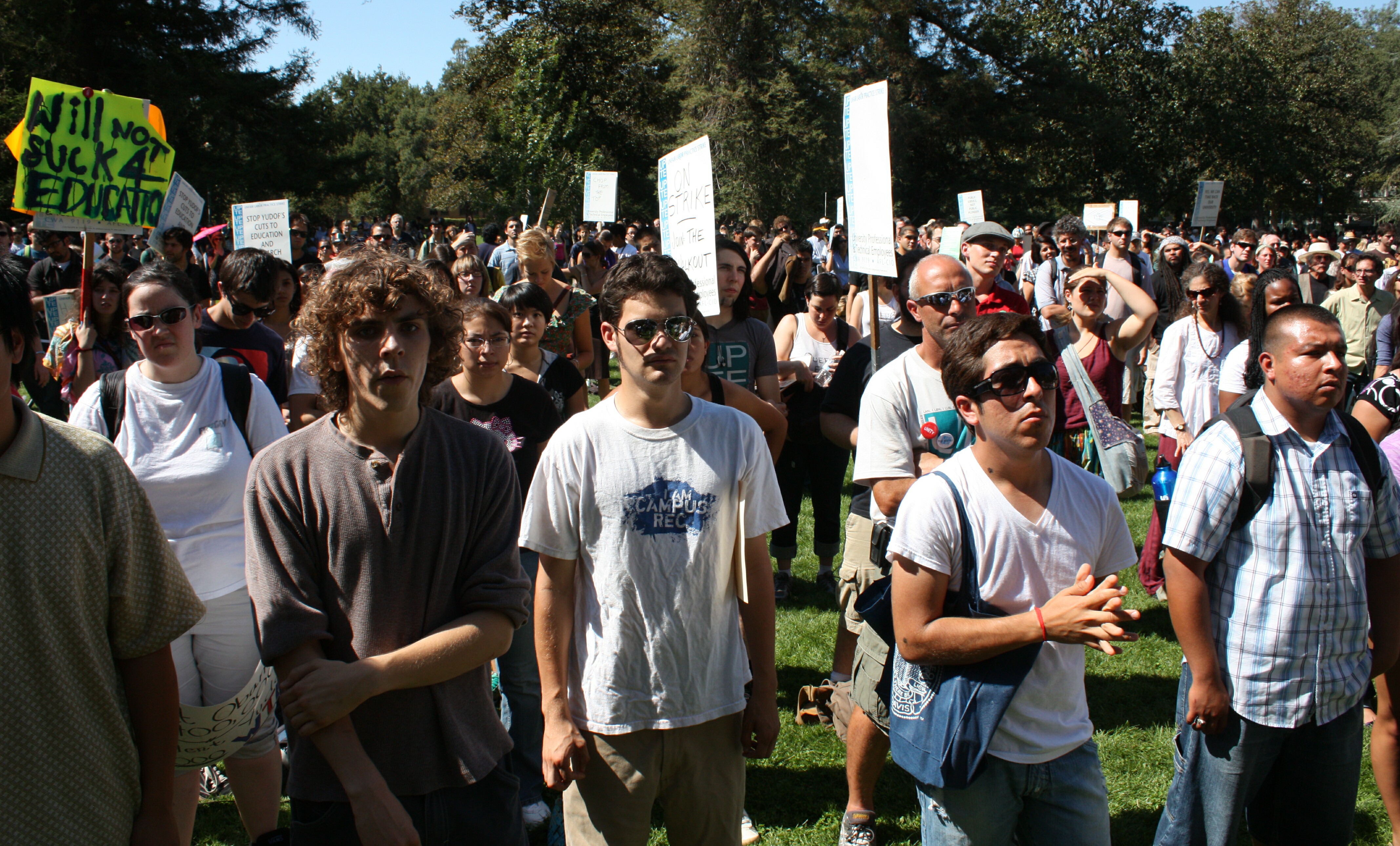 As expected, a committee of the UC Regents voted on Wednesday to raise student fees by a total of 32 percent over the next year.  These hikes will bring the annual cost of a UC education above $10,000 for the first time ever.  The full board is expected to ratify these changes today.
There were massive student strikes at UCLA where the UC regents held their meeting and at UC Berkeley where many of Northern California Students Coalesced.
Meanwhile, the economic news was even worse Wednesday, as the LAO office reported Wednesday that the state will face a $20 billion budget deficit at least through June of 2011.  The result will be additional job cuts for stateworkers on top of the 7000 positions already eliminated from the general fund.  A spokesperson for the governor said it was likely that there would be additional cuts to employee compensation in the next round of budget cuts.
According to Mac Taylor, 
"Addressing this large shortfall will require painful choices—on top of the difficult choices the Legislature made earlier this year.  The vast majority of the new budget problem we have identified for 2009–10 can be attributed to the state's inability to implement several major solutions in the July 2009 budget plan."
Senate President pro Tem Darrell Steinberg's office released a statement Wednesday in response to the LAO report:
"The numbers cry loudly for California to focus on rebuilding our tax base.  The only tried and true way to do so is to use our fiscal levers to increase the number of high wage jobs. Putting more people to work earning decent wages will help overcome our deficit.  We need to protect our schools and universities, so as we create high wage jobs we produce a workforce able to fill them."
SEIU President Bill A. Lloyd upon the release of the Legislative Analyst's "California Fiscal Outlook":
"We agree with the LAO that it's time for California to make clear its priorities.   The state's working people have never wavered from our commitment to stronger communities, opportunities for our children, and retirement security for all.
"In recent years, the devastating cuts to healthcare, home care, and human services endured by our children, seniors and people with disabilities represent a sharp departure from California's commitment to providing opportunity for our younger generations and respect for seniors and people with disabilities.   As the Legislative Analyst correctly points out, California's population is aging and the need for services is increasing, not decreasing. 

"Budget solutions must include new revenue to restore California's fiscal solvency, protect kids and seniors, and lay a solid foundation for economic growth and prosperity." 
According to published reports, students rush the UCLA building where the regents met and began throwing food, sticks, vinegar-soaked red bandannas (meant to look like blood).  The result was a modest 14 arrests for disrupting the meeting and resisting arrest.
Russell Gould, chairmen of the UC Board of Regents, seized on this news as a defense for the fee hikes, telling the students there was no way to avoid the fee hikes.  He told them that they were boxed in.  Mr. Gould told the Sacramento Bee yesterday that student objections do not influence his decision-making and that student fees must be increased.
However, not everyone agrees.  Senator Leland Yee issued a statement Wednesday accusing the Governor and Board of Regents of allowing the top executives to live high on the hoge while the students suffer.
"It is unconscionable for the Governor to cut funds to higher education while allowing the UC administration to act like AIG."
He continued:
"Certainly the state needs to prioritize funding for education and that is why I voted against all such budget cuts and will continue to do so.  However, it is intellectually dishonest for the Regents to simply blame the state budget for student fee hikes while they are lining the pockets of executives.  Executive pay should be the first thing on the chopping block, not students."
Senator Yee's release cites a September interview with the New York Times, where UC President Mark Yudof, who receives nearly $1 million in salary and perks was asked, "What do you think of the idea that no administrator at a state university needs to earn more than the President of the United States, $400,000?" Yudof responded, "Will you throw in Air Force One and the White House?"
Senator Yee responded:
"Unfortunately, this is the type of arrogance and cavalier attitude that plagues the university.  California deserves better from their public university leadership."
Jelger Kalmijn, President of the University Professional and Technical Employees (UPTE-CWA 9119) said:
"UC has reserves in the billions of dollars that could be tapped, or UC could redirect its fundraising abilities, or use other sources of income such as the highly profitable medical centers, or call for a mild pay cut for the thousands of six-figure administrators."
Lakesha Harrison, President of the American Federation of State, County, and Municipal Employees (AFSCME 3299), which represents patient care and services workers:
"UC is sounding the alarm bells of financial ruin and rushing to push the economic crisis on the backs of UC students, patients and workers.  But to many of us, this is another example of UC administrators' misplaced priorities and lack of accountability to the public."
Kathi Young, a Library Assistant and executive board member of the Coalition of University Employees said:
"The only crisis UC faces is a crisis of leadership."
It is not all rhetoric, AFSCME Local 3299 has put together an alternative emergency budget measure to protect essential student and patient care services, while redirecting funds from areas that can most withstand temporary reductions.
The measure includes cutting the top 2 percent of earners saving $220 million, short-term borrowing to serve as a stop gap for $200 million, utilizing Medical Center profits for $100 million, restructuring a portion of its bond debt service which they believe could save $75 million, another 50 million could be found by borrowing less than 1% of UC's unrestricted investments, and cutting wasteful spending could free another $40 million.
"UC must continue to cut non-essential spending—including, but not limited to, renovations of UC mansions, executive rentals of non-UC property, non-essential travel, and consultants' contracts—before any consideration of cutting vital services. UC's receipt of American Reinvestment and Recovery Act funds necessitates an especially judicious approach to reigning in excessive non-core spending."
Proponents of the alternative plan argue:
"The proposals above represent a prioritization of UC's core mission over profit-hoarding, executive pay and perks. UC must look to the areas most capable of absorbing a temporary redirection to balance the budget, and fulfill its mission as a university system serving the public."
However, the regents have pursued continued fee hikes for UC Students that have received multiple years of double-digit fee hikes before the latest proposal for a 32% fee hike over two phases.  The full board is expected to meet today and approve the fee hike that will push total fees not including room, board, and textbooks, over $10,000 per year.
These fees led LA Times editorial writer Paul Thornton, himself a former UC Berkeley student, to wonder:
"With fees having doubled in less than a decade, is a UC education still a deal? Is there a student-fee ceiling at which it isn't?"
—David M. Greenwald reporting