Revised Budget Proposes 88 position Cuts, 30 student class size, 68 teacher layoffs –
Everyone knew this was coming, with the letter from Superintendent James Hammond, bad news was definitely coming.  The only question would be how bad it was.  We now know the answer as we look at the recommended budget plan.  It is worse than we could have imagined.  The impact will be devastating.
Wrote Dr. Hammond in a letter to parents at the time:
"That is not the end of the bad news.  On January 8, Governor Schwarzenegger released his proposed budget plan for 2010-11.  If these proposals are adopted, preliminary estimates indicate that DJUSD revenue will be cut another $2 million, widening our budget gap to $5.7 million in 2010-11.  Our budget plan must incorporate these proposals, so I will move to identify additional cuts in this amount as well.

It's important to remember that the Governor's budget plan contained little good news for any sector.  While we can hope that schools will see some relief as these proposals move through the legislative process, we understand that would be at the cost of other important programs and services."
Now we for the first time see how much the additional budget gap will impact the schools.  It will devastate them.
The current proposal will see an increase in class size up 30 to 1 for K-3, 32 to 1 for 4-6.  It will see the reduction of 30 teaching position at the elementary school level, 68 overall.  And for good measure 20 classified staff cuts for a total of 88 position cuts district wide.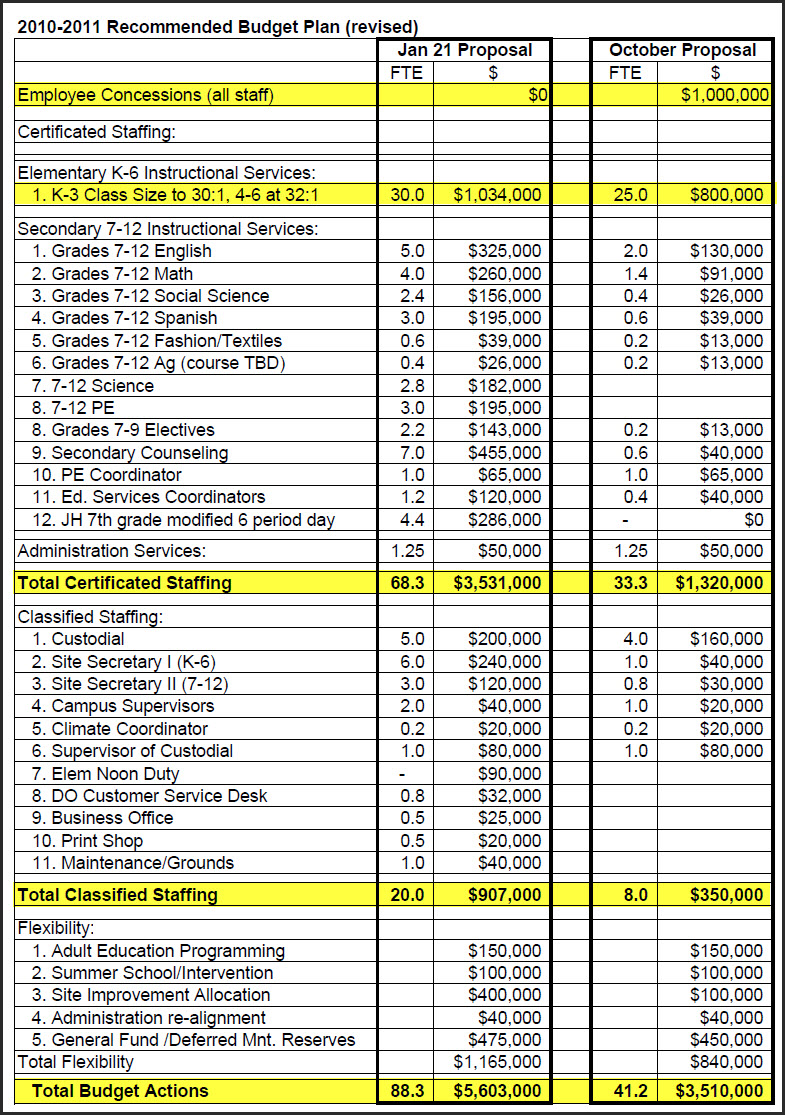 Dr. Hammond laid out the crux of the problem in his letter:
"As you may know, in October, in response to decreased funding from the state, I recommended that the Board of Education reduce 2010-11 expenditures by $3.5 million.  Due to additional cuts imposed by the State, this deficit grew to $3.7 million by the time we submitted our 1st Interim budget in mid-December.  In addition to identifying $2.5 million in program cuts and spending of reserves, I made the difficult recommendation to ask our employees to consider granting $1 million in salary concessions (a 2.5% salary reduction) in exchange for furlough days. 

Following a poll of their membership, the Davis Teachers Association recently indicated that they do not wish to negotiate concessions at this time.  With more information about our district's growing deficit coming forward in the weeks ahead, my hope is that the Davis Teachers Association will give this request consideration at a later time (before layoffs notices are administered.) 

Though we will continue discussion in hopes of reaching agreement, I am obligated at this time to identify $1 million more in cuts for the Board's consideration.  Unfortunately, this will mean additional layoffs and fewer educational services for students."
According to the staff report, the proposed state budget reduces the district's revenue by $1.9 million.  In summary, these reductions include:
1. Pass through of a .38% negative COLA, a reduction of $24/ADA, a $200,000 reduction;
2. An ongoing revenue limit adjustment $201 per ADA, $1.6 million reduction
3. Negative COLA reduction for categoricals and special education, a $100,000 reduction.
These cuts will increase the budget deficit from $3.7 million at the first interim budget in October to $5.6 million.  Given the fact that the district has already engaged in cuts three previous times almost all of the cuts will be in the form of staff reduction.
The impact is going to be dramatic and devastating.  Class sizes will rise dramatically and programs will be cut to the bone.
As a result, the superintendent will recommend to the Board of Education four areas of programmatic focus that can serve has district priorities for the Davis Schools Foundation as they continue their fundraising campaign on behalf of DJUSD.  Fundraising for these areas will mitigate the proposed cuts to:
• Class Size Reduction (CSR) K-3 and 9-10
• 7-12 Secondary Core Programs (Math, Science, English and Social Studies)
• Secondary Counseling
• School Safety
Commentary
I hate to keep harping on this point, but in addition to the Davis Schools Foundation, there is someone else who can save us at this point and that is the teachers themselves.
As we reported previously, the Superintendent had asked teachers to consider $1 million in concessions as a means to close the original budget deficit.  That would have amounted to a 2.5% reduction of pay.
That would have saved 16 employees from being laid off.
Said DTA President Ingrid Salim at the time:
"We are split almost right down the middle on the idea of employee concessions.  Because of that, we probably would not have enough votes to ratify a contract change, and truly do not want to introduce the kind of fragmentation that would result if a slight majority voted in a change of such magnitude and wide effect.  However, I hope to revisit the issue in a few months, after some articulated uncertainties have been visited."
They better revisit this fast because it is already too late to merely take a $1 million concession.  We now need something more from the teachers.  We could cut the number of teacher layoffs nearly in half if they take the same 5% pay cut that state workers have taken and county workers have taken.  That alone would save 32 teaching positions, assuming that everything is roughly equal in terms of budget impact.
I don't want to pretend that won't hurt, but losing 68 teachers just cannot happen and it doesn't have to.  With those concessions the public will undoubtedly rally once again behind the schools and the Davis Schools Foundation may be able to close the rest of the gap to save the bulk of the teaching jobs.
Without it, we are looking at cuts on a level that we have not seen.  Do we really want our young students, kindergarteners to be in classes of 30 students again?  Haven't we moved past that.
It's time to act.  The teachers are the only ones now that can save us.
And if they act to sacrifice, I will personally lead to the way when this over to see that teachers are rewarded for their noble sacrifice.  I do believe that teachers are underpaid for the importance of the work they do.  I think they should be paid on par with the highly paid city employees.  I think they should get the good benefits that our city employees get and we can fight that fight in a few years when we are well into recovery.  But right now everyone has to sacrifice and the teachers need to stop waffling and lead the way.
—David M. Greenwald reporting