As we face yet another round of cuts to education in Davis that could result in the loss of an additional 30 to 50 teachers depending on how the math falls out and how the legislature and governor end up passing a budget.  The situation with higher education is becoming increasingly dire with furloughs, cuts in classes, and massive fee increases.  In a lot of ways the very fabric of California's existence is coming apart at the seems.  We have cut programs and funding to the bone but any even hint of a discussion of taxation is DOA.
To give this discussion a Davis flavor, Lenny Goldberg from the California Tax Reform Association is a Davis resident.  Last week he had an interesting article in the Capitol Weekly that followed the CTRA's proposals for finding $20 billion in tax revenues that can help us balance the budget without further cuts to schools and other programs.
Mr. Goldberg argues in favor of allowing economics dictate the type of taxation to consider.  He also points out that unfortunately past tax credits have produced tax credits without much in the way of result.
"The Governor's proposals for housing tax credits and job tax credits are, alas, giveaways that he apparently believes in.

Last year's developer credit, which only applied to new houses not yet lived in, gave preference to developers with excess inventory over homeowners trying to sell in a collapsing market. The new $200 million credit takes taxpayer dollars and temporarily pumps up a housing market which eventually has to seek a real level. Doesn't anyone believe in market forces anymore? And, this $200 million does not have to create a single new job, nor is it likely to, by artificially delaying the settling (in economists' terms, equilibrium) in the housing market."
He continues:
"And, there's a $3,000 job training credit for employers. Low-wage jobs may cost employers well over $20,000 per year; good jobs will cost, in total, $50,000 to $60,000 a year when other employment costs are figured in. In the real economy, employers hire when the new employee contributes to the bottom line, not just temporarily but permanently.

Dan Walters got it right in the Bee: if you want to enact a useless tax break, get rid of some other useless tax breaks, such as the $500 million enterprise zone program, which, through rigorous economic analysis, has been shown to create no new jobs. Better yet, use the revenue from eliminating useless tax breaks to stop real cuts in programs and jobs. Real economics, anyone?"
Economists recommend taxing "economic rents."  These are windfalls that are earned as the result of the actions of others that do not affect new investment. 
"A tax on oil production, proposed once by the Governor, is the most obvious of those. Heavy, expensive California oil costs about $20 per barrel to produce, yet the world market prices reflected in California are in the range of $70. A tax of about $7 per barrel, as opposed to our current 60 cents, would have no effect on gas prices or production, according to a Rand Corporation study. In terms of economic impact, this is a free $1 billion, most of it from four multinational oil companies.

The oil industry mobilized a large astroturf campaign against a bill by Assemblyman Alberto Torrico for an oil production tax to be used for higher education, but the only economic argument they could muster was that 10-barrel/day stripper wells would be shut in early—except, of course, these have been exempt from tax in every oil tax proposal in the last 50 years! So, big oil can mount a major lobbying effort but cannot muster a single economic argument."
He asks the paramount question that I have been grappling with for quite sometime: What is better for the economy, useless tax breaks or slashing public programs?
The CTRA presents a list of $20 billion of low-hanging fruit in the tax system.  He suggests that the "economics of some those could, admittedly, be debatable."  So he suggests, let's debate them.  Maybe we only find $10 to $15 that we agree on.  At least that is a start and we do not concede the point.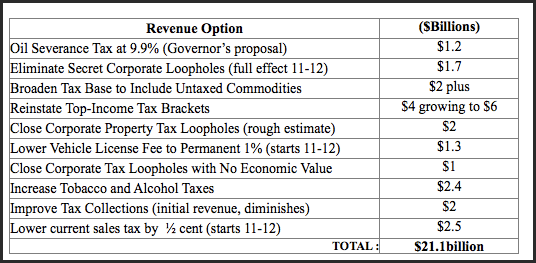 You can go to the CTRA site for the documentation:
1. Enact an Oil Severance Tax at 9.9% ($1.2 billion):  California is the only state, and the only place in the world, that does not tax oil production.  9.9% is the rate proposed by Governor Schwarzenegger.  Contrary to oil industry propaganda, California has the lowest tax on oil in the nation—about 60 cents/barrel—when it should be $6-$7 per barrel at current prices.  This tax will have no effect on the price of gasoline or on oil production.

2. Eliminate Secret Corporate Tax Loopholes ($1.7 billion):  As part of the September 2008 and February 2009 budget agreements, the Legislature passed new corporate loopholes in secret—loss carry-backs, credit sharing, and elective single-sales factor.  These take effect in 2011.  Contrary to the Governor's rhetoric, it is not a "tax increase" to repeal these before they go into effect, and they are egregious new loopholes, benefiting mostly the largest corporations, that the state can ill afford.

3. Broaden Sales Tax Base to Include Untaxed Commodities ($2 billion or more): There is virtually unanimous agreement that our sales tax base is too narrow.   The Governor has supported broadening it, and the first steps should include entertainment, admissions, parking, golf and skiing, hotels (i.e. the temporary rental of space) and digital products—all of which are commodities easily subject to tax.  Beyond that, sales taxes on telecommunications, cable and satellite would generate $2 billion more.

4. Reinstate Top Income Tax Brackets  to 11% ($4 billion now, growing to $6 billion in out-years): The top 1% of earners earn an unprecedented 25% of income in California!  While that may go down a little due to the recession, the recovery of the stock market means capital gains for the wealthy are likely to recover, while ordinary incomes in a slow economy are not.  State income taxes have no impact on the location of the wealthy or investment in California, and this revenue will grow faster than economic recovery.

5. Close Corporate Property Tax Loopholes ($2 billion): Statutory definitions of change of ownership are thoroughly loophole-ridden. CTRA research has been identifying numerous cases where properties have not been reassessed at market value following a change in ownership.  We estimate that tightening corporate property tax loopholes would raise $2 billion. The legislature can act by statute to close this loophole, potentially by a majority vote in a two-step approach.

6. Maintain Vehicle License Fee (VLF) at 1% ($1.3 billion): The VLF is supposed to be an in-lieu property tax, but was cut from 2% to .6%.  A long-term resolution of this issue would put the VLF at the Prop. 13 rate, 1%, slightly below the current 1.15 temporary rate, beginning in 11-12.

7. Close Useless Corporate Tax Loopholes ($1 billion): Enterprise zones have been demonstrated to have no impact on jobs ($500 million).  Avoidance of capital gains on commercial property sales—so called like-kind exchanges—are driven by federal, not state considerations ($350 million).  Placing offshore tax havens in the water's edge stops blatant tax manipulation ($150 million).  Impact on economic decisions: zero.

8. Increase Tobacco and Alcohol Taxes ($2.4 billion): Taxing products with negative impacts on society has positive effects.  Enacting a tax at 10 cents/drink generates $1.4 billion, and proposals for increased tobacco taxes have been keyed at generating $1 billion as well.

9. Improve Tax Collections ($2 billion initially, less on-going):  Governor Schwarzenegger vetoed majority vote legislation which would have provided an initial $2 billion in improvements in collections, including withholding on independent contractors, tightening nexus (Amazon issue), and proposing a bank records match.  That amount would fall as others, above, phase up.

10.  Lower current sales tax by ½ cent ($2.5 billion):   The temporary1-cent sales tax increase will expire July 2011.  Lowering the sales tax by ½ of that should grow to $3 billion, particularly with a broader base.  This could phase down by ¼ cent/year as the state's fiscal condition recovers.
They argue that most of these tax changes would have little to no negative economic impact. 
"To the extent there is any negative impact, it will be vastly overwhelmed by the negative impact of a state unable to finance infrastructure, that allows its higher education system and schools to deteriorate, that forces cutbacks in local government, and that shreds its safety net for its poorest citizens."
Disagree with their analysis or that this would have little impact–let's debate and discuss it.  No more phony discussions that we are the highest taxed state.  No more automatically dismissing even the possibility that some of these could generate revenue without a discussion of how they would harm the economy.
What is at stake here are the rest of the programs and the future of education not just in California but in your own backyard.  I think given that, it's worth at least debating the possibility of taxation.
—David M. Greenwald reporting