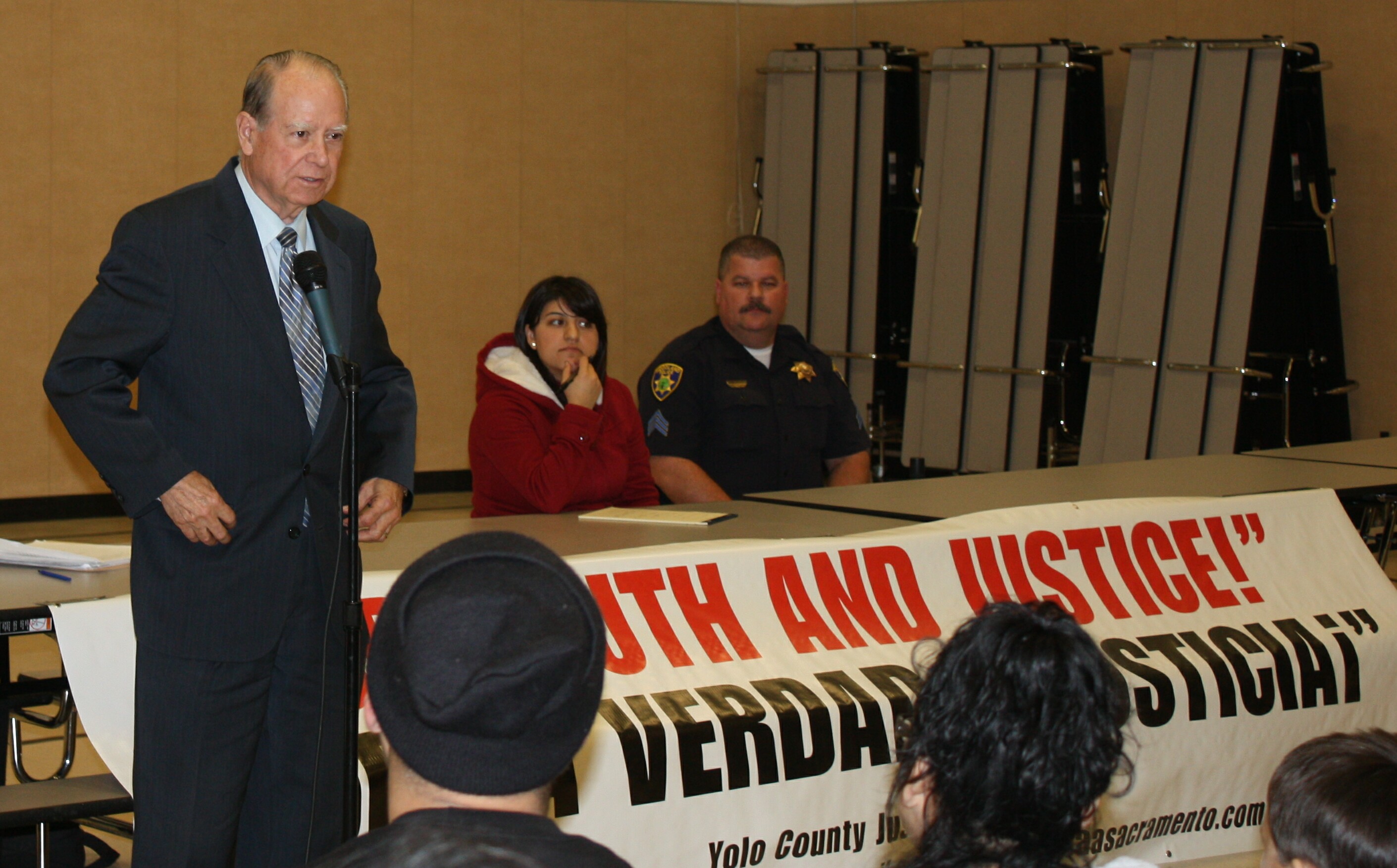 Last night at Dingle Elementary School  in Woodland a large audience of at least 150 people gathered to listen to what was billed as a townhall meeting with the county and city's leadership.  Apparently organizers for this event entitled, "Protecting Our Children's Public Safety" organized by the Yolo County Justice Coalition, had invited leaders ranging from the members of the Woodland City Council, the Woodland Police Chief Carey Sullivan, Yolo County Sheriff Ed Prieto, District Attorney Jeff Reisig, and members of County Board of Supervisors.
Of these invitees only two showed up.  Woodland Police Chief Carey Sullivan sent his Lt. Don Beal and Woodland Mayor Skip Davies came and graciously and patiently addressed a group of questioners that seem to grow more frustrated as the night went on.  The crowd was very grateful to Lt. Beal who was actually on duty as the scene commander and to Mayor Davies, but they were frustrated at the lack of attendance of other political leaders.
They grew more frustrated because the questions that they had really were not questions that either of the men who attended could address.
Also attending this meeting was Former California Supreme Court Justice Cruz Reynoso.  Hey was the main speaker and addressed two critical issues, first he talked about his role as Chair of the Independent Human Right Commission.  And secondly he spoke of the need for Latinos to vote and mobilize for change.
First he spoke on the Human Rights Commission:
"The commission was formed after several citizens in the community asked if I would chair the commission asking about the Luis Gutierrez incident and trying to find out as much as possible."
He continued:
"The commission will be listened to by the community and the officials only to the extent of the respect that those individual members of the commission have.  So we are trying to make sure that this commission has among other things a retired police officer, a retire prosecutor, as well as members of the community."
He said he wanted to start out hearing about the problems in the community, particularly in Woodland pertaining to police-community relations.  The Luis Gutierrez incident its will be one of the prime focuses of their initial investigation.  From there they may expand to look at the issue of racial profiling.
"We have reports that all too often folk of color, particularly Chicanos are stopped more often than non-Chicanos in this county."
Finally he hopes to be able to work with local officials to solve some of these concerns.
"One of the concerns and the reason why people asked me to chair this commission was that many of the statements that public officials were issuing didn't make sense, they were contradictory sometimes, they gave different reports about what had happened.  We hope, though we don't have subpoena power, we hope to be able to find out as much as possible about what happened.  Everything will be on the record."
He then went to speak to issues of concern more broadly.
"I often tell people that one of the civil rights that we should have is the ability to walk our communities without fear.  I think that's very important, particularly for children."
He continued:
"I was just reading a report written by a professor at John Jay College in New York City, which specializes in dealing with police-community relations.  He was saying in that article that we have to recognize that most of the victims of crime were poor people and further, sad to say, most of the perpetrators in those crimes are also poor people."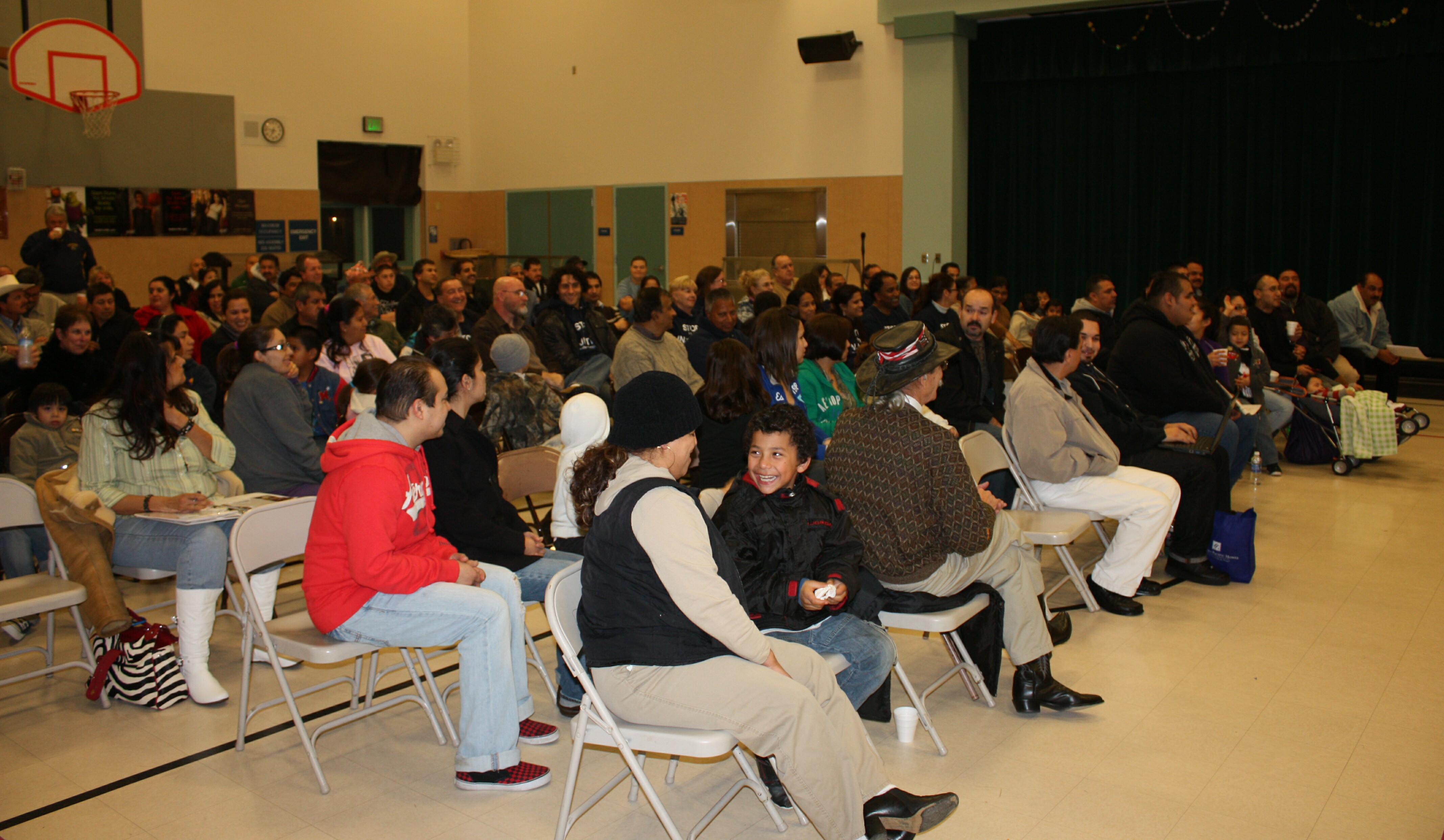 He called for community groups to look beyond this simple issue.  He cited the fact that people who both perpetrate and are victims of violence have never graduated from high school.  They have not had the opportunities that many of us have to have the sort of jobs to support their families.  From his perspective, education and jobs are so related to the issue of crime. 
He would cite a study done in Washington where they found that the recidivism rate drops dramatically when inmates released are given unemployment benefits for the first six months.  The reason was that they were able to re-establish their lives and their relationships without having the pressure to immediately find a job.  However, the study gathered dust because the legislature was not interested in the appearance of being soft on crime.
He would go on to talk about the Latino Community the need for education, but also for mobilization and voting.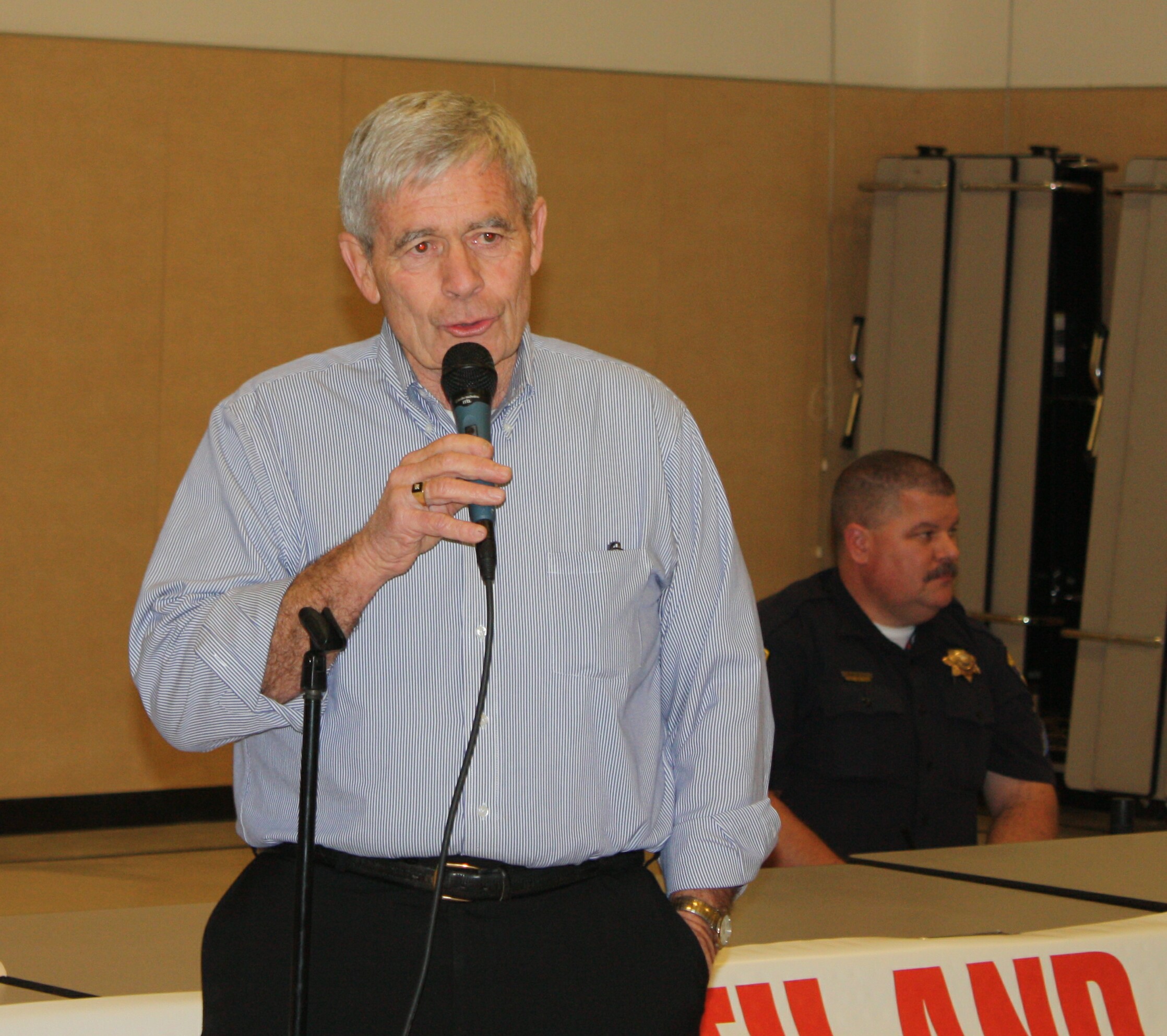 Of the community leaders that were invited to the meeting, only Woodland Police Chief Carey Sullivan sent his reputation and Skip Davies, Mayor of Woodland showed up.  He had actually not intended to speak, but did so and then graciously and patiently addressed audience questions.
I think one of the lessons that can be taken from this is that the people appreciated his attendance and the respect he showed the audience.  A number of other leaders probably avoided this event because they either feared this particular group–heavily comprised of minorities and working class citizens–or they feared they would somehow legitimize the organizers. 
They missed the point.  The event was legitimized by the number of concerned citizens.  Lt. Don Beal told the audience that he was blown away by the number of attendees, he had no idea that so many people would show up when he was asked to attend.
There were definitely some tough questions asked by the members of the audience.  There was clear frustration at the process and the lack of responsiveness of the leaders who probably were in far better position to address these questions.  But there was also a level of respect that everyone showed due to the fact that Lt. Beal and Mayor Davies simply showed up to the meeting and a level of disdain for the fact that others did not.
Mayor Davies said that he came to listen the what the people at this event had to say.
"I have been worried about the safety of your children and my children since I came to Woodland in 1966.  I was principal at Douglas Junior High School and had some of you in school.  In those days our Latino population was about 30 percent, today our Latino population is over 40 percent.  I felt it was my responsibility to hire and employ teachers, Latino teachers, teachers that reflected the community.   We try to do that in the city, in the police department and everywhere else."
He talked about looking at a model from San Jose which has reduced the violence in that city.  He said that seventeen years ago in San Jose there were close to 30 gang deaths a year, this most recent year it was just seven. 
"Violence doesn't go away but together with your churches, your schools, your county, everything in our community working together, we can make it a better city in Woodland and a better city for our children."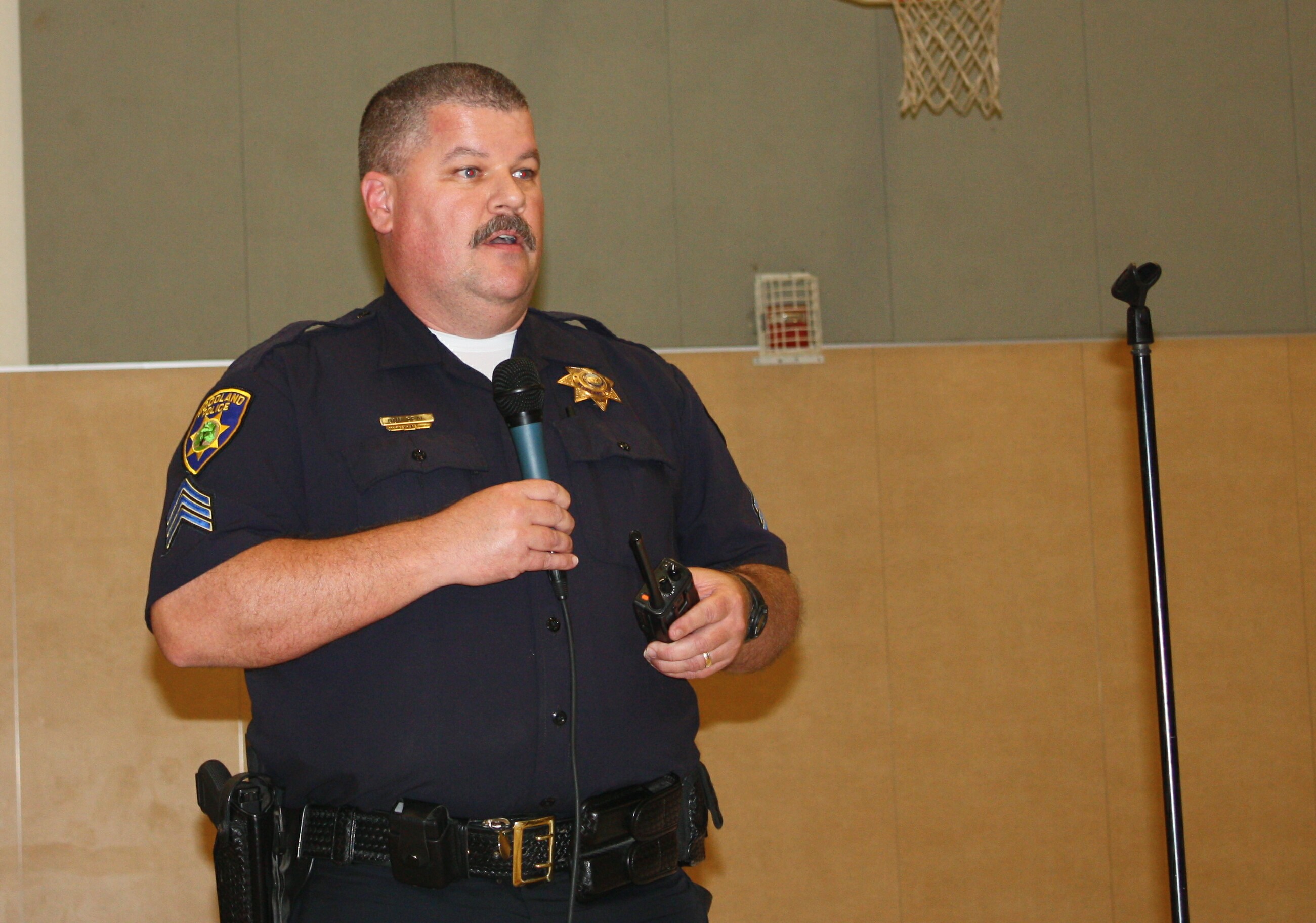 In the end, while the crowd was appreciative of the efforts of Mayor Davies and Lt. Beal, they were frustrated and that showed through increasingly as they began to realize that the questions they had regarding the death of Luis Gutierrez, the issue of the gang task force and gang policies, the profiling of people of color were not issues that either of these men could address on this night.
Nevertheless I think this was a valuable event for all involved.  It is not often that you see a large group of people of color show up to this type of meeting.  Many of these people are not ones that you see at every single political event.  This was as one person put it, a very working class audience.  And they are frustrated and angry.  And if the other political leaders in the Woodland Community and in the County ignore them, I think they do so at their own peril.
The fact is that Luis Gutierrez was shot on April 30, 2008, now nearly nine months later, there are still a large contingent of people who are showing up at these kinds of events.  That probably indicates that the anger and emotions are not subsiding.  So I would think it would behoove people like Vice Mayor Art Pimentel, whose absence disappointed many of the audience members to find a way to meet and talk with this segment of the community.
I don't know where Matt Rexroad was or whether he had other obligations on this evening.  The event was down the street from where he lives however.  I have enormous respect for Mr. Rexroad precisely because he normally attends these kinds of events even though he will take flack and even though he may disagree with those who have done the organization of the event. 
Back in December he responded to my op-ed in the Woodland Daily Democrat, writing:
"David Greenwald, editor of the  People's Vanguard of  Davis, had an opinion piece published in The  Democrat on Sunday. Greenwald disagrees with me and the  majority of  people from Woodland on the  characterization of  what happened when three Yolo County sheriff's deputies shot and killed Luis Gutierrez Navarro on Gum Avenue in April 2009 and when Ricardo Abrahams died in May 2008 when being detained by the  Woodland Police Department."
Maybe he is correct, but on this night there were 150 people, most of them from Woodland, who felt otherwise and it would have been nice if he had been able to make it to this meeting to address the issue.
The chief law enforcement officers Ed Prieto and Jeff Reisig also did not attend.  I understand their reasoning for not wanting to.  But as leaders, sometimes you have to do things that are not pleasant and deal with people that will not agree with you and may at times treat you discourteously.  Ducking forums is not leadership.  And I'm sure all can claim prior obligations, but if they had wanted to attend they could have written a response, they could have done as Chief Sullivan did and send someone in their place, or they could have requested a separate meeting.
I am disappointed that Ed Prieto, a fellow Latino and a generally good and decent person could not have gone and spoken to these citizens or at least sent a representative in his place.
For those who did attend I think everyone in that audience gained a measure of respect for.  The message is clear, there is sizable concern in Woodland and Yolo County about these issues and these concerns are not going away with time.  Time for the leadership in this county to step up and address it.
—David M. Greenwald reporting