One of the hottest topics in the recent MOU's that the city has approved from fire and the management group has been the issue of the cafeteria cast-out plan.  The cafeteria cash-out plan applies to those employees who are covered under the health plan of a spouse.  Since they do not need to take that particular benefit, the city compensates them in cash payouts to the tune of nearly 18 thousand dollars per year. 
The new contracts only partially address this issue.  The fire contract proposes a 20% of reduction of the cash payment maximum over the three year MOU.  The management group contract proposes no changes for existing employees but a $500 maximum payment for new employees.
The argument that the council majority has used to justify these only slight changes is twofold.  First, that only a few employees take advantage of this proposal and second that it would be unfair to do anything more than an incremental change.
Countering that argument has been Councilmember Sue Greenwald, who has argued that these benefits are unusual in government service and also highly unfair as they reward some employees but not others.
The Vanguard did a quick survey of a few select cities to see how unusual the Davis policy is.  At the onset here it is important to note that comparison to other cities is fraught with difficulties.  Moreover, it was perceived competition between other cities that have generate justifications for current unsustainable policies and created an escalation of benefits and salaries.  We then justify our unsustainable policies by pointing to the even more unsustainable policies of others.
However, in this case, Davis is so far more generous and out of line with the practices of other cities that it is important to point it out to the public.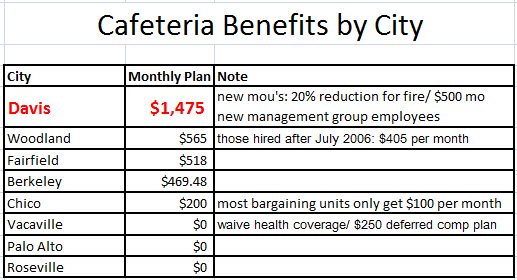 As we can see from the chart, Davis gives out nearly three times more in cash than the other cities.  A quick note on the methodology here.  We used these cities because they are frequently the cities that Davis uses in making comparisons.  We had sent out the notice late last week and have not received responses from Folsom, San Luis Obispo, or West Sacramento.  Nevertheless, we have seven comparison points that show a good amount of validity to this finding.
We also listed the maximum contribution and noted when other bargaining units received less.
As the chart demonstrates, Woodland has already modified their policy, reducing their benefit to $405 per month for those hired after July 2006.  Fairfield is the only other city to break $500.  It is not clear how Vacaville's deferred compensation plan works, but they give out no cash and the benefit is only $250 per month.
As mentioned above, Davis has made some effort to modify their highly unusual cafeteria cash out plan.  However, none of the proposals really bring Davis anywhere close to being in line with other cities.
The new fire MOU also contains a provision to convert unpaid cafeteria benefits to longevity pay:
The new contract includes a provision to allow for any portion of the cafeteria benefit remaining after cash-out to be converted to longevity pay for employees with 25 years or more City of Davis service. Longevity pay is included as part of salary calculations for retirement.
Councilmember Greenwald was particularly outspoken on this point during the discussion of the firefighter MOU:
"The cafeteria cash out is an extraordinary benefit that the city gives that means that if you have a spouse that have coverage, you can take home in cash, what that insurance would have cost you…  If we didn't have this extraordinary benefit that hardly any other public sector agencies have… and if we structured it intelligently, we could pay off our entire unfunded employee retiree liability."
She continued:
"The cafeteria cash out is the biggest fiscal disaster facing us and it's where we could really, if we had wanted to, had made a difference.  Unlike almost every other public agency, a worker who lives in Davis, our employees, if they have a spouse, who has coverage, they get to take home currently 100 percent of the cost of their medical and related benefits.  So they get to take home cash, it's about $18,000 in the base year."
She pointed out this was not even a fair benefit, since some get it and some do not.
"It's not fair between employees and it's not standard in public employment."
Councilmember Heystek registered similar objections, telling the Vanguard he would have preferred to see the benefit at 20% rather than at 80% after a 20% cut for the firefighters.
"The cafeteria cash out, taking money for benefits you don't take, I'm not against taking a small amount of cash for a benefit you don't take, because it does save the city money and we're willing to pay to save a greater amount of money.  But to pay an equal amount and to use that are your take home pay,  and to be a cost-basis for compensating people forever more, I think that's something that will plunge us into greater financial debt."
It is important to note that under the current policies for most employee groups, the city derives no benefit at all from employees who have additional medical coverage.
The city often justifies its policies based on the unsustainable practices of others, this is a case where they cannot.  Once again our chief complaint is that this was really the moment to make these kinds of structural changes and we squandered that opportunity.  It is left to a council in three years to grapple with these issues, but they likely will be negotiating in far better economic times and it will be much more difficult to gain the kind of concessions needed to make drastic changes.
—David M. Greenwald reporting