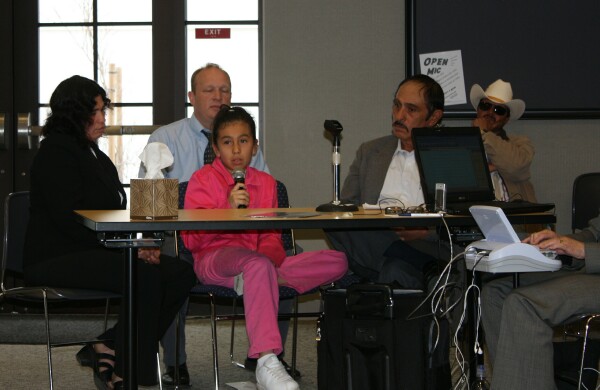 While Yolo County Sheriff Prieto on Tuesday once again expressed skepticism about the girl's claims, telling the Sacramento Bee, "I doubt seriously whether anybody put a gun to this young girl's head…  It's common sense: Do you really think a policeman would perceive a 9-year-old girl as a threat?"  New evidence emerges that leads to a very different conclusion.
The Vanguard has obtained the emergency room report from the family of now 10 year old Cristal Ochoa, it shows that the family had to pay more than $3000 for the visit.  Given the family's lack of insurance and lack of means, is it lnot ogical that the family would incur those expenses if the charges were not true?
The ER report shows that Santiago Ochoa took his daughter into the emergency room on the evening of June 25, 2009.  That is two weeks after police had raided their home on June 11.  Mr. Ochoa confirmed with the Vanguard that this was the same day he brought his daughter to the Sheriff's department where they made an oral complaint and requested assistance for his daughter.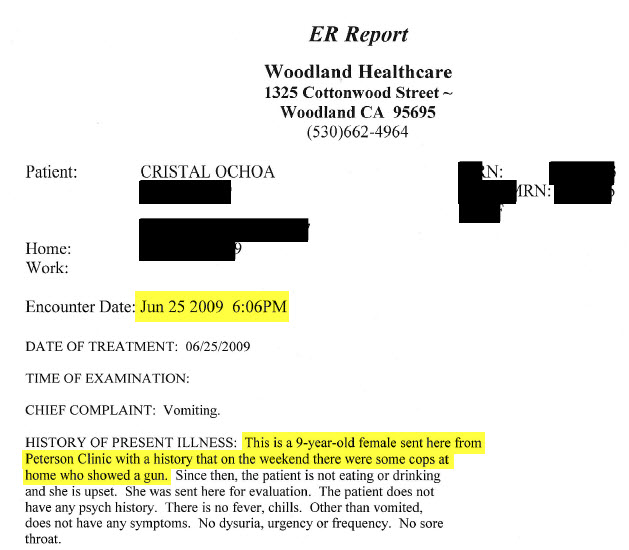 The ER report shows that at that time they mentioned that "there were some cops at home who showed a gun" and "since then, the patient is not eating or drinking and she is upset."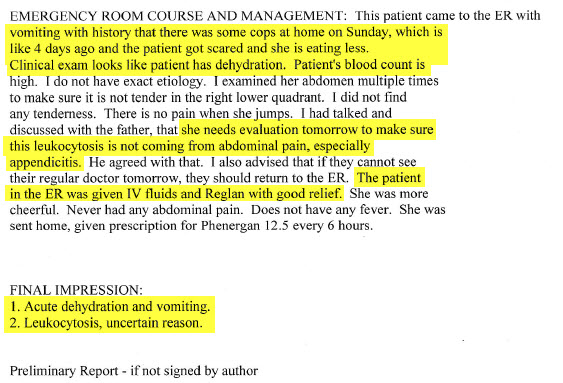 Examination showed that the patient was suffering from "acute dehydration and vomiting."  Moreover she had an abnormally high blood count (leukocytosis which is a high white blood cell count).  She was given IV fluids and some medicine and left feeling better.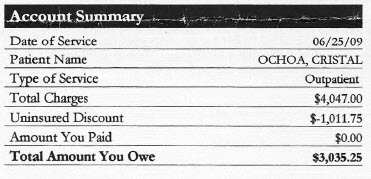 The family did not have medical insurance and thus had to bear the three thousand dollar costs of treatment, which was reduced from $4000 due to them not having medical insurance.  For a family without great means, this is a tremendous expense that they would not have gone through without a deep concern for their daughter's health.
While none of this proves their charges, it does provide some validity to their claims about the severity of their daughter's reaction to the situation.  It shows that even eight months ago they were making similar claims about the police causing their daughter's condition.
As the Vanguard has previously reported, Cristal's condition remains to this day.  Her school work has suffered and the school is recommending that she get counseling, but unfortunately the family lacks the means to pay for that counseling.  Community members are now looking into ways that she can get the help that she needs.
Why Did the Sheriff's Deputies Raid the Ochoa Home To Begin With?
What has not been clear until now is why the Sheriff's Deputies raided the Ochoa home to begin with.  Mr. Ochoa has never been charged with or convicted of any crime, however police that day were looking for weapons as part of charges that were filed against his son, Santiago Rodriguez Ochoa, Jr.
Deputies were looking for gang paraphernalia, weapons, among other evidence against Ochoa Jr., 19, who was charged with committing a gang-related drive-by shooting and arraigned on June 16, 2009.  Ochoa Jr. was acquitted on all charges on December 8, 2009.
This was a strange case that was tried in Colusa County but prosecuted by Yolo County's District Attorney's Office.  The Vanguard previously reported on this case back on December 1, 2009. 
Records reveal that Mr. Ochoa, Jr was charged with two counts of assault with a firearm, shooting at a vehicle and brandishing a gun at a person or vehicle as well as four gang enhancements. 
Prosecutors had originally believed that the crime occurred in Dunnigan, which is in Yolo County, however there was confusion as to where the alleged crime took place.  This was due in part to one of the victim's reports which had a variety of inconsistencies.  Detectives never could recreate the original crime scene and later concluded that it had occurred in Arbuckle, in Colusa County.
Prosecutors claimed that Ochoa Jr. was a member of the Sureno criminal gang.  He was alleged to have gotten into an argument with a longtime gang-rival according to Yolo County prosecutor Garett Hamilton.  Mr. Ochoa was said to be a passenger in a vehicle and to have fired multiple rounds into another vehicle with rival gang members. 
Investigators apparently found a gun that matched the description of the one used, but could not provide proof that it was the weapon in question.
The jury apparently did not make the connection between Mr. Ochoa and the shooting.
But Ochoa Jr. in the Sacramento Bee tells a different story.  He denied that he has ever belonged to a gang and said that the story was concocted by a romantic rival and his ex-girlfriend, who later testified that she had lied.
The six day trial ended in an acquittal on all counts.
Mr. Hamilton called the verdict, "disappointing" and said at the time:
"I think it's a sad day for residents in both Yolo and Colusa counties."
The search warrant did produce a gun, but Mr. Ochoa Sr said it was his gun and it could not be connected to the crime – if a crime in fact had even occurred.
The end result of all of this is that Yolo County Sheriff's Deputies executed a search warrant looking for Ochoa Jr. and weapons, but in the process of searching the home, they put a gun to young Cristal Ochoa's head.  This caused her to suffer from what is likely post traumatic stress disorder.  Mr. Ochoa Jr. was acquitted in his trial as it seems likely that the story was concocted by his romantic rival (rather than a gang rival).
Meanwhile Sheriff Prieto has ordered an investigation on an incident that he doubts occurred despite mounting evidence to the contrary.
—David M. Greenwald reporting
Brian Vu contributed to this report