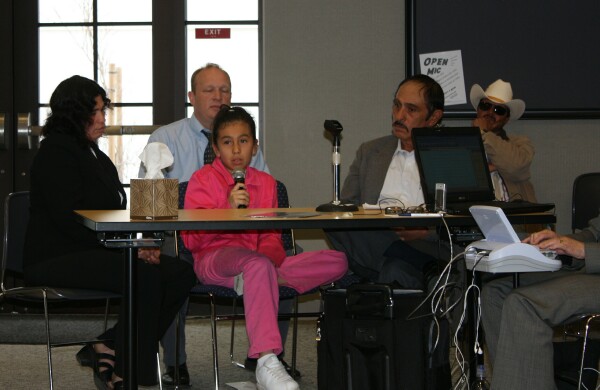 The testimony of the Yolo County Indepedent Civil Rights Commission has already begun to make an impact in Yolo County as Sheriff Ed Prieto is now forced to respond to allegations his deputies put a gun to a nine-year-old girl's head during the serving a search warrant on June 11, 2009.
The Vanguard on Sunday morning was the first to report on nine-year-old Crystal Ochoa, who is now suffering from what appears to be post traumatic stress disorder stemming from treatment she received by Sheriff's Deputies last June, the same team from the gang task force led by Sgt. Dale Johnson and including Deputies Bautista and Ovieda that had a little over a month before shot and killed Luis Gutierrez.
Following the Vanguard's report,
the Sacramento Bee
picked up the story on Monday.  Yolo County Sheriff Ed Prieto was then forced to respond to these allegations even as he attempted to downplay the Civil Rights Commission's proceedings.
Last night KCRA picked up the story and Sheriff Prieto vowed to investigate the allegations which he claims are news to him, calling them "extremely disturbing and critical.  However, he also repeatedly stressed at this point, he does not know if they're true.  (Click here to see the video of the KCRA interview)
Sheriff Prieto told KCRA:
"We're going to conduct a full internal investigation"
He continued:
"I would hate to think, I would hate to think that Mr. [Santiago] Ochoa's complaints were legitimate, especially, especially the one that he alleges that an officer put a gun to his daughter's head, I would find that extraordinarily disturbing. In all honesty, I cannot believe an officer doing that."
He emphasized over and over that he has a hard time believing that these allegations are true.  He gave his investigators thirty days to interview everyone who is involved in the search warrant.
The incident occurred on June 11, 2009, when Sheriff's Deputies visited the Ochoa home for at least fourth time this time armed with a search warrant to search for weapons.  They found none and neither Mr. Ochoa nor anyone in his family have been charged with a crime.
Mr. Ochoa testified on Saturday that the officers came in, threw his wife to the floor, tried to throw him to the floor and couldn't, so they threw him out of their home.  When his daughter, Crystal, then nine years old entered the room, they put a gun to her head and threw her out of the home as well.
Mrs. Ochoa also testified:
"I said my daughter, my daughter, she came out like this and when she did, they put a pistol on her head and then threw her out as well along with me."
She asked the female officer:
"Why do they do this to our daughter and she said, 'children kill as well.'  She began to vomit from the fright and she trembled.  I said why to our little girl, she's little?"  Crystal was nine years old and about 75 pounds at the time of the incident.  "In English they said, change the laws if you can."
As a result of the trauma, Crystal has become ill, she repeatedly vomited, had to visit the emergency room, is having nightmares and is now struggling in school.
Said Mrs. Ochoa:
"Since then, I think she's ill because she's sleeping and she wakes up and then she slaps at us, it's like she's seeing something.  She says no, no, no.  She doesn't sleep well at night.  It's like she's traumatized, I don't know what.  We took her to a doctor at the clinic, and they said this girl is sick, take her to the emergency room.  She was taken to the hospital and the doctor said that she is traumatized."
She continued,
"She wouldn't stop vomiting and she was trembling like this.  She wouldn't sleep because she was frightened.  We sent her to another place with family members so this would get out of her head."
While Sheriff Prieto claims this is the first that they have heard of this incident, the department acknowledges receiving a verbal complaint at the time last summer.
The family described going down to the Sheriff's Department following the incident.  When Mr. Ochoa went to the Sheriff's Department, he took Crystal with him, he was looking for help, but apparently the Sheriff's Deputy didn't know what to do.  Crystal vomited twice in front of them at the Sheriff's Department.
While it is undoubtedly the policy of the Sheriff's Department not to follow up on oral complaints, one would think that a vomiting child might illicit a bit more concern and alarm.
The fact of the matter is that while Sheriff Prieto is vowing a full investigation, he is also in the same breath doubting the veracity of the complaints.
He said that he would hate to think that one of his men would do this and "In all honesty, I cannot believe an officer doing that."
However, Crystal in her own words said on Saturday:
"One of the polices came and they pointed a gun at my head and started taking me outside with the gun at my head."
Does he believe she is lying?
Mr. Ochoa interviewed on camera yesterday also told KCRA that he would prefer an independent agency investigate rather than the Sheriff's Department.  Given the statements by the Sheriff, that may be a good idea.
The Vanguard will continue to monitor this case and update it as new information arises.
—David M. Greenwald reporting