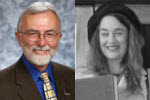 While the Davis political world waits on the final decision for Councilmember Lamar Heystek as to whether he will change his mind and run for re-election, a new intrigue has potentially emerged in the Supervisor's race.
Up until now, Davis Mayor Pro Tem Don Saylor was running unopposed for the seat that Helen Thomson is leaving in her decision to retire from public office and therefore not seek reelection.  However, now a potential opponent has emerge, or shall we say re-emerged.
There was speculation that Councilmember and Former Davis Mayor Sue Greenwald would challenge Don Saylor for the Supervisorial seat.  However, as time went on, that possibility seems less and less likely. 
Ms. Greenwald has time and time again expressed reasons why she did not want to run against Mr. Saylor, but she has also repeatedly cited concerns about his views on development outside of the city's borders.
Those views were expressed once again yesterday in a Davis Enterprise article where she once again cited time and money as reason not to run, but what she described as "genuine concerns" about Mr. Saylor's views on development.
She told the Davis Enterprise on Wednesday:
"I'm really not going to definitively decide till the last day.  I just honestly have not completely closed the door."
If that does not quite sound like commitment, it might be because it will be a daunting task to defeat Mr. Saylor who has garnered the support of just about every public official in Davis and Yolo County including three of potentially future colleagues on the Board, all of the County Officeholders, and all five members of the Davis School Board.  For good measure, he is endorsed by all five members of the Woodland City Council and the West Sacramento City Council.
Mr. Saylor told the Enterprise on Wednesday that he believes the lack of an opponent is in part due to his strong support.  He said that if no opponent surfaces, he will use his fundraising efforts to send money to causes such as the Davis Schools Foundation.
Many have been baffled by the lack of candidates surfacing not only for the Board of Supervisors, but for the City Council.  Most cannot remember an open Supervisor's seat with a non-incumbent running without a challenger.
Given the poor economy, a $59,000 salary with benefits, a staff, and a part time schedule might be enticing.
My own theory is that it is a combination of factors.  First, Don Saylor seems like a strong opponent.
However, when we crunched the numbers last summer, we discovered that in the Second District only, Mr. Saylor outpolled Sue Greenwald in 2008's City Council election by only 300 votes, not an insurmountable lead particularly when Ms. Greenwald barely personally campaigned for the City Council.  She admits to only having walked a half a precinct.
Had Sue Greenwald wanted to mount a serious challenge, she needed to step in much sooner, siphon off at least some of Mr. Saylor's support, and raised at least some money.  Given the size of the district, she could probably walk to each household even at this late date however.
The second reason might be stronger, I spoke personally to a few people early on who could have run and given Mr. Saylor a run for his money.  The situation in the county is daunting however.  If Mr. Saylor wins, he will join a board about to cut county services to the bone through layoffs and program cuts.  The county currently faces a $21 million deficit which is on a top of a deficit from last year of comparable size.
It is simply not going to be a fun job.  While Ms. Greenwald talks about land use decisions, the bulk of the county work is the provision of social services to disadvantaged people and the bulk of the budget will be cutting those programs such as health and mental health services. 
The County does a have say in land use authority, but it seems unlikely given the consequences that anyone would attempt to build on Davis' periphery in the near future.  There is a solid block of opponents to that plan on the board now as Jim Provenza, Davis' other representative campaigned against the county developing on Davis' periphery, Duane Chamberlain is opposed to any development of agricultural land, and Matt Rexroad is against the Board of Supervisors rather than the cities making such land use decisions.  Moreover, Mr. Saylor himself spoke out against the County making such land use decisions in Davis.
The one intrigue here if Sue Greenwald were to step in, the voters of Davis might be deciding which person they want to remain on the City Council as opposed to which person they would want to go serve them on the Board of Supervisors.
Just as in the Davis City Council race, regardless of the candidates, it is our preference that representatives to government be elected to office rather than anointed.  From that standpoint, we would welcome a challenge to Mr. Saylor's candidacy.
—David M. Greenwald reporting