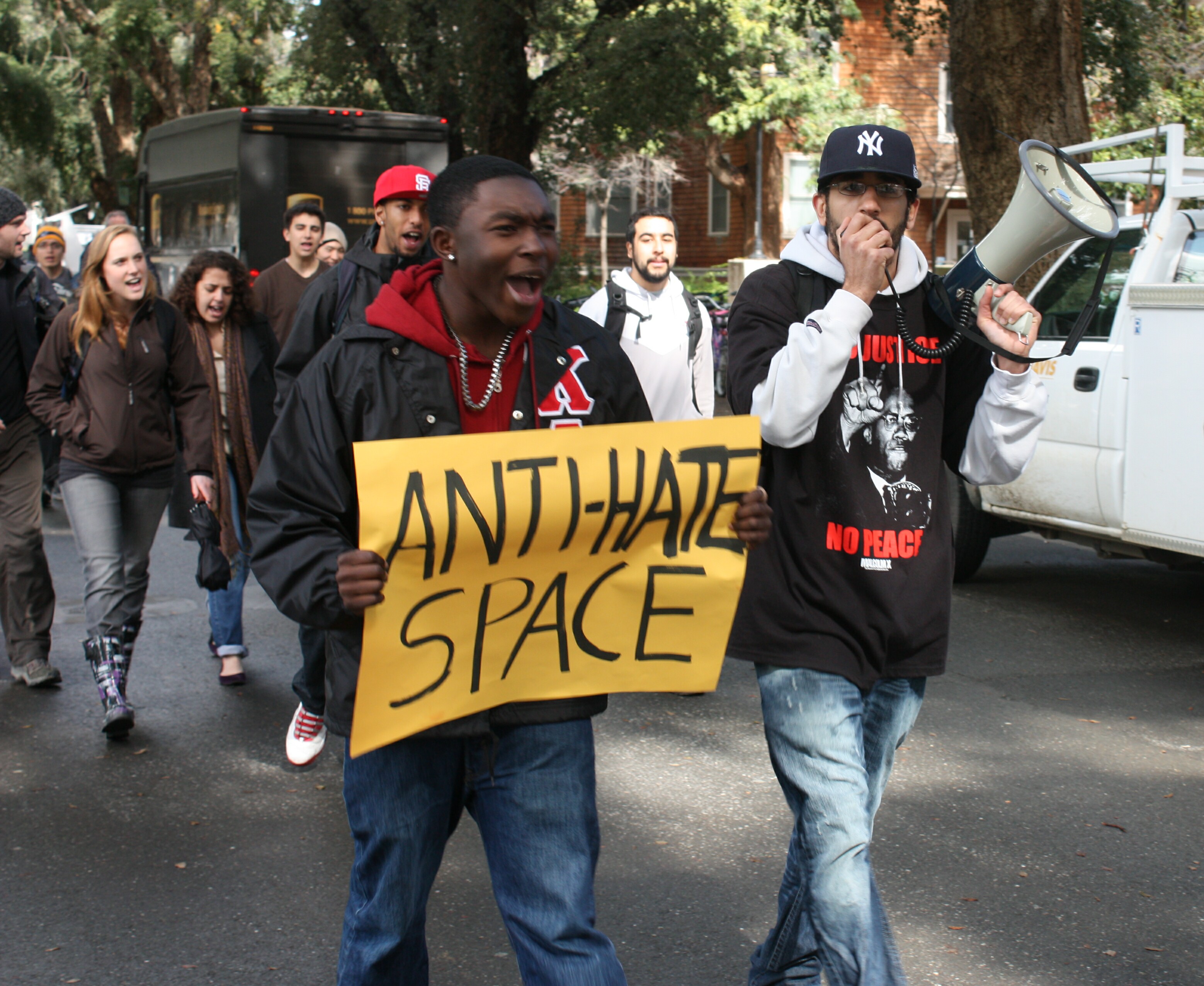 Students were speaking out in a rally on Wednesday at the UC Davis Campus after yet another round of hate related graffiti and vandalism hit the campus.  Official found swastikas spray painted in at least three additional locations on Wednesday morning and quickly removed them.  This follows the incident of a swastika carved in a student's residence hall door and the attack on the LGBT center last week.
Statewide there have been a slew of incidents coinciding with heavy cuts and fee hikes to the UC.  On Wednesday, a small but determined group, whose numbers were depleted by the threat of rain, met at the Memorial Union and marched to Mrak Hall.
One of the organizers of the event was Osahon Ekhator, an ASUCD Senator.  He told the Vanguard later:
"The real problem is institutionalized marginalization from Proposition 209 all the way to the way student governments represent underrepresented groups. It is a shame that diversity training isn't mandatory especially considering that not all people come from progressive or accepting backgrounds."
Mohamed Buzayan who co-organized the event told the assembled group at Mrak Hall:
"We are here today for a unified cause. Though each of us may have our personal reasons and issues to address, we in fact share a common problem. A disease of some sort is being spread across our campuses. A disease which knows no bound and has no end in sight. This disease I am referring to is of course hatred."
Mr. Ekhator suggested to the Vanguard that hate speech can be swept under the rug as it is viewed as either free speech or vandalism.
"The real problem is institutionalized marginalization from Proposition 209 all the way to the way student governments represent underrepresented groups. It is a shame that diversity training isn't mandatory especially considering that not all people come from progressive or accepting backgrounds."
In part this comment was in reference to comments made by UC Davis Police Chief Annette Spicuzza who said that the swastikas found on Wednesday would be investigated as vandalism, rather than hate crimes, since they occurred in public locations.  The earlier incidents are being investigated as hate crimes because they happened at places that target specific individuals.
In statement she said:
"It's shocking in the sense that we're getting so many.  There are some who would think it's a run up to the March 4 (education protests). We can't prove that. We just hate the fact that we have someone or a group on our campus or in the vicinity of our campus who thinks this is appropriate behavior."
Some have questioned whether these incidents reflect hate or simply are seeking attention.
The issue is being played out across the UCs right now as at least three campuses have faced racially motivated incidents in the past few weeks.
Mr. Buzayan saw a clear connection between the two and also a clear culprit:
"What simply began as a party in San Diego has now erupted into mass public displays of bigotry and prejudice. What is the cause of all this? The answer is lack of action by our administration and the little to no response to these racially provocative outbreaks."
However, many have argued that the administration has been proactive on this.  Chancellor Linda Katehi has sent out multiple letters condemning the incidents and participated in a townhall meeting on Monday evening that was well attended.
On Monday night she expressed outrage at the message of hate not just at UC Davis but also the UC system at large particularly mentioning the Compton Cookout.
She said that leaders should be about respect, and letting people perform to the best of their ability, and to be allowed to express themselves. The attacks of hate on the UC show that everyone is vulnerable, and that we as a community have been attacked, and she concluded with a statement that the administration would continue to do everything possible to support the community.
In a letter written on March 1, she described the attack on the LGBT Resource Center, which she described as "vandalized and defaced with derogatory and hateful words."
She continued, "It is also a strong reminder that we must be constant and vigilant in our efforts to confront and reject all manifestations of the historical and deep-rooted prejudices and biases that remain in our society."
She called on the university and campus community to "confront this type of behavior not only with words but with action as well…  Such dialogue and action are also happening throughout the system in response to hateful incidents that have occurred, as well, on other UC campuses."
Davis Mayor Pro Tem Don Saylor offered brief remarks to the students assembled at the Memorial Union encouraging them to stay vigilant and to keep speaking out, while offering that the city of Davis would examine ways it could help as well.
Assemblywoman Mariko Yamada could not attend the protest, but sent a statement to be read at the event.  The Vanguard received a copy as well.  It read:
"I am sorry I cannot be with you today, as you march and gather to reject the recent rash of hate incidents across UC campuses in San Diego, Santa Cruz, and in our own home town of Davis.

We are joined today to take a stand for justice, to draw strength from each other, and to say in one loud, strong, and clear voice, that you who commit these outrageous acts of hate and intolerance do not frighten us at all, you bring us together, stronger than ever.

We say to you who hide in the shadows of the night, the "Compton Cookout", the noose inside and the Ku Klux Klan hood outside the Theodore Geisel Library on the UCSD campus, are potent symbols of hate that do not intimidate us, but increase our resolve to overcome your hate with tolerance and peace.

To the Jewish student whose door was shamefully desecrated, and to our brothers and sisters of the LGBT Resource Center here at UC Davis, I say how sorry I am that you have been victims of such ignorant acts.  But you should know that for each one who would derive sick pleasure from such activity, there are hundreds, no thousands of people who will embrace you and say that these acts are wrong, unacceptable, and should be prosecuted to the full extent of the law.  No matter who is targeted, we will stand together."
Today marks a day of statewide action against fee increases and university cuts.  It seems obvious that at least part of this is related to the stress and anxiety that have been building in the system due to these cutbacks and fear of the future.  There is a fine line however that should be walked between remaining vigilant and overly sensationalizing what may end up being a cry for attention more than a message of hate.
—David M. Greenwald reporting