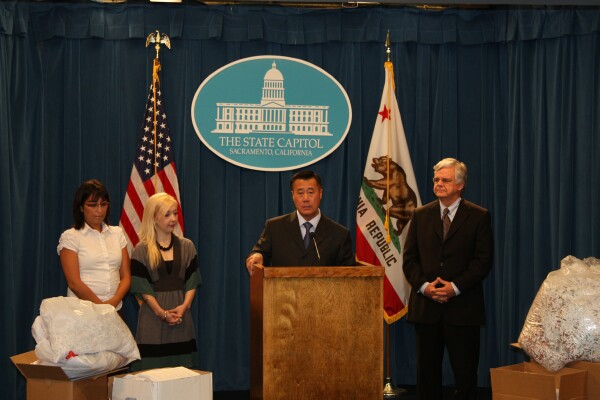 A controversy has arisen involving Sarah Palin's speech at CSU-Stanislaus and university efforts to avoid disclosure of documents showing how much money they spent to bring the controversial former Vice Presidential Candidate to their campus. 
In an effort to get disclosure, Senator Leland Yee asked that the university disclose all documents related to the Sarah Palin event.  CSU-Stanislaus responded that they had no documents related to that request.
However, two days after the Senator and Californians Aware were denied their request for public information, several students found in the dumpster documents including pages 4-12 of Sarah Palin's contract.  According to the students, these documents which were intact were mixed in with other documents that apparently had been shredded on a furlough Friday by University Officials.  As a result, Senator Yee has now referred the case to Attorney General Jerry Brown's office for investigation.
"The university's claim of no documentation was inconceivable and now there is a smoking gun," said Senator Yee last week.  "What other documents and correspondence are they hiding?  I am immediately requesting the Attorney General to investigate this violation of the public trust."
On Tuesday, Senator Yee held a press conference at the state capitol along with two students who found the documents and Terry Francke, executive director of Californians Aware.
The Senator called this "a dark day" for the CSU-Stanislaus campus.  "I never thought that I would have to re-live Watergate again," he said.  "This is an issue of accountability and transparency.  It is an issue that is very fundamental to our democracy."
Several weeks ago the Senator said they found out that Sarah Palin was going to visit the CSU-Stanislaus campus for the sole purpose of raising money for scholarships.  He said that these were laudable goals.  However, the Senator said that they wanted to know what the terms and conditions were of this speaking appearance.  "The response that we got from the CSU Foundation was that it was none of your business."
As a result they put in a California Public Records Act request for information.  "The response," the Senator said, "was that we don't have any info on that particular issue.  CSU said that they had no information whatsoever."
However, on furlough Friday, the Senator heard from the two ladies in attendance, Ashli Briggs and Alicia Lewis that in fact not only were individuals around, but they were shredding and throwing away documents that the unversity claimed they did not have.
"It is truly shocking and a gross violation of the public trust that such documents would be thrown away and destroyed during a pending investigation," said Senator Yee.  "Found within the same files as regular university business were financial statements and documents of the CSU Stanislaus Foundation – demonstrating that the foundation is operated by taxpayer-funded employees within the university itself.  How can they possibly claim that no tax dollars are being used for the Palin event when state employees are called in on their furlough day to help avoid public scrutiny?"
Ashli Briggs said that she was informed that suspicious activity, specifically, document purging was taking place within the administration building on a furlough Friday, April 9, when people were not supposed to be at work.  "I was informed that administrators were destroying documents and once I found that out, I found it very alarming, I notified Alicia [Lewis]."
Alicia Lewis said that she was notified by Ms. Briggs of the administrator's activities.  "Myself and several other students decided to look around and see what was taking place."  When the five of them pulled up, they noticed several staff cars parked outside of the administrative building and saw activity inside the closed and gated building.  They saw a student taking out garbage and they walked around to see what they could find.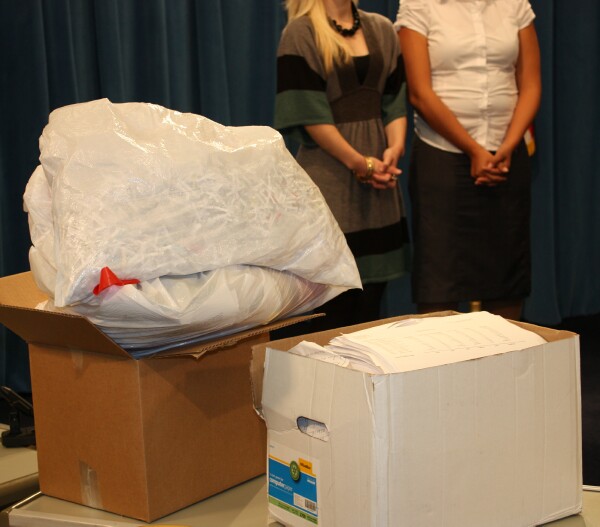 In the dumpster they found a number of documents relating to the university and they took the documents out and in it was all the university paperwork mixed in with paperwork from the foundation.  "After going through the documents we ended up finding pages four through nine of the Sarah Palin contract, the school said it didn't have.  It was mixed right in with the university paperwork that we pulled out of the dumpster."
Ms. Lewis said that they have chosen to turn in the paperwork to the Attorney General's Office for investigation.  "[We're] turning over this information to the Attorney General is important so that any wrongdoing can be addressed and prevented from reoccurring in the future," said Alicia Lewis.  "If this helps push for financial transparency on college campuses, then those of us involved know we did the right thing."
"My hat is off to these students who had the courage to come forward and report such information," said Senator Yee.  "They are to be commended for protecting our precious and limited public resources."
He also vowed to hold officials at the university accountable if there were any attempts at retaliation against the two students who came forward or the other three who were involved in locating the documents.
CSU officials declared that the foundation is a private entity and therefore exempt from the public records act.
Terry Francke is the executive director of Californians Aware, an organization that focuses on first amendment issues and the freedom of information.  They had also submitted a request for the documents relating to Sarah Palin's visit and had been denied.  The response was that they had records responsive to their request.
He said, "On a furlough Friday, people in the financial services office of the university [were found] sorting through documents, shredding some, and discarding others." 
He hopes to get a court decision "that regards these documents as university documents and not simply foundation documents, because there's such a tight interlacing of the functions.  Not just the practical day-to-day functions, but the official duties of the university officers and the operation of the foundation."
He continued, "We think that particularly under proposition 59, which requires access laws to be read broadly, that the foundation by and large, is a state agency subject to the California public records act."
In a release from Senator Yee's office they cite the fact that the chair of the foundation is the campus president Hamid Shrivani, a state employee who makes upwards of $300,000 per year.  Moreover the officers are all employees of the university as is every staff member listed on the foundation website with one exception.  The foundation's website is located at the taxpayer-funded www.csustan.edu. 
Furthermore, the Palin fundraiser solicitation and information line is a university telephone number at the university advancement office.  The foundation's offices are housed within the campus administration's building and fully staffed by university employees.  The foundation board meetings are held at the campus using public resources.  Finally, the work of the foundation is conducted using CSU Stanislaus email accounts, telephones, computers and other taxpayer-funded resources.
As Senator Yee said last Thursday, "There is not a fine line or even a blurry line between the foundation and the public university; there is absolutely no line."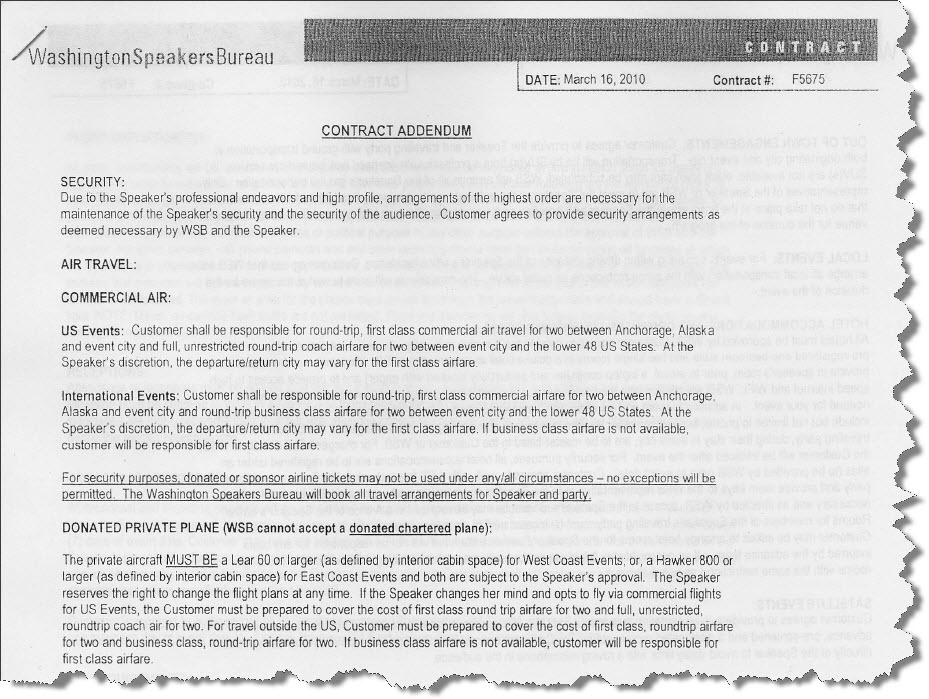 Senator Yee said they still do not know how much Sarah Palin received but estimated it was upwards of $100,000.  Among the documents found intact where pages 4 through 9 of the university's contract with Palin.  While the actual compensation – suspected to be nearly $100,000 – cannot be found within the intact documents, pages 4 through 9 shows that Palin is expected to receive:
•   "Round-trip, first class commercial air travel for two between Anchorage, Alaska and event city"
•   Presumably for Palin's guests, "full, unrestricted round-trip coach airfare for two between event city and lower 48 US States."
•   If the university chooses to use a private jet, "the Speaker, their traveling party and the plane crew will be the only passengers." 
•   Ground transportation in both the originating city and the event city "will be by SUV(s) from a professionally licensed and insured car service." 
•   "security arrangements as deemed necessary by [Washington Speakers Bureau] and the Speaker."
•   Accommodations are to include "a one-bedroom suite and two single rooms in a deluxe hotel" as well as a "laptop computer and printer (fully stocked with paper) and high speed internet" and "all meals and incidentals." 
•   "For Q&A, the questions are to be collected from the audience in advance, pre-screened and a designated representative shall ask questions directly of the Speaker."
•   The contract also includes other stipulations regarding autographs, photographs, press releases, advertising, recording, lighting, bottled water and "bendable straws."
According to the Attorney General's office, Jerry Brown has "launched a broad investigation into the California State University Stanislaus Foundation to include an examination of its finances and the alleged dumping of documents into a university dumpster."
The expanded inquiry will seek to determine whether the foundation, which has assets of more than $20 million, is spending its money to benefit the campus, as it promises donors, the university and the public. The CSU Stanislaus Foundation spends more than $3 million each year on university endeavors. The Attorney General is asking university officials to preserve foundation documents.
"We are taking this action to make sure that the money raised goes toward the intended educational purposes and not a dollar is wasted or misspent," Attorney General Brown said, "Prudent financial stewardship is crucial at a time in which universities face vastly decreased funding and increased student fees."
The Attorney General said his office would also review documents obtained from Yee today, including part of Palin's speech contract, which students say they plucked out of a dumpster near the CSU Stanislaus administration building. Investigators will first attempt to determine whether the documents are authentic and how they ended up in the dumpster.
"This is not about Sarah Palin," AG Brown said. "She has every right to speak at a university event, and schools should strive to bring to campus a broad range of speakers. The issues are public disclosure and financial accountability in organizations embedded in state-run universities. We're not saying any allegation is true, but we owe it to the taxpayers to thoroughly check out every serious allegation."
University officials have denounced the Senator's accusations calling them baseless and accusing the senator of grandstanding for political purposes.
CSU-Stanislaus Vice President of Business and Finance Russ Giambelluca said the university routinely discards documents. "We are an institution that sees lots of papers.  Every day we purge."  He continued, "Let me make it clear no one on this campus was advised to shred documents of critical importance."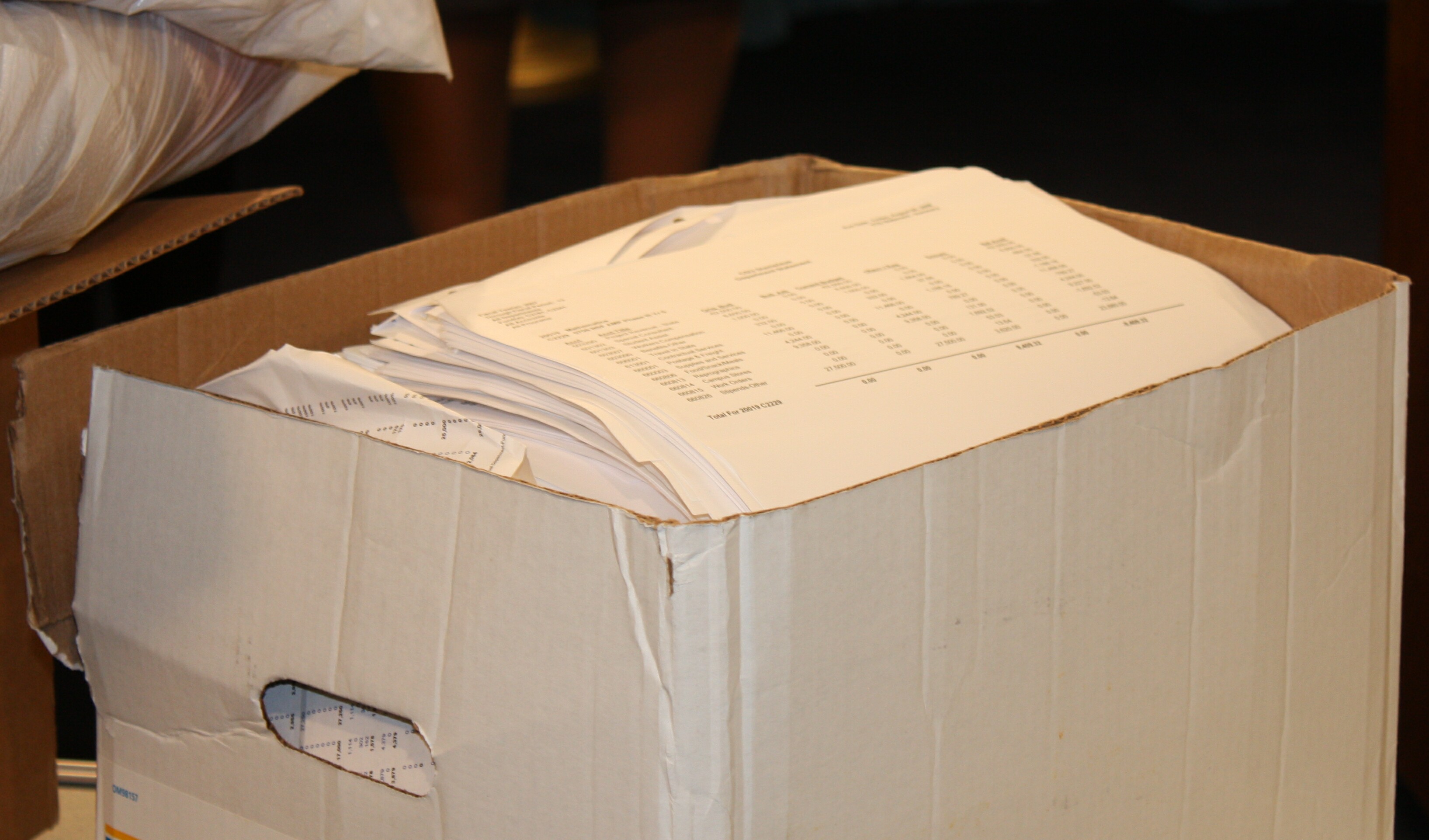 He also denied having seen the contract presented at the news conference and thus could not verify that it was Palin's.
—David M. Greenwald reporting