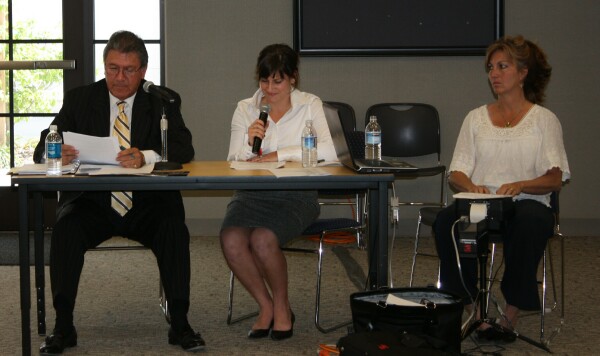 In the last week we had a third Independent Civil Rights Commission meeting and also the announcement by the Sheriff's Department that the officers had been cleared in an incident where the deputy had allegedly pointed a gun to the head of a nine-year-old girl.  While we may never know for sure, the case of Christal Ochoa probably came down to the word of the family against the word of the deputies. 
Meanwhile, we had more witnesses testify last weekend, depicting the Gutierrez shooting.  One of the witnesses apparently saw the badge of a Sheriff's Deputy, but never saw a knife in Mr. Gutierrez's hand.  The investigator believes there is another witness, who thus far has refused to come forward out of some sort of professed fear, that he believes actually saw the shooting.
During the course of a conversation I had with someone trying to make sure their facts were right on the Gutierrez case, something very obvious struck me.  The Sacramento Bee article suggested that according to the witness, "the plainclothes deputy was clearly wearing a badge on his belt."  It continued, "The new evidence appeared to bolster the deputies' story that Gutierrez knew who they were but fled from them and swung a knife before they shot and killed him on a Woodland overpass on April 30, 2009."
The problem is, the witness never saw the knife.  In fact, to date, not one witness that has come forward has seen a knife.  And not one witness that has come forward has seen the deputy attacked with a knife.
The witnesses who testified said they did not see a knife.  The driver said that while she saw the officer's badge and gun, she did not see a knife in Gutierrez's hands.  She said, "I do not recall seeing anything on his hands."  She continued, "I saw the gun that the cop had, and I think that if he would have, if he would have had anything I think I would have seen it."  She later said, "I think that if I  was able to see a gun on the other guy's hand, I am pretty sure I think I would have been able to see something on his hand, but I don't recall seeing anything."
Vienna Navarro testified both for the commission but was also a witness in the DA's Final Report on the Shooting of Luis Gutierrez.
In that report she said, "She thought the subject's arms were swinging as he ran. She did not see him pull out a knife."
In her testimony, Ms. Navarro described that she was within just a few feet of Mr. Gutierrez and clearly saw his hands, and yet did not see a knife.  She also described that upon interview by the police, they tried to convince her it was possible for Mr. Gutierrez to have a knife and she not see it.
Ms. Navarro was driving very slowly during this time.  She had a very clear view of Gutierrez as he was within three feet of her, looked right at him, and did not see a knife in his hands.  And yet seconds later he would allegedly have an open knife and would have allegedly lunged at the police according to the report.  The interviewing officer tried to convince her that he could have had a weapon in his hands and she may not have seen it.  However, in his demonstration but he held a closed knife.  From a demonstration at the commission hearing, it was clear that an open knife with a four inch blade would have been visible to her.  Ms. Navarro never reported seeing Mr. Gutierrez lunge at officers.  On the contrary, she described him as running backwards with his arms swinging as a jogger's arms would swing while jogging.
That's two sets of witnesses, neither of them saw a knife or an attack.  Going through the report, there appear to be only four "eyewitnesses" to the event.  The first is Ms. Navarro herself.  Again in that report, she is said to say, "She thought the subject's arms were swinging as he ran. She did not see him pull out a knife."  To discredit her report, they write, "She also denied having any prior contact with the involved officers but admitted she does not like law enforcement."
They also have an interview from Wayne Lewis.  He testified, "Lewis said he was on East Gum Avenue, at Capay Valley Road. This location is west of Bourn Drive and east of the Highway 113 overpass. Lewis heard a series of "pops" that initially sounded like firecrackers."  It continued, "After hearing the "pops," Lewis saw two males, one of whom was Hispanic, running on East Gum Avenue to the truck. The males entered the truck and drove quickly east on East Gum and then south on Capay Valley Road."
Clearly he never saw the incident, only heard the shots.
The third witness is Javier Cabrera who was according to the DA's report located by a private investigator for the family's attorneys. 
"Cabrera was driving about 30 to 35 miles per hour eastbound over the bridge and saw a kid wearing a white T-shirt walking in the same direction. He saw a car parked diagonally in front of the kid. The kid had surprised look on his face. Cabrera thought
the individuals in the car might be gang members because he did not see a police car or any police identification on the car. Cabrera thought they wanted to beat up the kid. Cabrera did not know the kid. The only person he saw was the person walking. He did not see who was in the car."
Again, no mention of a knife or an attack by Mr. Gutierrez.
Finally there is Ronald Vasquez who was contacted by the Gang Task Force just prior to the shooting.  The police report does not tell the full story but says, "When he was contacted, Vasquez did not see any badges on the officers, nor did he recall them identifying themselves as such.  Vasquez, however, was aware of who they were and recognized them as police officers from prior contacts."  He did not even see the incident.
From the DA's own report then, the only people who reported seeing a knife and an attack by Mr. Gutierrez are the two officers who shot at him and eventually killed him.
Perhaps that is why they add testimony from another witness, Rudolfo Flores who never saw the incident but testified that Mr. Gutierrez was a "good knife thrower."  "According to Flores, the deputy was lucky not to get killed because Gutierrez, who is a Sureño gang member, is a dangerous person and had said he would not let the cops take him." 
Furthermore, "Flores advised he knew Gutierrez (Navarro) as a Sureño because since he (Flores) associates with Sureños. Gutierrez always carried a knife and was good with it.  Gutierrez's nickname was "Indio" because he was good with a knife. Flores knew Gutierrez used controlled substances and was considered dangerous."
From the start, Mr. Flores' testimony did not make a lot of sense.  The DA's report acknowledges that Mr. Gutierrez's criminal record involved a violation of Vehicle Code Section 14601, driving without a valid license.  It goes on to say, "Between December, 2006, and April, 2009, there were 15 independently verified contacts between law enforcement and Navarro."  Moreover, "In the 15 verified contacts prior to April 30, 2009, there were no indications of any issues, conflicts, or confrontations between Navarro and officers. There is no record or indication of Navarro engaging in any type of resisting or assaultive behavior toward law enforcement or of Navarro being under the influence of a controlled substance."
So now, you have a witness who said that the deputy was lucky not to get killed?  That never made sense. 
Frank Roman, the investigator, followed up and tried to find Mr. Flores to ask him about this odd story.  But as he testified last week, he was not able to determine why Mr. Flores would even be in custody on June 1.  He did find an arrest dated July 1, 2009 for possession of heroin.  He also discovered a directive from the District Attorney's Office to Decline to File charges for that possession offense (a suspicious action in and of itself for those familiar with the DA's track record for prosecuting cases).
Mr. Roman also spoke to a parole officer who dealt with Mr. Flores.  He was told by this parole officer that Mr. Flores had no known gang ties and spoke fluent English.
He also found out that Mr. Flores was deported to Mexico shortly after being released on July 2, 2009.
The evidence at least that has been made available to the public shows that not one witness saw Mr. Gutierrez with a knife or attack the officers.  The only evidence that they have is the testimony of the two deputies involved in the shooting.  The one thing we do not have right now however is the one witness who may have seen the shooting itself.  And that is the missing piece in all of this. 
—David M. Greenwald reporting