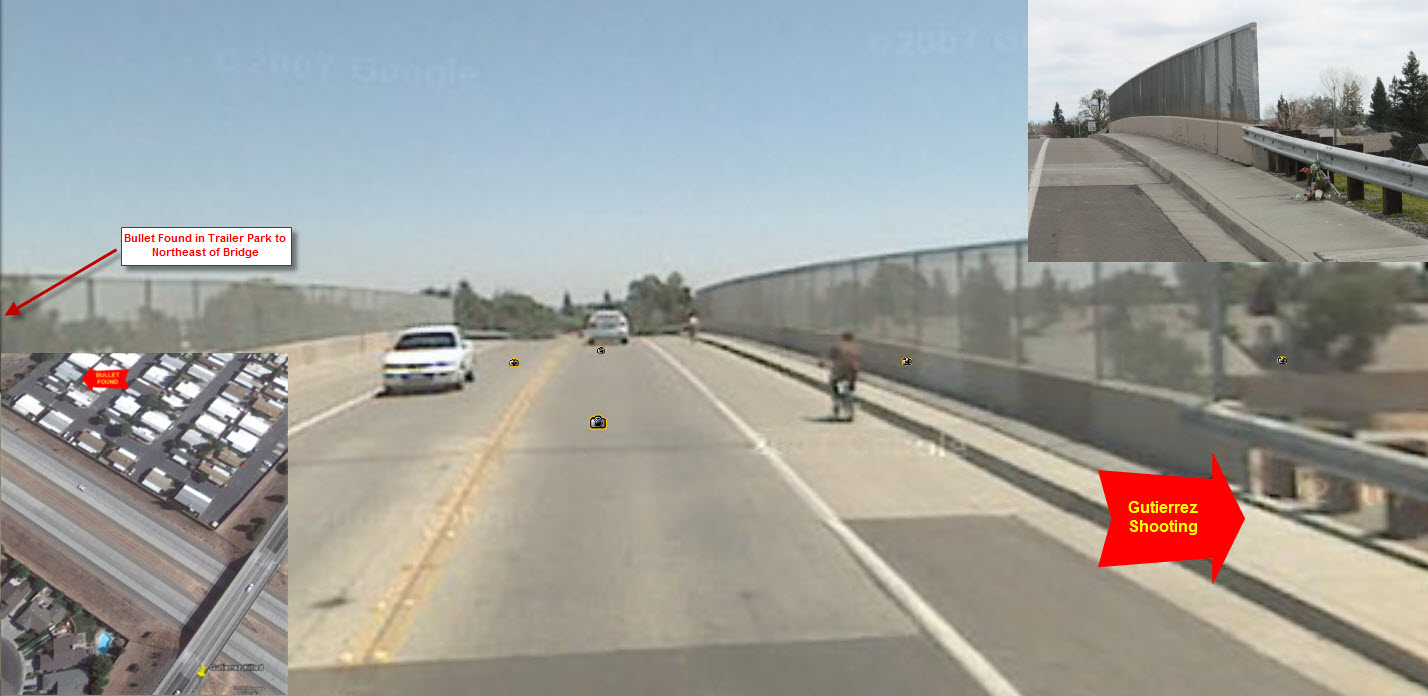 The Vanguard has received word that the District Attorney's Office is re-opening the investigation into the shooting of Luis Gutierrez.  At this time, the Vanguard is uncertain what that entails.
Last week, the Vanguard ran a story that questioned the official version of events based on the location of several bullet strikes in relation to where Mr. Gutierrez was eventually killed on the street adjacent to the south sidewalk on the Gum Ave overpass over Highway 113.  Based on that story, the Vanguard requested additional information from the county assuming that the investigation of the Office of District Attorney was complete.
The Vanguard was therefore surprised to receive a letter from the Yolo County Office of the County Counsel signed by Sonia Cortes, Senior Deputy County Counsel, stating that the records are exempt from disclosure under Evidence Code section 1040 "because there is an ongoing criminal investigation into the shooting death of Luis Gutierrez Navarro being conducted by the Yolo County District Attorney's office and the Federal Bureau of Investigation Civil Rights Division."
We were aware that the FBI was investigating the shooting, however, we were unaware that the District Attorney's Office had an open or active investigation.
We received additional information from the folks at the Independent Civil Rights Commission who had received a voice mail message from Dan Cederborg, Assistant County Counsel for Yolo County.
He told them that due "the fact that there are some additional witnesses [of the shooting of Luis Gutierrez], the DA has re-opened their investigation, at least partially."
Right before Thanksgiving, the District Attorney's office concluded their investigation  more than six months after the April 30, 2009 shooting of Luis Gutierrez by three Yolo County Sheriff's Deputies operating as part of the Yolo County Gang Task Force.  At the time they concluded, "When considering all of the facts and circumstances known to them at the time, the use of deadly force by the deputies was objectively reasonable and justified and therefore does not warrant the filing of criminal charges against Sgt. Johnson, Deputy Oviedo or Deputy Bautista."
Said Assistant Chief Deputy Jonathan Raven at the time, "The district attorney's report was based on a lengthy (Woodland) Police Department investigation and we were thorough and deliberate.  We came to a decision and even asked the attorney general to review it, and we also asked the U.S. Department of Justice and the FBI to conduct their own investigation, and certainly we hope the community is comfortable with the decision, because that's important to us."
However, many in the community were not comfortable with the decision and a group of citizens led by Former California Supreme Court Justice Cruz Reynoso formed an Independent Civil Rights Commission.  They held their first hearings in late February bringing forth witnesses and the testimony of investigator Frank Roman.
It was during these hearings that we heard additional evidence from Vienna Navarro who provided additional information above and beyond what was included in the report from the District Attorney's Office.  Significantly she described in great detail Mr. Gutierrez running backwards away from deputies right before he was shot, moreover, she described the fact that she saw his hands very clearly and saw no knife.
According to her testimony in February, Ms. Navarro was driving very slowly on the bridge when she saw three men and Luis Gutierrez.  At first, she thought the men were playing around and simply running from one side of the street to the other.  However, then she saw them punching and swinging their arms.  She saw Mr. Gutierrez exchange punches with one of the officers.  She described Mr. Gutierrez's face as very red, but said there was no blood that she could see.
She was driving about 2 miles per hour very slow and Luis came within three feet of her vehicle and made eye contact with her.  He looked very scared, confused, and shocked.
She said, "I didn't know they were officers until one of their jackets flew open and I saw the badge.  And even then I wasn't really sure, it didn't click in my head that they were police officers."
She described that he stopped and turned around.  "He was doing this backwards jog type move.  It kind of looked like he was turning to see where they were.  He turned around and I heard three gunshots as he was doing a jogging motion."
"I heard three or four or five shots, and I was looking in my rearview mirror and I saw him fall down on his side.  When I saw that I took off down to Kate Lane."
She would not find out that he had been killed until the next day when she looked up the story on the internet and saw the report.  She could not believe that he had been shot, since he did not have a gun.  It was only later on the internet that she learned that officers were saying that he had a knife.
She said the Chief of Police was the one who interviewed her.
"One thing that I thought was pretty odd, was at one point he had asked me to stand up and demonstrate how Luis was running.  He said, so Luis was running like this with his hands and everything.  I said yes.  And he said, did you notice that I had this knife in my hands the whole time?  He had a pocket knife, a black one, that was in the palm of his hands.  He said, did you see this?  And I said no, I didn't.  He said, how do you know you didn't just miss the knife [the knife that he alleged was in Luis' hand]?"
She pointed out that the knife that the Police Chief held was closed.  In demonstration with the private investigator, it was clear that if there had been an open knife in Luis' hands, as the officers allege in their report, she would have seen it. 
Other witnesses came forward on Sunday.  One was Javier Cabrera who witnessed Mr. Gutierrez on the bridge and largely corroborated what Ms. Navarro had testified to.
Of interest as well was Rosalia Redones who was an insurance broker who met with Mr. Gutierrez the day of the incident who reported she saw nothing strange about his behavior despite claims that he had been under the influence of meth at the time of the shooting so as to cause erratic behavior.
he witness described the fact that two of her brothers had died from drugs and alcohol and she had witnessed them under the influence, but said that the victim  (Gutierrez) showed no signs of being on drugs.  The victim did not have sniffles, shaking, slurred speech, or any other indications of drug use.  She also mentioned he spoke broken English.
District Attorney Investigators may also want to speak to the Ochoa family who came forward that Saturday to describe their treatment and the treatment of their daughter Christal who described in vivid detail as Deputy Oviedo put a gun to her head while serving a warrant looking for her brother who was later acquitted by a Colusa County Jury of firing a gun in an attempted drive-by shooting that was said to be gang-related. 
Of importance here is the conduct of two officers–Sgt Johnson and Deputy Oviedo, who according to records obtained by the Vanguard served a search warrant on the Ochoa House last June.  These two officers were the two primary officers involved in the Gutierrez shooting.
The Vanguard has also learned from investigators that at least two more witnesses may surface in an upcoming hearing on April 18 by the Independent Civil Rights Commission in which testimony will be given that they were on the bridge and witnessed Mr. Gutierrez running from deputies as they shot at him.
What the new investigation will entail is difficult to ascertain and the Vanguard received no calls in return to inquiries from earlier this week.  Nevertheless, this would appear to be a significant development in a case that the DA's office appeared to consider closed and it calls into questions their findings from November but also the diligence of their investigation given the fact that additional witnesses have now come forward who apparently were too frightened to talk to the DA's office originally.
—David M. Greenwald reporting