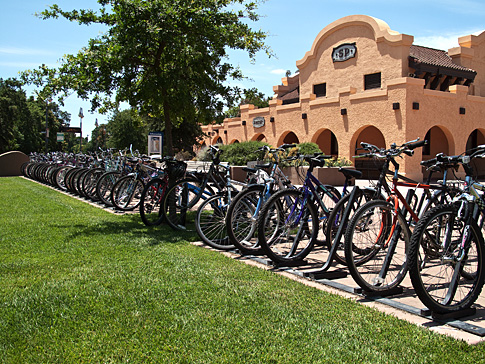 This week we had Davis Bicycles! and a host of other groups have a candidates forum featuring discussions on transportation and biking.  I have been to a lot of forums in the past two weeks, and this was my favorite of them all.  It dealt with a lot of issues that do not get enough attention even as Davis likes to do things like get a Bicycling Hall of Fame, bring in the Amgen tour, and act as though it is the bike mecca of America.
A little known fact about is me is that when I got accepted to graduate school at UC Davis, I came here to visit in April of 1996 by bicycle.  That is correct, I biked from San Luis Obispo up Highway 1 to San Francisco and then cut across back roads to ride into Davis on Old Davis Road through the south side of campus.
I did not own a car until 1998 when my work on a campaign required it.  I had always bicycled San Luis Obispo despite the fact that I had to travel about 3 miles to go to the university and the trip was uphill both ways – I am not kidding.
I also used to bike in Washington DC when I worked there in the mid-90s, that was an adrenaline rush switching between the sidewalk and the streets trying not to get hit.
Davis by comparison was flat and easy to navigate.  However, I soon discovered that biking in Davis was not nearly as easy as I thought.  First, I always thought I was taking my life in my hands biking onto campus where half the people seem to have no idea where they are going.  I remember my first year getting hit by a pedestrian who was not looking where she was going and she rather than me ended up on the pavement.
For years, I would hit brush and clippings as green and bike friendly Davis just chucked them into the bike lane forcing bicyclists to either jet out into the traffic or take their chances with protruding debris.
I have lived in a lot of different places at different times, this is the only city that does not use containers for their waste.  And when we tried to do a pilot program, the citizens of this bike friendly town revolted.  You would have thought they were banning fire places or something.
And then there is Fifth Street which is the main route to the eastern portion of Davis.  If I want to bike to the Post Office for instance, my options are to put my life in my own hands and try to use the street, to illegally bike on the sidewalk, or to go several blocks out of my way to the north and then back to the south.  Some will say – big deal? 
Well it is a big deal. Especially when we pride ourselves as the biking capital of the world.  The place where bike lanes were developed and prospered.  The home of the biking Hall of Fame.
I was reading a letter to the editor in that Davis paper the other day, so one decided that it was a good idea to ban bicycles from that stretch of 5th Street between A and L.  Wow.  So there you are, right by the front door of City Hall.  Two blocks from the National Bicycling Hall of Fame, and you have the main street in Davis blocked off to bike traffic.
Now as someone pointed out in this morning's paper, that is actually illegal.  Bicycles cannot be prohibited from city streets like that.  But forget about that point for a second, think about the audacity.  This is Davis and we have citizens seriously making such proposals.
And they are not alone.  The business community is flat out opposed to the idea of a road diet on Fifth to make it bike friendly, pedestrian friendly, and frankly more car friendly.  I do not like to even drive my car on Fifth Street between the crazy turns, cars whipping around the crazy turns, and messed up lighting sequence on F and G.
The three-phase lights have made the road more safe, but there have been many times at 5 am in the morning or late at night where I just miss a light, I'm the only car on the road, and I'm idling my car for a full two minute cycle.  Talk about waste of gas.
Fortunately, the Davis City Council for once ignored the pressure of the business community and supported the road diet – twice in the last six months.
The fact of the matter is that if weren't for my good friend Steve Tracy, we probably would not be where we are today.  Without his work, the idea of a road diet on Fifth Street would have diet a long time ago.  He got the studies approved, pushed for funding, and promoted the idea.  When the business community got a signature campaign with 400 signatures, he got one that was more than twice that.
The good news is the plan is going forward.  The good news is that the incoming council will be committed to the project no matter who is elected.  The bad news is that right now city staff is not.  Without diligence, the design of Fifth Street could be a problem.  There will have to be a tweaking of lighting sequences to get the flow just right, but we know from other communities it works and the areas around the road diets have flourished.
But here's the amazing thing, in this bicycling friendly community, how much it has taken to make common sense changes to Fifth Street.  I have lived here only 14 years as of this coming fall, but for that time and I assume well before it, the main thoroughfare through the biking capital of America has been problematic at best and unfriendly at least to bikes.  That is simply amazing and people were willing to tolerate it.
There is worse news, and I will discuss it far more coming up this week, the transportation and road maintenance portion of the city's budget is woefully underfunded and it is going to become a problem unless the city changes the way it does business.  This is going to affect everyone who uses the roads, but especially bicyclists.  More on that this week.
—David M. Greenwald reporting