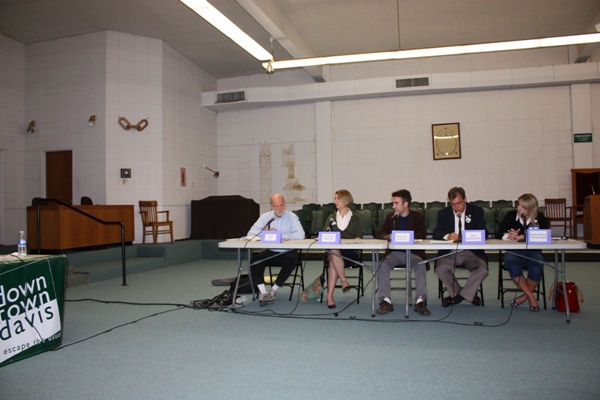 On Thursday night, the five Davis City Council candidates were at it again, this time meeting at a forum with the Davis Downtown Business Association (DDBA).  The theme this evening was business, the economy, and the Davis downtown.  It gave the candidates and the membership of the DDBA a chance to hear another very different set of issues from the previous forums.
The format here was the first question asking about small business experience was asked to all five, and then the remaining were asked two at a time.  For the sake of keeping this somewhat less brief, I have skipped the first question and proceeding to subsequent questions that are more policy oriented.
First question, "The core area specific plans states that the downtown is to be the city's social and cultural center, primary retail center, and professional office and administrative district.  City leaders have stated in policy discussions that the objectives stated for the downtown in the core area specific plan mean different things to different people.  Which of these three objectives, if any, do you find ambiguous?"
Joe Krovoza did not find any ambiguous.  He does think the focus should be on the business of downtown and nurturing what we have.  "If the business isn't healthy downtown," he said, "then the social and cultural are not going to follow."  He would look first and foremost to look at the business and find other ways in which the others are the co-benefits.
Jon Li referred to Davis as the "Carmel of the Valley."  He said that "we do have some entertaining retail stuff.  But unfortunately, by and large people go other places to get their discretionary [products], particularly their clothing and household goods needs met."  He said it was the center in terms of business, cultural, and social.  Mr. Li said that only the real estate sector is "normal."  "We're strong on the fiscal and professional side, we're not so strong on the retail."  He continued, "The nature of our downtown is because we're attached at the hip with the university."  Because of that we have food places and other things that provide to the needs of students.
Next question, "To help our downtown reach its potential as a sustainable pedestrian oriented, architecturally attracted urban area, what changes, if any would you make to our system of evaluating and designating historical properties?"
Rochelle Swanson said we need a better evaluation process as she feels hesitant at the current policy where we have a handful of commissioners make that decision.  She thinks it needs to be a broader group of people, not just those on the HRMC.  She said, "We have parking that has been underutilized in our parking structures" and she advocated helping employees who work in the downtown obtain permits to park in that parking garage.  "Along the streets where we have historical districts, we can either change the parking configuration now or scale back considerably and in tandem open up the parking time."  She said, it is unrealistic that we have 90 minute and two hour parking everywhere.  "That really doesn't invite someone to spend an afternoon downtown."  She suggested that these would be low cost measures right at the beginning and she would look to a joint commission and downtown to see how to move those policies forward.
Daniel Watts, he would be inclined not to restrict the use of those properties.  "I would not restrict the use of historical properties for the people that own them."  He wants them to turn it into a useful property.   He said it does no good to have a property sitting around, falling out of use, because it cannot be used for the purpose the owner wishes to use it for.   Suggested that having a bunch of museums in downtown, which is what he suggested the historic buildings would basically be, would be useless.  "I would not be in favor of designating anything as historic property and restricting it if it would cause the building not be used at all."
Third question, "Which specific steps would you propose the council take in 2010 to improve the economic vitality of the downtown?"
Sydney Vergis said getting together and working out an economic development plan is really vital to us moving forward.  She said, "A lot of the resources that the city has, especially through the redevelopment agency is starting to get whittled down over time with the state swooping in.  That certainly curtails the city's ability to implement some really dynamic infrastructure projects with regards to economic development.  Getting together to figure out what our resources are and how to leverage those to maintaining existing businesses to help increase job diversity, education, and just promote economic development overall is really important."  Wants to market our downtown to the university and wants a Third Street project as a thoroughfare.  Talked about the lack of transportation dollars, "As the one time monies that are keeping us afloat go away, the viability and ability of the city to provide infrastructure I'm really concerned about and I think this is something we should be focusing on as well."
Daniel Watts talked about changes that need to be made in the municipal code that could help facilitate downtown business.  He mentioned again that credit card surcharges are illegal in the state of California.  Named several businesses he said were in violation of the California civil code.  "I would advocate for passing a municipal ordinance imposing a municipal penalty for that.  And requiring business that are in the downtown and the city of Davis to adhere to that municipal code as well as the California civil code."  Wants to have more large scale marquee events to bring people to downtown, suggested things like Jazz Festival, Picnic.  He said this is up to the businesses, not the city council.
Next question, "Does your vision for the downtown focus on the needs of Davis residents or does your vision focus on creating a regional destination and why?"
Jon Li said, "My vision for the economy of Davis is first off that we meet our basic needs."  Therefore he advocated for self-sufficiency and "we don't do a very good job of some of that."  He continued, "Some of what we need to do with the downtown is specialize what we're good at."   By the same token, we also need to focus at what we're not doing a good job.  He proposes a viable system model to analyze the economy of Davis and the downtown.  He suggested we could a do a lot better on synergy of the stuff in the retail center of downtown. 
Sydney Vergis talked about living in the downtown area and being able to go from her house to her work to be able to get to amenities either by foot or bike attests to "what we can accomplish as a community."  She wants to see us become more of a regional hub promoting our festivals and our cultural activities.  She wants to showcase what it's like to live in a livable and walkable community and to pull people off I-80 to show them our community.  She suggested that this will help our economy and create an energy in our downtown.  Like the idea of downtown as a one-stop-shop to meet all of our needs.
"What is your plan to attract more consumers from the periphery and nearby communities to our downtown?"
Rochelle Swanson suggests that we need to look first at accessibility.  "When people try to go to Davis, they think first about trying to get under the Richards undercrossing, how they're going to get into downtown, and where they are going to stay," she said.  "I think that historically we haven't marketed too much to Sacramento."  She suggested that we could market that more through festivals and art activities.   She said, "the marketing piece if half of that and the other half is once they get there."  She suggested people need to be able to park and possibly rent a bike.  "We already have all the pieces and the resources here," she said, "it's a matter of getting together a plan to bring that piece together."
Joe Krovoza thinks about downtown in terms of people, transportation, and magnets or attractants to downtown.  He believes in terms of transportation that they need to publicize where parking is available.  "I think that there's a great opportunity in the bike community to work toward facilitating access for those who are worried about parking still," he said.  "We need to make downtown as bike friendly as possible."  He also thinks we need to really think about the magnets, right now we have a window of opportunity to do certain types of projects.  "I'd like to see the depot and the area around the depot really flourish," he said.  "I think that could be both great for our current citizens but also for making it more of a regional attraction."  Also advocates live music that's consistent and has a venue downtown.  Said that we have a great independent film center in the Varsity, but we lost a chance to attract students with the loss of the Palms to Winters.
"How do you propose the downtown retail district strengthen its competitive position versus big box retailers in the periphery, Woodland, and other nearby communities?"
Daniel Watts, "I don't think there's a whole lot of competition between big box retailers and the shops downtown."  For example he said, "That undercover Marijuana store whatever that pot club looking place is, I really don't think that competes much with Target."  Suggested downtown stores sell a lot of knick-knacks and random wind chimes and things like that.  He suggested Fleet Feet doesn't compete with Target since Target sells $5 shoes "made by some kid in a third world country" rather than $300 high end shoes.   "So if you want to buy those kinds of shoes you will go to Target.  If you want to buy high quality shoes, you will go downtown."  He continued, "The people who want to buy cheap low quality goods still will go to Target.  The only difference is now we have a Target in Davis and so the sales tax is staying here.  Whereas before, if you wanted to get crappy shoes, you'd have to drive to Woodland and they would get our sales tax."
Rochelle Swanson thinks there's a 60-20-6-0 campaign to be had.  She explained, "That's sixty cents for self-proprietors, 20 cents for chains, 6 for the big box, and zero when you leave our tax base."  She said, "that does make a difference, that one dollar that we spend here on local business floats around and ends up being fourteen."  She was referring to the multiplier effect.  "I think that the reason we survived the recession is that we see all these great faces that come into our business and I can tell you, I spend those dollars here."   She also said her business tries to go to local businesses first.  She suggested that there needs to be an awareness to keep local money local.
"The trend for the downtown is toward entertainment and food services, do you support this trend and why?"
Jon Li, "I support the trend because it's a positive trend, but the negative trend implied in it is that we need to have it be a retail place as well.  The ongoing debate between the city council and the DDBA," he said, "is whether or not professional businesses should take up storefront locations on the first floor.  There are times when the city council has mandated that the first floor be for retail."  He mentioned that we have about 65 restaurants losing 5 to 10 per year and gaining about the same.  He suggested that because of the college community that we have a lot diversity in the food that we offer.  We have a few small venues that are good for entertainment, but we're working on that one.  There's always room for improvement, according to him.
Joe Krovoza, "I understand the trend, but I'm actually quite worried about the trend.    It's nice that we have good restaurants," he said remarking that there was really only one good restaurant in town when he first moved here.  He said while it's nice we have at least five or six solid restaurants downtown, "But, I think we have to worry about the diversity downtown.  We have to do everything to encourage [more diversity]."  He talked about some of the businesses and sectors that are now out of downtown.  He also said, "I am worried about the development of the Second Street curve.  Just how much stuff is going out there.  I think this city council should look at the types of businesses that are out there and make sure that that doesn't turn into a substantial shopping district that takes away from downtown."  He continued, "it was one think to put the Target out there and say, we're going to stop people from doing their big box shopping in Woodland, and provide an opportunity here in town.  But if that becomes the one-stop place that you go for two or three hours to do all kinds of different things, that's concerning."
"How tall, as in the number of stories, should the downtown Davis be and why?"
Sydney Vergis responded, "I don't think we should be scared going up, that's certainly the wave of the future."   She sees a lot of underutilized lots with empty store fronts.  So she sees a lot of unutilized potential.  She wants to look at how other cities diversify their jobs to bring about economic stability.  She talked about the need to bring in university spinoffs and "green incubators" into our community.  "This is something that we've struggled with regionally, not just within the city limits.  But other jurisdictions have utilized the zoning code to streamline permitting processes and enact land use and other policy incentives to get those businesses to locate here."   She continued, "If we do that, it will us to create those jobs to allow us to support our existing businesses, existing retail, existing shops, the existing commercial buildings.  I think the real challenge is to getting folks downtown, getting them working and living downtown."  She stressed that she is not afraid of going up.
Jon Li said that he was on the original Business and Economic Development commission and that then they discussed the idea of parking structure on E and F and 3rd and 4th.  He thinks it doesn't pencil out which is why they haven't done it.  "There's an enormous financial question about the prospects of going up," he said, "Having said that I'm enamored with the idea of going up."  He again cited a mistake of not getting a hook and ladder truck in the early 70s which limited us to 3rd story buildings.  He's open to the idea of several stories.
This is part one of the DDBA forum.  The rest will be published sometime around or just after noon today.