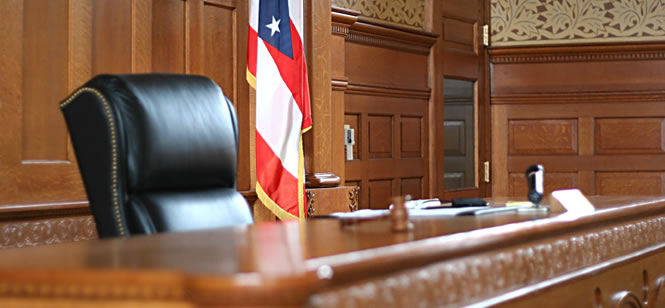 A trial begins today for Loren Poirier, 42, accused in separate cases of vandalism.  Mr. Poirier has a history of serious mental illness, diagnosed as Bipolar Disorder, and there are serious questions both about his competency to stand trial as well as his state of mind at the time in which the crimes were committed.
Nevertheless, the Yolo County DA's office, apparently overruling the judgment of Deputy District Attorney James Walker, who was assigned to this case, is pursuing this as a three strikes case and seeking to put Mr. Poirier in prison for life.
On September 9, 2009, Mr. Poirier apparent broke windows in an empty house in West Sacramento in the middle of the day while shouting, "America never loses."  He did not enter the home.  He was not using alcohol or drugs at the time.  Mr. Poirier was homeless.  A neighbor reported that he had argued with Mr. Poirier and had asked him to leave the premises prior to him breaking the windows.
In jail at Monroe Detention Center the next day in the Medical Unit, Mr. Poirier banged on the wire mesh reinforced glass of his cell window with his food tray and broke the glass.
The District Attorney's office apparently charges Mr. Poirier for this episode with felony vandalism.  However, in order for vandalism to be categorized as a felony, it must amount to more than $400 in damage.
The District Attorney's office submits to a glass company in Sacramento that would charge the county $1100 to repair the glass at Monroe Detention Center.  However, according to the defense, a local Woodland Glass Company would only charge a little over $300 to do the job.  Here's the kicker, that individual was the individual that installed the glass in the first place.
The defense is therefore arguing that the DA's office is trumping up the cost of repairs and the assessment of damage in order to get a felony charge on Mr. Poirier and attempt to put him in jail for life under three strikes.
According to the complaint filed by James Walker, the defendant has four priors stemming from two incidents.  In October of 1987 he was convicted of residential burglary.  In April of 2008, he was convicted of two counts of making criminal threats and assault on a peace officer.
Mr. Poirier suffers from acute bipolar disorder, apparently he is okay when he is on his medication as we will see in the psychiatric reports.  However, he quickly escalates out of control when he is not properly medicated.  The defense is seeking to have Mr. Poirier placed in a facility such as Napa where the defendant would be supervised and administered medication.
While it seemed that the Deputy District Attorney and Judge were agreeable to that arrangement, the DA's office itself under the authority of supervisor Garrett Hamilton has sought to continue to push for three strikes despite the strong evidence of the mental state of Mr. Poirier and despite the relatively minor nature of the initial crime for which he is accused.
Mr. Poirier was submitted to two psychiatric evaluations.  According to Dr. Captane Thomson, "The Defendant's arrest report describes both the window breaking in the vacant house in West Sacramento and again in the medical observation cell in the jail.  Both suggest that the Defendant was acutely psychotic when this occurred."
He continued, "It reminds me of the previous episode in 2008 where he broke into a car and then honked the orn, apparently hoping the police would come to help control him.  Instead, he was badly beaten by the neighbors who owned the car and suffered an orbital fracture from a blow to the cheek."
Furthermore, "It is not clear to me or apparently to the Defendant why he broke the windows in the abandoned home unless it was a cry for help in the hope that he would be apprehended and brought under control in the jail or hospital setting.  According to the Defendant, he was afraid that he would be killed.  By his account, he was attacked with tasers and perhaps a "cattle prod" or stun gun in the jail to help bring him under control."
"He has not been consistent in following through on outpatient treatment in the community on a voluntary basis," Dr. Thomson wrote, "He would be an appropriate candidate for mandatory assisted outpatient treatment with anti-psychotic medications."
Dr. Thomson concludes, "It is clear that he was in an acute manic and paranoid state at the time of his arrest.  He claims to have been afraid that he was about to be killed and was acting to protect himself.  His acting in self defense should negate the assumption that he understood that what he was doing was wrong, even if he did have a basic understanding of the nature and quality of his acts, the senseless window breaking."
Dr. Thomson recommends that "he would be a candidate for a finding of Not Guilty by reason of insanity."  If that is the case, he write, "He should be referred to a state mental hospital with follow-up intensive outpatient treatment through the Conditional Release Program."
Dr. Joan Gerbasi described Mr. Poirier's conduct in great detail and offers a lengthy opinion.
She writes, "It is my opinion, with reasonable medical certainty, that Mr. Poirier, at the time of the alleged offenses was acutely psychotic and mentally ill.  He was in the midst of a manic episode that did not resolve until he was arrested and received treatment at the Monroe Detention Center."
She continued that he has a well-documented history of Bipolar Disorder and was not taking his medication during the time of the incident that led to his arrest.  "His behavior on the day of his arrest and after being arrested was without rational motive.  His contemporaneous writings include delusional and paranoid material and also reveal a disordered thought process.  Additionally, his statements at the time of his arrest also contain references to delusions and paranoia."
Dr. Gerbasi  then concludes, "It is my opinion that, at the time of the acts charged, Mr. Poirier, due to his psychotic, manic symptoms, was unable to know or understand the nature and quality of his acts."  Furthermore, "It is also my opinion, that, at the time of his acts, Mr. Poirier was not capable of knowing or distinguishing right from wrong."  Interestingly she notes, "Although he stated that he asked the booking officer if breaking a window would be considered "vandalism", he tied that action to some delusional belief about having broken the window of a man who raped his daughter, made statements about being a government agent and did not know the owner of the residence he vandalized." 
She continued, "He was acutely psychotic and unable to behave in an organized, goal directed fashion.  Additionally, while at the Monroe Detention Center, he believed that he was going to be killed and broke the window in an attempt to hasten the attack.  While psychotic, he viewed this act to be one of self-defense."
She also writes that at the present time that he has recovered his sanity.  While on medication, he "has no symptoms of psychosis or mania.  At the present time he states that he understands his need medication and will follow-up with further treatment."
The bottom line in this case is twofold.  From a criminal standpoint, Mr. Poirier is accused of a fairly minor crime in vandalism. the DA's office is pushing for this to be a felony and therefore trying this as a three-strikes case.  Even without the mental history of Mr. Poirier the case would be sketchy. 
But the mental state of Mr. Poirier at the time of the two incidents is clearly one of an individual suffering from a psychotic episode.  It is unclear why the DA's office is attempting to do anything other than get Mr. Poirier the supervised treatment he needs.  Any effort to continue to prosecute this case, scheduled to go to trial today, is a waste of taxpayer money at a time when the DA's office is crying poverty and telling the county that they if they suffer future cuts they cannot afford to try minor crimes.
Yolo Judicial Watch will be monitoring this case and provides updates as needed.
—David M. Greenwald reporting