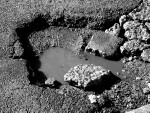 Davis residents may have to get used to those potholes, uneven pavement, and deteriorating conditions of surface streets.  Or at least that is how it looks right now.  Last week, in the introduction to the budget we reported that the city was acknowledging that there would be a reduced allocation for Street re-Pavement contracts. 
The report goes on to say that this continues to be a program area with significant under-funding.  The report calls for the need to develop long-term funding plans and likely will require significant long-term General Fund support.
The current budget workshop scheduled for Tuesday, suggested that the city will use one-time funds supplemented by a new allocation of roughly $400,000 in Roadway Impact Fees in support of needed street and roadway rehabilitation programs.
That turns out to be the good news.  The bad news is that the city has been running a deficit on needed road repairs for some time.  It is estimated that the city should spend roughly $2 million annually to keep up with needed road repairs and bring the road conditions in Davis up to what is considered industry standard.  The city through the use of one-time state and federal funds has been operating on a $800,000 budget.  That annual $1.2 million deficit has been assigned into the unmet need category.
The city would argue that the industry standards are somewhat akin to having five minute response times for the fire department, it is a goal that will probably not be met.  I would counter that failure to meet five minute response times do not result in an accumulating response deficit, whereas the shortfall of $1.2 million on an annual basis will result over time in the further deterioration of streets and roadways.
The news gets worse apparently, because after this current fiscal year, the city will have no more one-time monies.  Apparently that $400,000 is an injection of general fund monies for the first time, but that likely leaves us for 2011-12 at $400,000 of a needed $2 million expenditure.
The question is really what that means?  That is unclear.  The first question is to determine what our current pavement conditions are and what they need to be.
The second question is where future funding is going to come from.  From my conversations with Paul Navazio, the answer would appear to be general fund, which means that pavement and road repair might become an increasingly large drain on the general fund whereas previous the city relied on state and federal monies.
The staff report for Tuesday includes a letter from City Manager Bill Emlen talking about the long-term challenges.
He writes, "Recent state budgets have included proposals to borrow local property tax revenues, re-direct local transportation funding for State purposes, and questionable raids on Redevelopment Agency tax-increment revenues. While we anticipate these threats to persist, we are hopeful that a statewide initiative being placed on the November ballot by a coalition led by the League of California Cities will provide local government with additional protections in this regard."
Ever the optimist, Mr. Emlen is either counting on or at least hopeful that a statewide initiative will stop the bleeding of local dollars.  History suggests that is unlikely.  First, the state has repeatedly tried to ignore or find loopholes around previous initiatives.  Second, the state's lack of funding, should it continue, will necessitate it finding other sources of revenue.
The long and the short of it is that unless the state turns around economically and thus starts producing revenue, the state legislature and Governor will continue to attempt to find ways to siphon off available funding.
Mr. Emlen hits on a more somber and less hopeful note, "It is clear that regardless of the extent of any pending economic recovery, local governments – including the City of Davis – must adapt to a new reality, be it to secure and strengthen a reliable base of revenues in support of public services, advance efforts to regain local control of the state-fiscal relationship, improve management of program and personnel expenditures, and look for new ways to provide for basic, core services."
It thus does not seem likely that we will return to the days of double-digit property tax revenue growth any time soon if ever.  We must be much more conservative in our future projections.  And the city has left itself vulnerable with past practices and the failure to give much in the way of flexibility.
The much ballyhooed 15% reserve is one-time money that really only represents emergency funding.  It does not provide a real source of cushion or an ongoing funding source.
The city leadership has talked about protecting public safety, but road and pavement conditions are in fact public safety.  As these conditions deteriorate, there is an increased likelihood of accidents and with those accidents injury and safety.
To this point however, the city has not done a good job of laying out what the conditions are with our roadways and other infrastructure, what our real level of need is, and where we can get those funding levels on an ongoing basis.  One-time monies should not be used for ongoing funding, but rather for special one-time projects.
—David M. Greenwald reporting