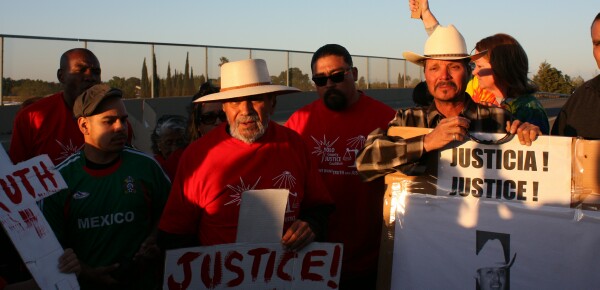 This time the tears flowed freely down the face of Santos Gutierrez and who could blame him.  It has to have been an horrific year since he's lost his son, Luis Gutierrez Navarro, so far with only suspicions, thoughts of cover up and whitewash and few explanations aside from the usual cover-your-backside report from the DA's office.
A year ago there were two hundred people that showed up to march in solidarity, this time if it was a quarter of that, they were lucky.  But this is a process that cannot be marked by numbers alone, it has to be marked by passion, compassion, and a bit of fortitude.
The fact is that we know so much more than we did a year ago precisely because a small but determined band of people simply did not take no for an answer.  Marked in accomplishments, the Yolo County Independent Human Rights Commission would not be in existence without the efforts of a small band of people.  Our own Yolo Judicial Watch project would not either.
It has been five months since the "official" and "final" report has come out and yet there seems to be more questions than answers.  The report itself a summary of some sort leaves a whole host of open questions.  As the Vanguard reported last week, numerous witnesses have come forward so far uninterviewed by other authorities, and in the sum total, not one of them saw a knife, not one of them saw Luis Guiterrez attack deputies with a knife.  Why was he shot in the back?  Was he in retreat?  Did the deputies simply overreact?  Did they precipitate the situation?
Perhaps the most troubling question of them all was why was he targeted in the first place.  He was walking on Gum Ave eastbound from the DMV in Woodland in broad daylight, at 2 pm in the afternoon, an afternoon probably much like yesterday.  He had no discernible criminal record.  He had no known confrontations with law enforcement.  And despite efforts by authorities to claim otherwise, no one that knew him had knowledge of his gang or drug activities.
The County Counsel's office claims that an investigation has been re-opened.  They also claim there is an active FBI investigation.  However, witnesses have said publicly that they have neither been contacted by the FBI or the DA's office in recent weeks or months.  Meanwhile, the county refuses to turn over additional documents to the Civil Rights Commission or to make them publicly available.  Without more information, it will be difficult to continue to investigation the incident and the public may never know the truth.
For those near and dear to him, it is a puzzle that must be eating away him.  His mother has long since ceased to come to these events as they must be too draining.  You can see the wear on Santos Gutierrez face, his older daughter was there, but often as not in tears.  It is a horrible thing that this family must go through and in a semi-public way with the glare of cameras and news crews, they mourn and listen to authorities who did not know their loved one disparage his name.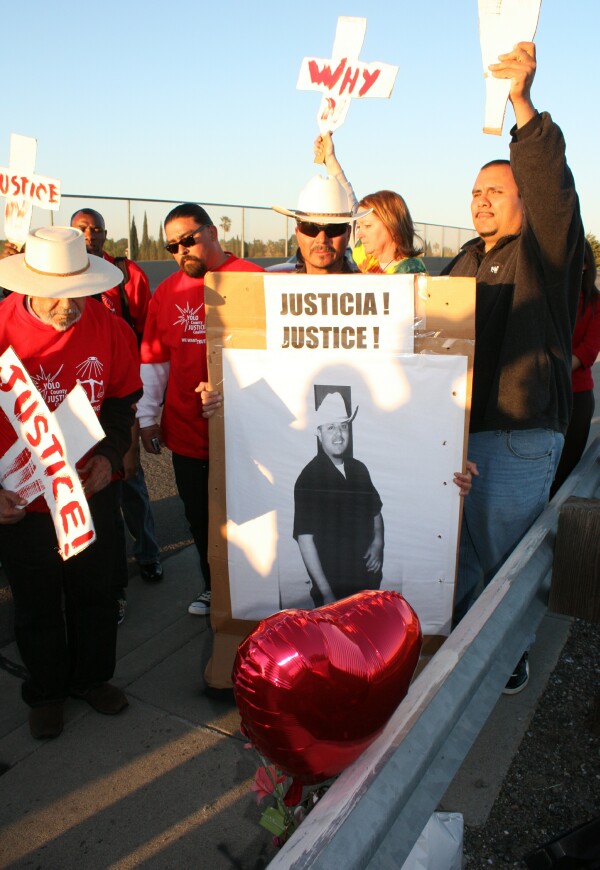 It is ironic perhaps, that April 30, the one year anniversary of the death of Luis Gutierrez comes on the eve of May 1, the day of action, and at a time when no immigrant, legal or illegal, no Mexican national, no naturalized Mexican-American, and no native born Mexican-American can feel good about the standing in their own country.
The Arizona law nominally gives local officials the power to detain those they deem under "reasonable suspicion" of being an illegal immigrant.  Latinos and other Hispanics fear that means anyone with a brown skin will be subject to racial profiling.  The ground swell of opposition has been great. 
In his comments to the crowd, Al Rojas, the at-times controversial figure who has organized hundreds to seek answers in the death of Luis Gutierrez, but also disparaged by authorities as a polarizing figure who seeks not justice but personal promotion.  What authorities and other critics miss is that while Mr. Rojas minces few words, without him, this issue would have died long ago – like countless others have.
In his remarks before a solemn and heartfelt vigil, Mr. Rojas addressed the crowd.  "Today, this day at two o'clock in the afternoon, three sheriff's undercover, decided to do an act of what's considered racial profiling.  A racist move which in Arizona today that the Governor this day signed.  They legalized in Arizona now, a law to legally racially profile."
He continued, "Here in this country… because of the color of our skin… and that's why we're here today.  That this never ever happens again.  Not to one child, not to one grandson, or granddaughter in this community.  The gift that God gives us, the disregard of the value of life, is something that we cannot stay quiet… until there's justice."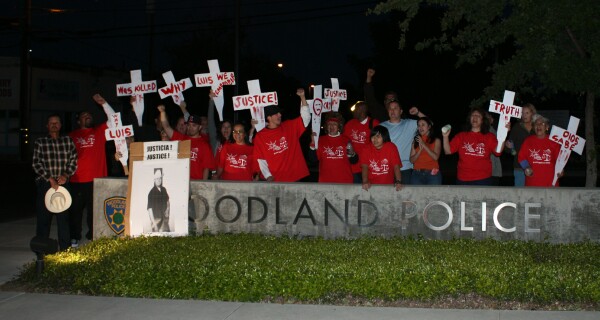 The vigil was marked by prayer, songs, and chanting.  Following the vigil, the crowd reassembled at the Woodland Police Station, where members of the community demanded justice and hoped that the Woodland Police Department would release their report on the incident.  But despite the chanting, no one from the department ever met the crowd.  According to organizer Al Rojas, one member of the group wrote the department asking for a meeting with a representative but received no answer.
It was a silence symbolic with the silence to which officials have treated this issue from the beginning.  Leaders have avoided this group and answering the tough questions from the start.  The official report reads more like a whitewashing of events than an explanation.  If the numbers have dwindled in the last year it is not because of lack of caring or concern, but rather because of exhaustion and demoralization. 
Authorities are attempting to outwait the anger and outrage, but in their wake, groups have arisen that will change the landscape forever.  The struggle will continue and the light will shine.  As Mr. Rojas said… until there's justice.
—David M. Greenwald reporting