Davis Democratic Club Endorses Joe Krovoza –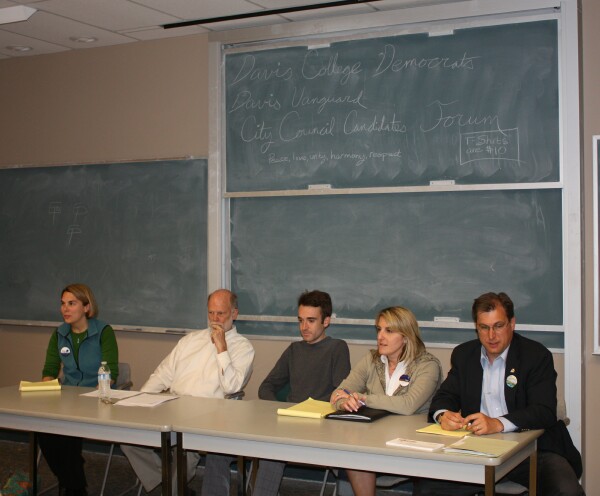 On Wednesday, the UC Davis College Democrats hosted a City Council candidates' forum that was co-sponsored by the Davis Vanguard.  All of the candidates came to the forum regardless of party identification.  The event was attended by probably 30 or more club members making it one of the better attended forums in the series.
The UC Davis College Democrats will make their decision on who to endorse based in part on the public forum and also on written questions that were answered prior to the forum.  They can by rule only endorse registered Democrats this means that they can choose between Joe Krovoza, Sydney Vergis, and Daniel Watts.
Speaking of Democrats, The Vanguard learned that the Davis Democratic Club has endorsed only Joe Krovoza.  Tim Fenton, publicity chair sent out a statement dated May 12:
"At its meeting on Wednesday evening, May 5, the Board of Directors of the Davis Democratic Club voted unanimously to endorse Joe Krovoza for election to the Davis City Council in the June 8, 2010 election. Based on Joe's experience as a lawyer championing issues important to Davis, his leadership in helping create a safe environment for cycling in Davis and coaching youth sports, and his other public service, and his wealth of bright, practical ideas for making Davis a better place to live, the board believes he is the most qualified candidate seeking election to the Council. We believe his mature, affable and confident personality will be an asset in moving the important business of our city forward."
On Wednesday evening the first question was "Please elaborate on at least one policy that you would implement in order to make downtown safer for pedestrians and bicyclists."
Daniel Watts went first and said that he did not think that downtown was unsafe for pedestrians and bicyclists.  He did go on to suggest that roundabouts might be one way to go.   But he does not believe that can be done in one term.  He also thought maybe blocking off traffic to downtown or portions of downtown at various times of the day.
Rochelle Swanson responded that one easy step is to utilize the parking garages on G St.  "Currently the one on G St is underutilized.  I think one way to get the cars off the street downtown is to provide parking permits for those businesses that have employees who feel it's necessary to park in front of that business and park for more than two hours."  She wants to see longer term parking in the parking garages and that would lessen the burden on downtown streets which would make it more friendly to biker and pedestrians.  She would then turn some of the street parking into bicycle parking.
"Currently the U-Mall and the Marketplace have outdoor recycling services, how would you work with businesses to improve their recycling policies?"
Rochelle Swanson said that what's tough about that is it's not just a city issue but a landlord issue which would require the city to take some leadership there in order to require greater recycling facilities.  She said there is some push back amongst businesses about having such facilities and that will require clear city leadership.  Businesses would be open to it as long as there is a program to support it.  She said that often times a carrot is much easier than a stick.  She would have a policy providing the cans and requiring them to utilize them. 
Jon Li said that anything that the city council would do would involve negotiating with Davis Waste Removal since they provide both the cans and the services.  It is the landowners responsibility to deal with the merchants to make sure everything works well. 
"What will be the impact of proposed water rate hikes on businesses and also citizens with limited and fixed incomes?  How would you mitigate such impacts?"
Sydney Vergis responded that this is a complicated issue, we have been on the list to try to get water rights from the Sacramento River for quite some time.  Currently we have a Joint Powers Agreement with Woodland to do a regional water distribution system.  She suggested that looking for these partnership opportunities was a way to reduce costs.  In terms of mitigating costs on individuals and business, "it is conservation first.  Right now as we look to sizing this potential water treatment plant… these treatment plants have a life span generally of 30-40 years, so the less we conserve today the less we'll have to project for tomorrow.  We can do this by incentivizing xeriscaping, the use of native plants."  (Note: I think she may have meant to say the opposite, the more we conserve today the less we'll have to project for tomorrow).
Daniel Watts responded, "Conservation definitely.  The city when it maintains large swaths of grass.  Grass really eats up a large amount of water for really no good reason.  I think we should minimize the amount of grass that the city maintains water for."  He added, "I don't have a problem charging people different rates if they make more money."  He pointed out people willing to pay for water bottled which more expensive than gasoline.  Wants to lower rates for people either on a fixed income or who are lower income.
"Following Picnic Day a few weeks ago, thoughts of canceling or postponing the event intensified, how do you propose we solve these issues?"
Joe Krovoza, Picnic Day started in 1909 when 3000 came to Picnic Day.  He sees it as a great tradition and said, "There's going to be no way that Picnic Day is canceled on my watch.  There's no question about that."  He went on to suggest, "The University has some pretty clean policies to try to keep it clean on campus and I think that the city needs to work with business owners and needs to work with the whole community to really preserve the great student intellectual inquiry sharing of knowledge spirit of Picnic Day."  He continued, "When I think of Picnic Day, I think of it as a great coming together of the community." 
"The vast majority of students here on campus, want to connect with the community," he said, "I think we need to push back the time that drinking is allowed to begin.  I think we need to discourage the discounts on grain alcohol and the advertisements in the papers.  I don't want this to become a binge drinking opportunity."  He continued, "I've said we need to be a little bit more aggressive in pushing in this direction to send a clear message to students and to the region that we want Picnic Day to be for everybody.  A little bit of an overreaction is not appropriate, especially for this coming year and maybe we can work back from there."  (Note: I think he meant to say is not "inappropriate").
Jon Li said that the parade is really special.  Davis was a dry town until 1979, along with other college towns according to state law, "so Picnic Day was a weekend when everybody got drunk, but it was a very unusual experience, it wasn't like you did it every weekend.  But, the other thing was there wasn't alcohol all over the place."   He thinks that we have a bad message that equates Picnic Day to alcohol.  "As long as the student body feels that way, we're in trouble.  I think the student body, the undergraduate population, needs to reassess what Picnic Day is about.  Because if Picnic Day next year is anything like it was this year then it will be a problem in the future."  He said this is up to people college aged to deal with, not people that are older.
" What is your view of the consolidation of city and UC Davis fire services?"
Sydney Vergis said that these talks have been ongoing for some time.  "The university has some aspects to its fire department that the city doesn't have, like a ladder truck.  I would be supportive of consolidation if it saves money and it improves service for the university and the city."
Joe Krovoza said, "I'm all in favor of this."  He views this as one of the cornerstones of his campaigns, the idea of partnerships and shared resources.  "We're going to need to bite the bullet and do things to consolidate the fire department."  He continued, "The university has been very much in favor of this, but the city has been dragging their feet.  If I'm elected to city council, we're going to get that done and we'll get it done fast.  This is not something that should be blocked because of certain special interests are opposed to it."
There were a few audience questions as well.  The two I will cover are renters rights regarding security deposits and annexation.
Joe Krovoza said, "You guys have got to get your security deposits back.  It's absolutely ridiculous."   He went on to talk about a Davis Media Access video which showed the difficulty of getting security deposits back.  He said that as long as it is normal wear and tear, people should get their security deposits back.  He pointed out that it just does not happen.  "Davis Model lease is very very complicated and there's nothing about it that strikes me as slanted in the students favor."  He continued, "If you look at the Davis Model lease in Davis and think that that must be kind of geared towards students, since it's a university town.  It's not slanted towards students and its overly complex for any of you to get your arms around."
Daniel Watts went even further, calling the Davis Model lease, "ridiculous."  And arguing, "There are several provisions in that that are against State of California Tennant Law."  He wants to work with the landlords to change that.  "The security deposit is a real problem."
The other audience question asked how they would work to ensure that students would be enfranchised with regards to West Village.
Daniel Watts argued for the eventual annexation of the entire UC Davis campus into the city of Davis.  "The reason why is you're affected by what happens in the city government.  You're affected by the city police, you're affected by the Downtown Business Association.  So you should have the right to vote in the election for the people that will be affecting your lives."  People who live on campus can't vote for city council.  He said there are 37,000 registered voters in Davis and about 21,000 college age students, which potentially gives the students great political power if they utilize it.
Sydney Vergis, "I wish there was an easy answer for this one.  Certainly in terms of voter empowerment, voter enfranchisement, I'm on board."  She continued, "But as it turns out, my area of expertise is actually annexations which is what would be required in order to get folks into the city for purposes of voting.    There are a couple of legally binding aspects of annexation that would potentially make this very difficult.  The first being that the county would have to be okay with it."  She went on to talk about their opposition to annexation and the fact that the $200,000 that West Village would generate is too valuable for the county to pass up.  She also said there would have to be an agreement on property tax sharing and a provision of services.  Right now, she said folks who live in West Village trade off their right to vote for living in permanently affordable housing near the city and campus.
I will post a link if and when it becomes available for the written questions.  Next week, the Vanguard will begin to run a series of individual interviews with the candidates.
—David M. Greenwald reporting