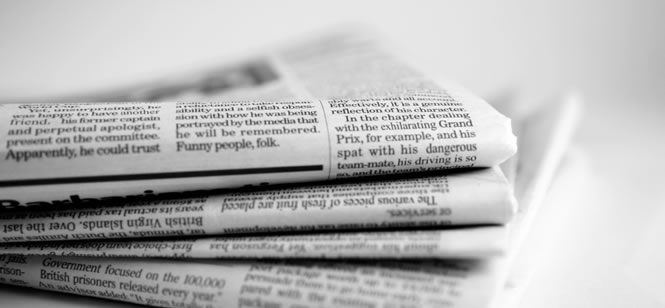 On Wednesday the Vanguard ran the story, "
Media Bias in Local Court Coverage
" which described how the District Attorney's Office effectively gets to write their own stories.  To illustrate the point, we ran the DA's Press Release side-by-side with the Woodland Daily Democrat's article covering the same story.
The article went on to point out several inaccuracies or omissions that the Daily Democrat reprinted without fact-checking.  From our standpoint this is a problem as the public receives a very slanted view of what actually transpired and there is no effective media check against the DA's PR campaign.
So this week, the
Daily Democrat
editor Jim Smith responded to that criticism, acknowledged it was a problem, and handled it more gracefully than was warranted.  The bottom line is that he acknowledges it is a problem, it tears him up inside, but given the state of the industry and his lack of staff, there is little he can do.
I still think if he wants to run those stories, there could be better disclaimers, but that is a smaller point.
Mr. Smith writes, "Years and years ago, The Democrat — like many other newspapers — had a policy of not publishing a "press release" from any public agency until it had been "fact checked." Preferably, the release was taken and rewritten with appropriate attribution provided, as well as reviewed for background information with a trip to the agency, or office, in question if necessary."
He continues, "No longer. Today, with cutbacks at newspapers (and The Democrat is no exception) it's difficult to find the time to run down any release. Believe me, it sits badly in my throat whenever I have to "rewrite" a press release from anyone without taking the time to make the necessary phone calls or do the legwork."
He argues that bloggers, such as myself have it relatively easy.  "Dave Greenwald, who writes The People's Vanguard of Davis blog site (and does a very good job, by the way) can devote as much, or as little, attention to whatever he wants because he doesn't have the demands imposed on a daily newspaper. And Greenwald is better than most. For some Woodland blogs, it could be days between articles. Mainstream newspapers have to be updated constantly."
Furthermore as he points out, the Vanguard does not cover things like weddings , obituaries, we don't run the little puff stories that get submitted to the newspaper, you do not log onto the Vanguard to read about whether your kick got some hits in little league.
In short as Mr. Smith correctly points out, "Greenwald can be very picky in what he covers. He's not going to publish a listing of the kids who are on the honor roll at Davis High School, or report about the library rose club (assuming there is such a group in Davis). He'll leave those "mundane" stories for others. I get dozens of these "refrigerator journalism" stories daily. Greenwald doesn't publish wedding announcements, or obituaries, and his readers don't care. If The Democrat, or Davis Enterprise, left out these stories there would be holly hell. If Greenwald did publish such news he'd have less time to devote for his in-depth essays."
That is very accurate.  The Vanguard has to focus on a narrow niche even as we cover things from the city council, to the school district, to the county, to the judicial system, and occasionally throw in some state news for good measure, we are still focusing on a narrow slice of that.  I call it a "Vanguard article," but it is basically an editorial decision.  Never every thing covered in the paper is a "Vanguard article."  I can't explain to you what a "Vanguard article" is, but I know it when I see it.
He continues, "So, we who work for mainstream media newspapers (which again have fewer writers than at any time in their history) have to decide if a press release warrants checking out, or running as it basically unchanged."
Furthermore, "When press releases are provided to newspapers — regardless of who writes them — they will be prepared from a biased perspective. It's unavoidable. Yolo County's public information officer, Beth Gabor, reports on events in Yolo County government. She does a good job. But she doesn't report everything that goes on. And she's not going to write something that's critical or negative, because that's not her job."
"As editor of The Democrat, it's my job to decide what releases from Gabor are published with minor touch ups, or are handed over to a writer for more thorough research. Ditto the District Attorney's Office. Ditto the Woodland Unified School District. Ditto UC Davis, and many others," Jim Smith writes.  "I don't always get it right, but with limited staff I have to decide daily just how much time will be spent on a specific topic. Too much might erode our ability at covering something else of greater significance to the community. There are only so many hours in a day, and writers can produce only so much per day. I have to do this and still stay within our year budget."
"It's a dance I've never felt comfortable doing, but I know must be done for this paper to survive and be profitable," he said.
It is difficult to criticize a person when they understand the problem, it bothers them, and they feel powerless to do much about it.  I have been blasted by journalists all week, accused of taking cheap shots at reporters who are working hard for very little compensation, accused of taking on struggling newspapers, and they are correct in their criticism.  I do get to have my cake and eat it.
I started the Vanguard specifically to counter what I believed to be unfair coverage by the local newspaper in Davis – I did not and still do not believe that my views and others like me get a fair hearing.  I have a sense of frustration because I believe that some government entities are running all over the rights of private citizens, and I see that the newspapers have played a role in aiding and abetting in this injustice.
I now realize that to some extent that is not their fault.  As time has gone on, what I now see is an "ordinary injustice" in the media industry.  It goes something like this.  The newspapers are overworked and understaffed, they are struggling, some of them dying, and they cannot do the job they would like to do.  So they do their best to get their reporters to cover the key events and rely on wire feeds and press releases to inform the community.
On the other hand, it is hard to blame the DA's Office, the County, or UC Davis for sending out press releases that promote their activities and show them in the best possible light.  As Mr. Smith points out, Beth Gabor's job is not to be fair and balanced, it is not to release critical information about the county.  Rather it is to send out information about things that the county wants to illustrate.  Sometimes it is an achievement, often it is a program or offering.
The Vanguard has a niche that differs from the traditional newspaper.  No one is coming on this site to read about how the Davis Blue Devils did in their baseball game.  They are coming on this site to read about local government and what is happening in their community.  Many do this because they do not have time to go to meetings on their own.  Some do it because they are dissatisfied with the point of view or coverage on these topics by other media outlets.
If the local newspaper cannot expend the resources to cover a court case, then our role is to make sure the public has at least one source of information that can go beyond the official government statement.  That is our job.  No longer will we criticize the local newspapers in terms of their ability to cover such events.  Instead we will focus our efforts on covering what is undercovered and correcting the record as seems fit.
Bloggers and traditional media have a love-hate relationship.  Bloggers are at times jealous of the status and legitimacy that the official media journalist gets.  Traditional media criticizes bloggers for lack of rules, lack of objectivity, at the same time perhaps envious of those same lack of constraints.  And there is a good deal of justification to that.  I do not have a script for how to do this job, I am not a trained journalist, and there is clearly a tension between journalists and bloggers.
But perhaps instead of fighting those wars, we should all work together and try to keep the public as informed as possible simply by doing what each one does best.  I certainly do not mean to disparage the hard work that decent people like Jim Smith have done for many more years than I have.
In short, I respect the job that our local newspapers do, I would not want to have to cover wedding announcements or little league baseball games, or human interest stories.  I may disagree with the editorials in the local newspapers and critique them, but I am done criticizing the local media.  Our job is to keep the government honest and promote open government and transparency.  That is what we will focus on into the future. 
—David M. Greenwald reporting