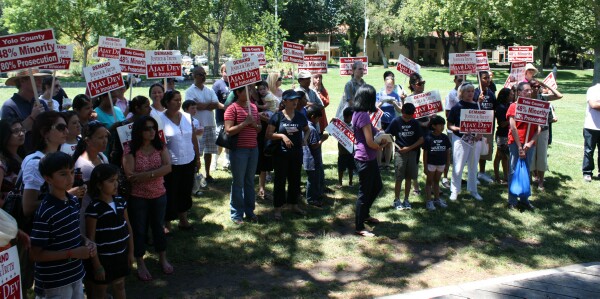 It has been a year since a Yolo County Jury Convicted Ajay Dev of multiple counts of rape of his adopted daughter.  He would in August be sentenced to 378 years in prison.  The family continues to maintain his innocence, and  to bring up  evidence that the multiple incidents of rape did not occur.  Many people continue to offer general support to the family.
In a letter to family, friends, and well wishers, Ajay Dev said, "This June 25, 2010 marks one year since the worst miscarriage of justice that has occurred against me and my family. It has been tremendously difficult as the wounds of betrayal, injustice and the loss of my freedom are still very fresh."
Particularly difficult, Mr. Dev said, is that "The prison authorities will not let me have contact visits with my children ,due to the type of conviction. This has been devastating. I miss my older son tremendously and I have not even seen or held my little 4 month-old-son."
"Sometimes I think the injustice resulting from lies built upon lies is impossible to untangle, especially for those far and removed from the reality of the situation, like the jury.  Let the record be clear, I am innocent of all charges and was wrongly convicted," he said.
"The fight for the truth and exposing the gross miscarriage of justice that has occurred in Yolo County is an uphill battle," he continued.  "In spite of all the hurdles we have to overcome, people are taking notice. We are making progress up that hill and we will overcome, but we still have a lot of work to do."
One of the more interesting stories we heard was from Terry Easley, the sister of Peggy Dev.  As she explained it, one of the rapes was said to have occurred in her Monterey home.  She lived in a small apartment and she explained, "700 sq ft is a generous estimate of the size of the entire apartment.  My niece slept in the living room on the floor next to my two sons and a dog.  My sister and I slept no more than 10 to 15 feet away from them."
She continued, "According to all four of us, there was no way a rape could have occurred at that time–the ONLY time the accuser spent the night in our home."
She described in vivid detail her oldest son's recollection.  "He did not testify in court and is not here today, as he lives on the east coast.  After the verdict was read, he had a complete breakdown, sobbing uncontrollably, and through his sobs he asked me if Ajay had been convicted of the rape during the time when he visited our house.  I answered yes.  He choked and heaved sobs, grew limp in my arms saying over and over, "That's not right.  Ajay didn't do it.  Ajay didn't do it.  It didn't happen.""
Her younger son, Ben Easley, also spoke and described in explicit detail the sleeping arrangements and why they believe there is no way that the accuser could have been raped in their Monterey home.
He explained that the accuser, himself, his brother, and his uncle Ajay Dev all lay shoulder to shoulder in the living room.  Mr. Easley described himself as a light sleeper and a night owl who often lay awake at night, sleepless.  "For her to say that she was raped by my uncle under these circumstances, considering that we were all lying shoulder to shoulder, it's really unthinkable.  I don't understand how this could happen."
"Not only that," Ben Easley said, "but for him to get convicted on it, on basically someone's word…there's no tangible evidence whatsoever."
According to the family, this is just one of many times and locations where the claim of rape just did not seem possible, let alone credible.  Unfortunately, the family maintains that a lot of these witnesses were not allowed to testify.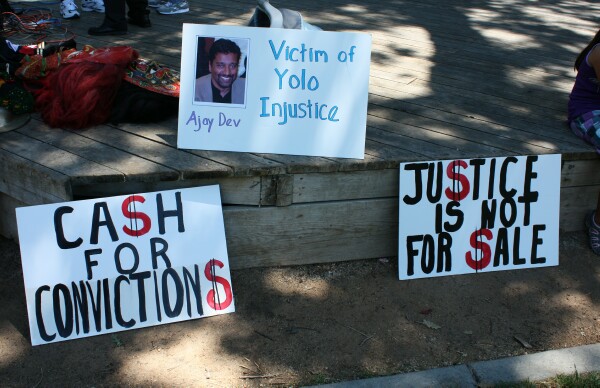 The Vanguard spoke to Peggy Dev, wife of Ajay.  She told the Vanguard that their attorney is hoping to have the opening appellate brief filed this winter.  It can be a two to three year process which includes the opening brief, the Attorney General's response, and then the appellant files a reply brief.
Following that there will be oral arguments and then the judges will examine the arguments and no one is sure how long that will take.
As Ajay Dev explained in his letter, "Unfortunately, the appeal process is complex and takes time. The appellate court is only concerned about procedural errors and if the defendant had an unfair trial."
"We all believe there were errors and prejudice throughout the trial, causing this injustice," he continued.  "It has taken many hours to read and analyze the court transcript. Although reading the transcript was extremely emotional and difficult, it confirmed our belief."
Peggy Dev has the enormous burden of not only fighting what she believes is a worthy fight for her husband's vindication, but also is raising two very young children, one of them only four months old.  As her husband explained, he has never even met or held the baby.
She told the Vanguard, "The kids are absolutely wonderful and the source of my strength. They are too young to know what is happening, which is a blessing."
"At times I just break down and then I pick my-self up and continue to fight," Mrs. Dev continued."Being the only other person in the house, my conscience tells me that I have to keep going until everything is out and this injustice is undone. We have great support from family and friends and that helps me to continue."
As she later explained, "This is my life, and it is so surreal to sit in court and hear the DDA talk about my life with more authority than me. Especially when he wasn't there, nor has he ever spoken to me outside of trial."
She continued, "No one can tell me what my life was. I lived it. So, I feel an obligation of conscience to make sure the truth does come out. I cannot live with myself knowing what I know and that an innocent person is sitting in prison."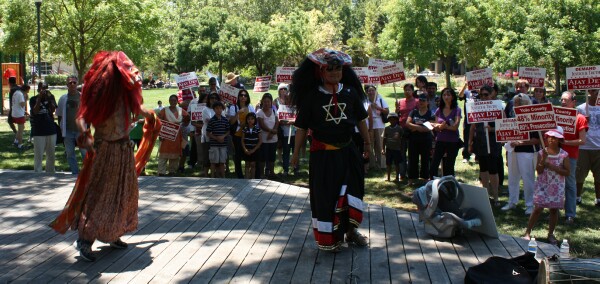 The events on Saturday began with a dance called Lakhe which is according to Nepali custom, symbolically protect Ajay by hunting down evil spirits and destroying them. In essence, it is asking God to conquer evil.  According to the family, the Lakhe dance is performed yearly during the Indra Jatra Festival in the streets of Kathmandu. As king of the demons, the Lakhe serves to protect the residents of the city from evil spirits and misfortune. His dance is wild and spontaneous, performed to the music of cymbals and special drums. Masked and robed in red, his bells jingle loudly as he hunts and destroys the dangerous demons.
The Vanguard will be receiving a copy of the trial transcript for the first time and will then be able to evaluate key testimony and see who was able to speak and who was not.  This will enable us to really understand the evidence that the DA had against Mr. Dev and see what the jury saw.
—David M. Greenwald reporting