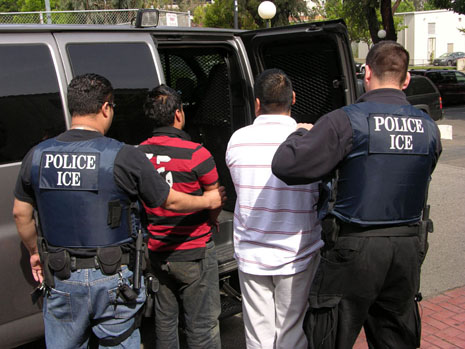 The debate over immigration is always high, but in the last few months, the debate has increased as Arizona has passed what some consider draconian efforts to curb what they see as a problem with illegal immigration.
From our perspective, such efforts are misplaced but born from frustration of the lack of a national immigration policy that addresses a key issue – how to allow people who wish to work in this country to do so in an efficient and reasonable manner.
The United Farm Workers of America believe that we face two huge issues in this country – high unemployment and undocumented people in the workforce.  They believe that there is key information however that is missing from the debate on both of these issues. 
'Missing from the debate on both issues is an honest recognition that the food we all eat – at home, in restaurants and workplace cafeterias (including those in the Capitol) – comes to us from the labor of undocumented farm workers," the UFW website, takourjobs.org says.
According to their statistics, agriculture in the United States is dependent on an immigrant workforce. Three-quarters of all crop workers working in American agriculture were born outside the United States. They cite government statistics which show that since the late 1990s, at least 50% of the crop workers have not been authorized to work legally in the United States.
There is widespread belief, at least in some circles, that the presence of undocumented workers is taking jobs that would normally go to Americans, and giving them to immigrants.  Moreover, there is also the belief that due to the high presence of immigrants in farm work, that wages have been artificially suppressed.
In a tongue-in-cheek call for immigration reform, farm workers are teaming up with comedian Stephen Colbert to challenge unemployed Americans: Come on, take our jobs.
"Farm workers are tired of being blamed by politicians and anti-immigrant activists for taking work that should go to Americans and dragging down the economy," said Arturo Rodriguez, the president of the United Farm Workers of America.
So, the UFW union is ready to train citizens and legal residents who are ready to replace them in the field.  UFWs encouraging the unemployed to apply for the thousands of agricultural jobs being posted with state agencies as harvest season begins.
Applicants are directed to go to the website listed above and fill out the information.  "Farm workers are ready to train citizens and legal residents who wish to replace them in the field, we will use our knowledge and staff to help connect the unemployed with farm employers. Just fill out the form to the right and continue on to the request for job application," the website says.
"The reality is farmworkers who are here today aren't taking any American jobs away. They work in often unbearable situations," Mr. Rodriguez told the Associated Press. "I don't think there will be many takers, but the offer is being made. Let's see what happens."
To highlight how unlikely the prospect of Americans lining up to pick strawberries or grapes, Comedy Central's "Colbert Report" plans to feature the "Take Our Jobs" campaign on July 8.
"The campaign is being played for jokes, but the need to secure the right to work for immigrants who are here is serious business," Michael Rubio, supervisor in Kern County, one of the biggest ag producing counties in the nation told the Associated Press.
"Our county, our economy, rely heavily on the work of immigrant and unauthorized workers," he said. "I would encourage all our national leaders to come visit Kern County and to spend one day, or even half a day, in the shoes of these farm workers."
According to the AP, California's agriculture industry launched a similar campaign in 1998, hoping to recruit welfare recipients and unemployed workers to work on farms. Three people showed up.
"Give us a legal, qualified work force. Right now, farmers don't know from day to day if they're going to get hammered by ICE," said Manuel Cunha, president of the California grower association Nisei Farmers League, referring to U.S. Immigration and Customs Enforcement. "What happens to my labor pool?"
While the campaign may play for some jobs, the bottom line is that the US Congress and the President need to find a way to address this serious issue.  As I said before, we need to find a way to allow people who wish to actually come to this country and work, to be able to legally and safely do so.
For all of the concerns about drugs, crime, and other related problems associated with illegal immigration, most of those would go away as soon as we set up a reasonable policy that gives those who want to come and work a fighting chance to do so.  How much are we spending patrolling our borders, employing agents for ICE and other border agencies when we could simply streamline the immigration process and address most of the problems.
—David M. Greenwald reporting