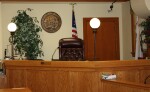 Juan Garcia lived in Long Beach with his common-law wife and three children, the youngest of which is only two weeks old.  He has been with her for five and a half years.  On June 4, 2010 according to his wife, he was pulled over by Long Beach police for no reason.  During the course of the polices search it was determined that he had two outstanding warrants. 
One of these warrants was for a failure to appear in a ten-year-old case from Long Beach that was quickly resolved, and the other a warrant for his arrest stemming from a domestic violence incident in West Sacramento on December 18, 2009.
A woman in West Sacramento contacted police that a Juan Garcia, father to their three children, had battered her on the evening of December 18, 2009 in West Sacramento.  One problem, Juan Garcia had never been to West Sacramento in his life.  He did not know the woman in question, did not have kids with her.
What quickly became apparent was the only tie that Mr. Garcia had to this case was a common name and a common date of birth.  Based solely on name and birthdate, he was arrested, transported to the Yolo County Jail and held there for nearly two months.
Public Defender Dean Johansson told the Vanguard as well as the court that he had informed the District Attorney's office of the case of mistaken identity almost from the start.  It is unclear why it took so long for the DA's office to finally look into the issue, send an investigator to the woman's residence, and find out that indeed this was the wrong guy.  Instead Mr. Garcia was kept away from his wife and family, the birth of their third child, for nearly two months.
His wife told the Vanguard on Thursday, that, in fact, the night before the supposed incident was his birthday, December 17, and they had gone out to dinner.  We also saw a faxed form from his place of employment certifying that he had worked the day in question as well as the following day. 
Yesterday, Mr. Garcia finally had his hearing in Yolo County court in front of Judge Thomas Warriner.  The District Attorney acknowledged that this defendant was arrested in Long Beach and claimed to be the wrong guy.  They got ahold of the victim and the DA stated, "he is not the right person."  She went on to say that he was arrested because of the match in the name and date of birth.
Deputy Public Defender Dean Johansson was not happy and also concerned about the system.  He suggested that there was a serious problem in the system and he was not sure how this can be remedied.
The District Attorney did offer the office's most sincere apology.
There was also concern expressed by Mr. Johansson that if he is simply released, he could be rearrested if the name popped up.  Judge Warriner said he would sign an order to have the arrest removed from his record and to put an order on this case noting that this particular defendant has no relation to this case.  He suggested that Mr. Johansson should get creative about how to approach this case.
To make matters worse, now Mr. Garcia has an ICE hold on his record and therefore may face deportation.  It is not clear what his immigration status was or how this faulty arrest will affect it.  His life may end up being turned completely upside down based on something that was no fault of his own.
There are two aspects of this case that ought to really concern local residents.  First appears to be the lack of fail-safe in our system to properly identify the individual arrested.  As soon as the victim was shown a picture of the accused, she immediately was able to determine that he was not the individual in question.  She had never seen him before in her life.  And yet, Mr. Garcia was in custody for nearly two months before an identification was made.  Why someone could be arrested simply based on name and birth date is baffling.
Second, the DA's office obviously issued an apology, which sources tell me just does not happen.  However, how is that they allowed this to happen under their watch for nearly two months.  They have to bear a large amount of responsibility here.  Frankly they are now liable for a lawsuit if the family has the resources to file one.
The DA's office needs to quickly figure out what went wrong, and give a very public assurance that this will not happen again and take steps to see that it does not.  We hear of stories in the media where people are arrested based on mistaken identity.  It is scary that it could happen for so long.
Mistakes happen.  The problem here is how long it took the DA's office to discover their own mistake and then rectify the situation.  There is no excuse to have someone arrested and in custody for nearly two months before the matter is resolved.  But that is what happened here.
Meanwhile this man's life and family's life may be turned upside down, based not on what he himself did, but rather his name and birthdate.
—David M. Greenwald reporting