As we have previously report, a confluence of several factors including the retirement of the Fire Chiefs at both the City of Davis and UC Davis and a bad economy necessitating cost-cutting measures has made what might have been a challenging task of getting all parties to agree to a consolidation of fire services at least one step closer to reality.
According to the city staff report, "With the concurrent retirement of the City of Davis Fire Chief and UC-Davis Fire Chief, as well as the City of Davis Division Chief of Operations, there is an opportunity to assemble and reconstitute the aggregate remaining chief officers to form a functionally consolidated, unified command team for singular management and oversight of both the City of Davis and UC-Davis fire departments."
City Staff recommends, approval of a resolution that would authorize the City Manager to "execute Management Services Agreement to pilot a functional consolidation of the fire command staff (chief officers), effective September 1, 2010, with a single fire chief and compensation shared between UC Davis and City of Davis."  Furthermore, it directs "staff to continue to work with UC Davis to prepare for migration of UC-Davis fire dispatching services to City of Davis fire dispatching services."
The fiscal impact analysis suggests  immediate but moderate efficiency in initial salary savings at the command and administrative levels.  They suggest it would be in excess of $100,000 for each agency.
According to the staff report, "The total compensation for the City's budgeted command staff (Fire Chief, Division Chief Operations and Division Chief Training) equals $606,556. The University's budgeted costs currently include $379,559 for a Fire Chief and an Assistant Fire Chief-Operations. The total budgeted expenditure between the two jurisdictions is $986,114. The Management Services Agreement proposes to share the Fire Chief position and compensation between the two organizations and to share Division Chief duties for a total ongoing cost between the two jurisdictions of approximately $804,000. In the immediate future, the City's savings by sharing costs associated with a Fire Chief are estimated to be over $140,000 for the year. It is worthwhile to note that these savings are likely to be closer to $110,000 per year once a permanent Fire Chief is in place."
The staff report also goes on to cite a number of one-time but small costs with moving forward with the transitions.
The transition would occur in phases.  "Given the unique opportunity now presented by increased interest from both jurisdictions to further maximize resources and by the retirements of high level management in both departments, staff is recommending a functional consolidation of the remaining command staff to serve in a pilot program for consideration and development of further (up to, and including, full) consolidation of the two fire departments," the staff report reads.
Phase-1 would consist of sharing the fire chief position and creating a single command structure, with one Division Chief employed by the University and two Division Chiefs employed by the City of Davis.
The staff report also argues, "the formal sharing of Division Chiefs would allow each jurisdiction to operate fully with fewer Division Chiefs than has been the norm in the past."
The pilot can be terminated within thirty days by either party.  "If either entity decides a merger is no longer feasible or advisable, the pilot may be terminated with 30 days notice."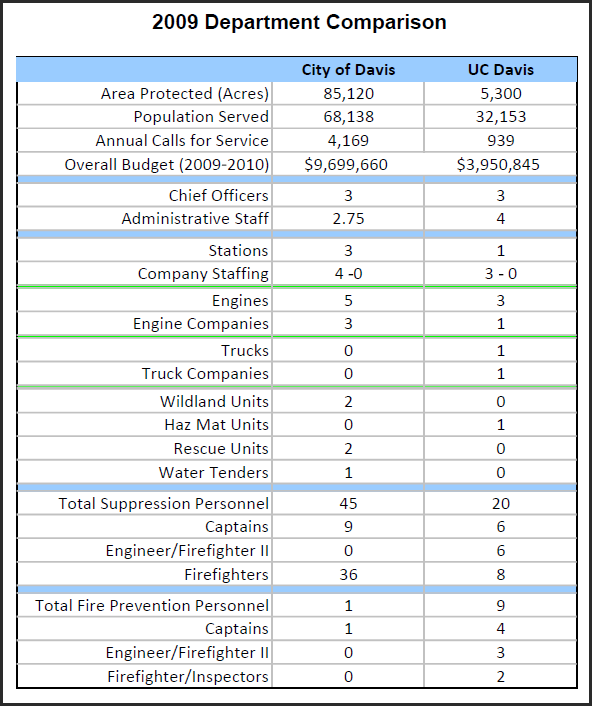 Commentary: Merger is a Good Thing, But Look Out for the Hidden Agenda to Bring the Very Costly Battalion Chief Model Online
Last year, the city commissioned the consultants, Citygate, to do a study of fire staffing needs.  There was one finding in that report that was helpful, much to the chagrin of those who have advocated for a fourth Davis firestation. Citygate found that such an expensive endeavor may not be necessary. 
The report argued against moving from four firefighter crews to three firefighter crews, which is a move most cities are down to, both out of fiscal necessity but also due to the fact that under most conditions fire crews do not need four firefighters, and when they do, they can quickly assemble such crews.
Citygate is a consultant company that advises cities about staffing issues. But it should be pointed out that Citygate is run by ex-firefighters.
They argued that fielding three, 3-firefighter crews would be a "noticeable reduction in service."  But would it?  They argue that it means that the first unit has to wait for the second unit to arrive before entering a structure well involved in fire.  But they failed to cite the number of times a fire crew had to enter a structure in a given year.  Turns out rarely if ever.
"To provide both the speed and weight of the attack, the report continues, and to lessen the need for two units to respond to a modest call," the report continues, "fielding three 4-firefighter crews is a very effective strategy, given the unusual amount of simultaneous incidents and widely spaced stations."  But would firefighters typically have to do a building entry in a fire that is modest and would not require a second unit?  That seems unlikely.
Given their assessment Davis needs more than 12 firefighters on-duty, but instead of arguing for a fourth fire station, they argue that "In the combined developed area of Davis and UCD, four fire stations staffed with a total of 15 firefighters on duty are wholly adequate to cover the entire area, if deployed as one system."
If they do that, they argue that "for the foreseeable future there is no need to build an additional station in Northern Davis until there is significant growth in that area."
Right there was the genesis of the merger. What is interesting is that they were talking about mutual aid agreements rather than merger.  The city came up with the idea for merger by itself.
All of this information is a refresher for those who have been reading this site for awhile.  But the important point to make is that while the city cites a $110,000 annual savings from the merger, a modest total, the true savings is a lot more because it avoids the necessity of a fourth fire station.  That was listed as an unmet need and that is now taken completely off the table for the conceivable future.
The question that I think remains in my mind is whether we move still to a battalion chief model.  Because if we do, that is a cost increase that was hidden in other cost cutting moves.  Basically they produce the cost savings through including deleted positions that would be deleted regardless of whether or not we went to battalion chief model.
The model would then add three battalion chiefs and a fire marshal, while deleting the two current division chiefs and the fire prevention captain.  They make the total look good by including three firefighter positions and the fire business manager that have nothing to do with the battalion chief model.  AND they have already eliminated those firefighter positions and have done so regardless. 
If you remove those three firefighter positions from the calculations, you find that instead of saving $208,000, it ends up costing the city nearly $200,000 to make the other swaps.  It is a shell game where they are double-counting cost cutting that was to balance the current budget in order to make it look like the battalion chief model produces savings.  It does not.
Moreover, they plan to eventually hire an assistant fire chief replacing the fire division chief of prevention, which would result in a slight increase in cost of $30,000.  The problem is they have already eliminated the Division Chief, which means that in terms of the current budget figure, the Assistant fire chief would not be an offset, but a pure salary add.
Thus, instead of saving the city $177,000 as they calculate, the move actually will cost the city $400,000 more in real dollars than they are spending now.
This is a long way to say that the city would not be saving any real money if they do the merger only to transition to the battalion chief model.  The city with the merger and the battalion chief model will be paying more than they are paying today.  Given the fiscal condition of the city, we cannot afford that.
Thus, I am completely in favor of the merger for a lot of reasons, but leery that it will be used to justify a transition to battalion chief model that we cannot afford and frankly, no one can cite the reason we really need it.
—David M. Greenwald reporting