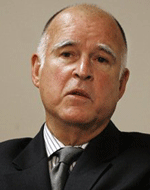 For those who do not believe that pension reform is quickly becoming inevitable, the proposal by Democratic Governor Candidate Jerry Brown probably makes it exactly that.  And while his opponent Meg Whitman was quick to attack the proposal, it has always been my hope that more moderate forces would get out in front on this issue.
From my perspective, the fiscal problems that cities face with pensions have little to do with the average worker's pension and far more to do with the 3% at 50 safety enhancement, early retirement ages, pension spiking, and the large pensions earned by those in top managerial positions.  The average state worker will earn roughly $27,000 upon retirement.  My hope is to protect that average state worker while reforming the excess at the top.
Jerry Brown's plan as unveiled on his
website
, moves in that direction.  The big portions of his proposal include state employees contributing more to their pensions, requiring them to work long and be older prior to their entitlement to full benefits.
First, he seeks to stop pension spiking and abuse. "Pensions are meant to be a percentage of regular salary," he writes.  "Unfortunately, there are a number of reported instances (most often at the local level) where special bonuses, last minute promotions, excessive overtime, or other gimmicks are used to artificially inflate final compensation and consequently the favored employee's pension. These abuses must be stopped."
He continues, "Pension benefits should be based on normal, recurring salary only."
He puts out there should be a three year average.  That is certainly a start in terms of correcting the pension spiking problem.  It is more realistic than perhaps a total career average which would not take into account inflation.  "When I was Governor, "final compensation" was based on the average of the last 3 years of salary," he writes.  "The next governor changed it to just 1 year. This one year rule encourages games and gimmicks in the last year of employment. We should return to a rule where "final compensation" is based on the average of the last 3 years of salary, not just the final year."
"The average CalPERS pension is $2,100 per month," he writes, which is a point that many miss.  The average worker is not getting six figures.  They are getting a modest pension for government service, which was the original goal of the plan.  "There are, however, instances of highly compensated government employees earning excessively large pensions, and a reasonable "cap" on these excessive retirement benefits should be imposed."
Secondly he proposes a two-tiered system.  "Over time, formulas have been negotiated that have allowed employees to retire at earlier ages for higher pension amounts," he writes. "I intend to renegotiate current pension formulas. We should require employees to work longer and to a later age for full retirement benefits."
The big proposal here would be to extend the working time of employees until they are at least 60 and frankly, given longer life expectancies, we should be raising the age of retirement across the board, encouraging people to work longer.  This would help ease the burden not only on government pensions but also entitlements like Medicare and Social Security.
"For example, when I was Governor, a miscellaneous employee could retire at 2% per year at age 60. In recent years, this was changed to 2% at age 55. For new employees, these ages must be brought back to the more appropriate levels in place when I was Governor," he continues.
I am not a fan of two-tiered systems, but given the constraints, they may be the only feasible way to implement reform.  However there are two serious drawbacks to a two-tiered plan.  First, any savings derived will occur down the line.  From the standpoint of the state government, that is not a huge problem.  But from the standpoint of local governments, it could be a catastrophic.  The second problem is a fairness issue, new employees get far less than current employees.  Furthermore I question whether it is sustainable long term as employees will seek during every bargaining session to get back up to the level of the previous employees.  At some point, down the line, they will likely get it as the current crisis fades.
Third he wishes to stop retroactive application of benefit enhancements.  He writes, "To date, when new retirement benefits have been approved/negotiated, those new benefits have applied retroactively to years already worked. That practice should be ended."
He also seeks to increase employee contributions for all employees.  This is another approach that sounds good on paper, but is more difficult to enact.  In Davis for instance, we got increased employee contributions in exchange for a slightly higher pay raise.
"Pension benefits are funded through a combination of employer contributions, employee contributions, and investment returns. Currently, state employees contribute between 5-9% of their salaries to their pensions; at the local level, contributions vary widely among different jurisdictions," Jerry Brown writes.
"Recently, a number of unions have agreed to increase their current employee contributions to 10% of salary. This will save California as much as $100 million in the upcoming fiscal year,"  he continues.  "We need to obtain similar increases in the employee contribution rate for the other government employees.  We must consider extending vesting periods to qualify for retiree health care and also negotiate greater employee contributions to retirement health plans."
Furthermore he seeks to avoid pension holidays.  The problem as he identifies, "In recent years, with high investment returns ensuring well funded pension plans, employers (State or Local Governments) decided to reduce or temporarily cease (take a "holiday" from) contributions into pension plans."
Instead he proposes, "We must require consistent contributions to public pension funds over time – no more "contribution holidays" by employers or employees.  This will ensure that we maintain funds adequate to pay promised benefits and that the state's annual pension obligations are steady, adequate and predictable."
Next he seeks to establish independent oversight of pension funds.  This is a good idea, although in reality there is no such thing as independent oversight. "We must ensure that public pension decisions are actuarially sound and free of improper outside influence by requiring absolute transparency of all investment policies and decisions. We also need to ensure that investment decisions are prudent," he suggests.
"The Director of Finance, reporting to the Governor, should monitor actuarial assumptions, anticipated annual rate of investment return, and investment activities of the pension boards to create more openness and opportunity for public accountability," the former Governor writes.
Likewise, he seeks to hold current board members accountable with heightened pension board standards and accountability.  This seeks to avoid the scandals we have seen in the last two years.  "We must hold Board members accountable as fiduciaries/trustees to ensure prudent investment decisions and to guard against undue influence of reckless Wall Street practices and special interests," he states.
"Board members must be required to undergo specialized training to ensure that they can fulfill their duties as knowledgeable and effective pension fund trustees," Jerry Brown concludes.
And finally he hits at the other scandal, those of placement agents. Jerry Brown writes, "Fees paid to placement agents have increased the costs of our state pension systems. Recently, three private equity firms agreed to cut management fees to CalPERS by $165 million by eliminating placement agents. Going forward, we need to carefully control or eliminate the use of placement agents to generate savings for the pension systems and increase the integrity of the CalPERS investment process."
Jerry Brown also endorsed contract changes negotiated recently between Gov. Arnold Schwarzenegger and six labor unions, saying, "We need to obtain similar increases in the employee contribution rate for the other government employees."
Naturally his opponent, Republican Meg Whitman released a TV ad Thursday attacking Jerry Brown's plan as not having enough specific policy proposals. Jerry Brown's plan would keep defined benefit plans in place as opposed to his opponent who wants to not only raise the retirement age and require increased employee contributions, but also move to 401(k) style defined contribution plans instead of defined benefits plans that workers now receive.
However, I am not sure where she is coming from as his plan hit on each of the main points, suggested where the changes needed to occur, and it sure seems like the policy proposals here are fairly specific.
As the LA Times suggested on Friday, "The proposals could vex the labor unions whose money fuels his campaign, but they allow him to draw a contrast with his Republican opponent, Meg Whitman."
An article by Jon Ortiz and David Siders in the Fresno Bee suggests the tactical move will stake out what has traditionally been Republican ground, however is increasingly becoming a bipartisan issue especially by those focusing on local government.
They cite Democratic strategist Garry South who said "Brown is likely responding to an argument by Whitman that he is partly responsible for soaring pension costs. In 1977, then-Gov. Brown signed legislation that extended collective bargaining rights to state workers.  "I think he's trying to operate a little bit counter to type by suggesting that he might take on the public employee unions" South said, even though the state's pension costs didn't rise dramatically until after a benefits upgrade in 1999."
Meanwhile labor will have little choice but to accept this so as to avoid ceding the issue to more draconian Republican reforms.  "Labor will probably take a long view of Brown's pension plan, said Sacramento-based Republican political strategist Wayne Johnson. While the unions aren't happy with rolling back benefits, they'd rather not hand the hot-button issue to Whitman," the Fresno Bee reported.
This is certainly a plan I could support and it does not harm to the lower level employees that the system was really created to help.  The problems of the system are really at the top, pension spiking, low retirement age, and large benefits for those making over a certain amount of income.  People should not be retiring from public service to make six figures.  Pensions were never supposed to allow for that kind of retirement.  And we cannot afford it.
However, I cannot support calls to reduce the benefit below 2%, because that hurts the average person who is not the problem here.  I have wanted Democrats and liberals, those who are pro-union and will work within the collective bargaining system to get out in front on these and prevent the more draconian reforms to be implemented as the public recoils from a wave of scandals and bad management at the local levels as well as the state.
—David M. Greenwald reporting