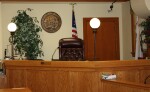 On a night in November, 50 students took over the Mrak Hall at UC Davis.  Brie Holmes was never in the building.  Instead she was described by her Attorney Stewart Katz as being outside Mrak Hall – clapping and cheering the protesters who had volunteered to be arrested.
Brie Homes was a 20-year-old senior who was charged with battery on UC Davis Police Captain Joyce Souza and resisting arrest.  After deliberating Thursday afternoon, Friday, and Monday morning, the jury deadlocked on both counts.  The final poll had a 10-2 vote for acquittal on the battery charge with a full 6-6 deadlock on the resisting arrest charge.
Defense Attorney Stewart Katz said after the trial that he does not believe the DA will re-file the case, which was two misdemeanor counts.  He said he thinks that the DA is going to talk to the university, but that the university is afraid it will get sued.
The officer involved was Captain Joyce Souza, an officer at UC Davis since 1985 who was reportedly wearing a standard police uniform the day in question.  On the stand, Captain Souza claims that Ms. Holmes stepped into the pathway and that she asked her several times to move.  Captain Souza then tapped Ms. Holmes on her shoulder and felt the weight of Ms. Holmes on her.
Captain Souza described the initial shove she gave the defendant as an "extension" of her arms. People had been "aggressively reluctant" to comply with her orders. Captain Souza then says that the defendant repeatedly struck her in the chest after the initial shove, at which point two sheriff deputies stepped in, grabbed Holmes, "placed" her on the hood of a patrol car and handcuffed her.
Under cross examination Captain Souza acknowledged that she was tired and frustrated, and she believed her resources were inadequate. When Souza contended that frustration doesn't describe her attitude towards the resources, Mr. Katz read from her police report, which pretty well establishes that she was, in fact, frustrated. No obscene or derogatory language came from the defendant, and the more boisterous people were closer to Mrak Hall. There was no destruction of property in the ordeal which is significant since the Captain described the crowd as hostile.
Mr. Katz argued that Officer Souza instigated the situation.  She walked up to Ms. Holmes and shoved her, and she fell back.  Two of the Yolo County Sheriffs observed this and misperceived the situation.  They used unreasonable force to detain her, so much so that she urinated on herself.
One of the points made throughout was that the defendant was very small in stature, and that likely led to the jury questioning the ability and willingness of the defendant to take on the police.
For instance, the people's witness Deputy Sheriff Ryan Mez says he saw Ms. Holmes slapping Captain Souza in the face.  In the video, Mr. Katz showed Deputy Mez trying to put the defendant on the hood of the car.  Mr. Katz described this as an unconventional way of gaining control.  Deputy Mez was 5-7, 190, a well built individual and it seemed implausible that he would have trouble getting Ms. Holmes under control.
Deputy Sheriff Gary Richter, the partner of Deputy Mez, testified that it took 15 to 20 seconds to subdue the defendant.  However, when Mr. Katz asked on cross examination whether the defendant was resisting, both Deputies Mez and Richter affirmed that she was while on the hood of the car. It turns out that Ms. Holmes' arm was caught on her purse and under her body while she was on her stomach on the car. 
In addition, the Deputy Sheriff is well built and said to lift weights.  At one point Mr. Katz asked him if he lifted weights and the Deputy responded yes.  Mr. Katz asks what he benches. And the Deputy replied, "Whatever's on the bar."
In closing, Robert Gorman, Deputy District Attorney, argued that Brie Holmes experienced a 2-minute interval of her life in which she acted criminally, contrary to her general character and everything she believes in. He described her as a fundamentally good person who was probably caught up in the emotion of what was occurring.
He argued that Captain Souza testified to the events as she saw them.  People are not allowed to lay hands on a peace officer.  Mr. Gorman argued that even though there is discrepancy between Deputy Mez's testimony and Captain Souza's (Deputy Mez saw more strikes, and strikes to face, Captain Souza testified to two in chest), it does not mean they contradict each other. Perceptions can be different.
Mr. Gorman continued to say that the officers did not use unreasonable force. If you fight with police, you can expect to be met with force that is physical in nature.  Katz will characterize deputies as thugs, muscleheads, but it does not matter once officers attempt to put on handcuffs, you must submit. In her testimony, the defendant said nothing about self-defense. A difficult case because Ms. Holmes is likable, has a scholarship, father is a good guy and LAPD officer. Set aside personal feelings for the defendant and follow the law.  Deputy Mez and Richter are shown throughout the DVDs of the interior of Mrak.  Mr. Gorman contends they acted professionally and appropriately throughout. Convicting Ms. Holmes does not mean she's a bad person.
There was an interesting exchange during the break.  Mr. Katz accused Mr. Gorman of prosecutorial misconduct, endorsing street justice.  Mr. Gorman says he never endorsed street justice, remarks occurred in context. Judge Richardson found that no misconduct occurred.
According to Mr. Katz, we have a system of justice, not a system of street justice (ie, you mess with a cop, tough luck). Obligation of the jury is the same in any case. People are more likely to believe an officer, just the way it is.  There are two possible verdicts, guilty/not guilty. The jury should empathize with Ms. Holmes.
Significant things to glean from the video: position changing entire time during the video; Officer Souza is moving her, pushing, not just the one shove she testified to; people are in the pathway, there is no skirmish line or human barricade. 
What happens when you suddenly place yourself within one inch of someone's face? How would you react? What do you expect an officer to do? The defendant?
Mr. Katz questioned the credibility of Captain Souza.  He argued that her report differs from her testimony.  In the report she said she was shoved, in her testimony she was slapped.  According to Mr. Katz it was Captain Souza who initiated contact. Further, he said that Captain Souza acknowledged that Brie may not have known she was addressing her. He argued that questions about the tape should give pause to the jury.
Were Mez Richter and Souza involved in the same arrest of Brienna Holmes? he asked the Jury.  Deputy Mez didn't even write a report, didn't think it was a big deal. Deputy Richter wasn't actually where he said he was, and was actually the third closest officer.
Todd Kolze is the tallest and closest witness, and had the best view. He was calmer than anyone else on scene, so much so that in his interaction with Captain Souza prior to the incident in question, she asked him to help her clear the area. Even Captain Souza characterized him as calm. Mr. Kolze said Ms. Souza was overtly and overly aggressive.  He said Brie Holmes's actions were in self-defense. He further testified that Ms. Holmes was slammed and manhandled on the hood of the car.
Ms. Holmes, according to Mr. Katz, told us what happened on stand. She was not looking for attention at the back of the demonstration. She was helping identify arrested people in a low-key way. Mild clapping and overall behavior are not consistent with someone about to attack an officer. Moreover, she did not know what was going on, no one told her she was under arrest.
According to Mr. Katz, the law of self-defense says that the burden is on the prosecution to prove beyond reasonable doubt that actions were NOT in self-defense. Ms. Holmes put her hands up to block the attack. The officers used excessive force. The jury must find the defendant not guilty because excessive force was used, so the officers were not performing normal duties.
When the jury returned, they announced they were deadlocked.  They were given further instruction and sent back, however, they could never reach a unanimous verdict.
There will be an additional hearing on August 24 to determine whether charges will be refiled.  The Vanguard will have additional coverage of the trial and surrounding events.
—David M. Greenwald