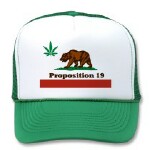 Last summer I went on police ridealongs, first with the Davis Police Department and the next night with the Woodland police department.  Both nights we encountered individuals in respective parks in possession of marijuana.  In both cases the police took the marijuana from the individuals without issuing a citation.
In one of the vehicles there was a huge collection of extravagant pipes.  In one case there was a pipe that looked like a gas mask, going completely over one's face as they took the smoke in.
In both cases, the officers explained to me in their own words that they were not fans of marijuana laws. They did not view people who smokes marijuana as a threat to public safety. They said that the cost of administering a citation was actually higher than the fine in the citation.  In short, as long as the individuals involved were honest and otherwise not committing crimes, they would not enforce the state's marijuana laws.
In many places in California, small quantities of marijuana are already legal.  Complicating matters are medical marijuana laws.  For example, on Thursday I was in Judge Kathleen White's Yolo County Courtroom just observing the regular calendar. There was a case represented by Jeffrey Raven, who is one of the publicly-appointed conflict attorneys.  In this case, it had been determined and verified by a doctor that the individual rightfully was a recipient of medical marijuana.
Based on that info, the case was dismissed.  After dismissing the case, Mr. Raven politely asked if they could "have the unlawfully seized" pause, "medicine returned."  Apparently that will require a separate motion.
As amusing as that exchange may have been, it does not seem worthy of either the court's time or law enforcement's to try to determine whether one's marijuana is for medicinal purposes.  This November, Californians will get to decide whether individual communities can determine whether this is an appropriate use of law enforcement, DA, and court resources.
According to a release from the ACLU of Northern California on July 22, 2010, "Enforcement of marijuana prohibition consumes a great deal of California's law enforcement and court system resources, and has a disproportionate impact on communities of color. Proposition 19 would allow adults age 21 and older to possess and grow small amounts of their own marijuana for personal use, and would allow cities and counties to regulate and tax commercial sales. Unless individual cities and counties enact local regulatory structures, marijuana sale would remain illegal under state law."
As we discussed yesterday, enforcement of drug laws are not uniform.  Instead, people of color are disproportionately the targets of marijuana related arrests.  According to the ACLU and the Drug Policy Alliance, "In 2008, California police made 60,000 marijuana possession arrests, the majority of them young men of color. The arrests, however, do not indicate actual marijuana usage. A new report from the Drug Policy Alliance (DPA) reveals distinct racial disparities in California arrests for low-level marijuana possession. Data in the report reveal that African Americans in California are more likely to be arrested for marijuana possession than whites, but more white youth use marijuana than black youth."
"California makes tens of thousands of arrests each year for simply possessing small amounts of marijuana. These arrests overload our already stressed courts and jails and divert scarce public safety dollars that could be used to address violent crime," said Kelli M. Evans, associate director at the ACLU of Northern California.
"The significant racial disparities in marijuana possession arrests have serious consequences, for young men of color in particular. The impact of a misdemeanor conviction for marijuana possession creates barriers in finding a house, a job, and even a school loan," said Ramona Ripston, ACLU/SC executive director.
"Proposition 19 is smart policy that would regulate and tax marijuana for adults, just like alcohol and tobacco," said Kevin Keenan, executive director of the ACLU of San Diego & Imperial Counties.
Fiscal Impact
The question then is how much money would the elimination of such laws create?
The California Legislative Analysts Office analyzed the potential fiscal impacts.  They write, "Many of the provisions in this measure permit, but do not require, the state and local governments to take certain actions related to the regulation and taxation of marijuana. Thus, it is uncertain to what extent the state and local governments would in fact undertake such actions. For example, it is unknown how many local governments would choose to license establishments that would grow or sell marijuana or impose an excise tax on such sales."
They continue, "In addition, although the federal government announced in March 2009 that it would no longer prosecute medical marijuana patients and providers whose actions are consistent with Proposition 215, it has continued to enforce its prohibitions on non-medical marijuana-related activities. This means that the federal government could prosecute individuals for activities that would be permitted under this measure. To the extent that the federal government continued to enforce its prohibitions on marijuana, it would have the effect of impeding the activities permitted by this measure under state law."
"Thus, the revenue and expenditure impacts of this measure are subject to significant uncertainty," they conclude.
However, they also add, "The measure could result in savings to the state and local governments by reducing the number of marijuana offenders incarcerated in state prisons and county jails, as well as the number placed under county probation or state parole supervision. These savings could reach several tens of millions of dollars annually. The county jail savings would be offset to the extent that jail beds no longer needed for marijuana offenders were used for other criminals who are now being released early because of a lack of jail space."
Moreover, "The measure would result in a reduction in state and local costs for enforcement of marijuana-related offenses and the handling of related criminal cases in the court system. However, it is likely that the state and local governments would redirect their resources to other law enforcement and court activities."
Is that not what we want?  State and local governments to redirect their resources to other law enforcement and court activities?
Is Marijuana a Gateway Drug?
The argument is often posed that even if marijuana itself is a mild drug that causes minimal harm, it is a dangerous substance because it leads to the use of supposedly harder drugs.  As I have said previously, it is a strange argument, because really any argument you can make about marijuana you can make about legal drugs like cigarettes and alcohol. 
In 2002, the RAND Drug Policy Research Center commission a study on the marijuana gateway effect.  Researchers Andrew Morral, Daniel McCaffrey, and Susan Paddock examined whether marijuana use per se increases youths' risk of initiating hard drugs, i.e. the marijuana gateway effect, or if these associations could instead be explained as the result of a common factor influencing the probability of both marijuana and other drug use.
Their findings "do not disprove the gateway effect" however, "instead, they demonstrate that each of the phenomena that appear to support such an effect are, in fact, equally consistent with a plausible alternative that accounts for the known general liability to use drugs and the known differences in when youths receive their first opportunities to use drugs."
Goode's research from 1970 is cited as well, "Something like a marijuana gateway effect probably does exist, if only because marijuana purchases bring users into contact with a black market that also increases access to hard drugs."
The researchers here conclude, "Our model demonstrates how the observed correlations in the use of marijuana and hard drugs may be entirely due to individuals' propensity to use drugs and their opportunities to use them. As such, marijuana policies would have little effect on hard drug use, except insofar as they affected either an individuals' propensity to use any drugs (as might be the case with drug use prevention programs), or they resulted in hard drugs becoming less available or available later in youths' lives."
While this study is hardly conclusive and the last word on the topic, it does underlie the problem with the assertion that marijuana is a gateway drug.  It appears that there is no underlying causal mechanism to create the link and instead what we see is simply a matter of correlation not being equivalent to causation.  In other words, we see the correlation not because marijuana use causes other drugs, but rather because there are other factors that increases the likelihood of both marijuana use and other drug use.
Conclusion
In most ways our drug laws make little sense.  Marijuana per se probably represents less danger to the population than either cigarettes or alcohol.  Marijuana rarely creates a public nuisance caused by violence triggered by over-consumption.  It lacks the addictive qualities of cigarettes.  And the bottom line is that we no longer have the resources to control every aspects of an individual's behavior.  We already have laws that govern against acts of violence or property crimes.  We ought to focus our resources on those crimes that represent a threat to public safety rather than those actions that mainly impact one's own life.
—David M. Greenwald reporting