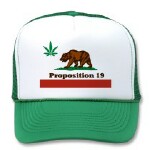 I have read a couple of commentaries opposed to Proposition 19 which would legalize marijuana in California.  As I read these things, I wonder if people really understand the extent to which drug laws clog up our court system and make it difficult to deal with more serious crimes.  For the cost of incarcerating one individual in California for one year, we can put perhaps two people into residential treatment for two years each.  To me that seems not only more cost-effective, but it seems more effective.
I have seen a lot of studies cited, but I thought it might be valuable to glean some insight from someone who spent thirty years actually working on the ground with people with drug-dependency problems.
The Vanguard spoke a few months ago to Carlos Matos, who spent thirty years in Yolo County as a Youth Drug Counselor.  He saw increasingly strict drug laws causing people not to repair their lives, but leading them into more serious dependency and, yes, more serious crimes.
"It's an absolute nightmare, people get sent to prison for simply having pot in their system.  People tend to go to prison for drug charges instead of getting treatment," Carlos Matos told the Vanguard in June.
"Once they go to prison and once they get charged with felonies, it changes their lives radically.  Very difficult when they come out of prison to adjust to their community.  It's very difficult for them to get a job, to get an apartment, to get any kind of financial situation going with a felony on their record," he continued.
Instead of getting people the help they need, it ends up driving them further into a life of addiction and crime.  "It tends to drive people into things that they weren't into before like selling drugs to survive and make money.  Which is really a tragedy, besides when people go to prison they end up getting dope in prison anyway.  Prohibition is not really working, it didn't work with alcohol in the twenties, it's not working now."
"It's a horrible system to lock up users into the prisons, which is basically bankrupting the state," said Mr. Matos.   "It makes no sense whatsoever.  Nobody gets better by going to prison if you're a drug addict.  So why load up the prisons when somebody has a chemical dependency problem?"
The bottom line, from my perspective and the perspective of a lot of people in the system, is the current system does not work.  Last week I shared with people my experience on ride-alongs in different jurisdictions, and the officers in general thought that marijuana laws were problematic.
So now I read the column from Marcos Breton, whom I generally agree with, and I appreciate that he generally does not split hairs. 
He discusses both legalized pot and the ban on gay marriage.  He opposed both the legalization of pot and the ban on gay marriage (make sure you check the negatives there, it gets confusing).
He argues, "Denying gay marriage and promoting legal marijuana are losing arguments when stripped of emotion and measured against the law."
The strongest argument against legalizing marijuana is that it would put California in direct conflict with federal law.  That same problem we had with Medical Marijuana.  Under the Clinton and Bush Administrations that was a problem because the feds decided, even during the war on terror, that they had enough resources to raid clinics and arrest terminally-ill people.  However, the Obama Administration has basically stopped enforcement on medical marijuana and the system is working reasonably well.
From my perspective, if the feds want to prioritize going into California and arresting people on federal charges for possession of marijuana, let them.  Let them spend their money and justify it.  My guess is the Obama administration is not going to do it.
"In the marijuana debate, the pro-pot forces play games when linking their cause to the plainly-misguided era of alcohol Prohibition," writes Mr. Breton.  "There is no basis in history to compare marijuana with alcohol.  Humans have fermented alcohol from the beginning of time. At marriages and in Sunday Masses, we toast the bride or drink consecrated wine. We don't spark a joint."
Understood.  But the analogy really is not about that, in itself.  It is about the impossibility of banning things that have a ready-made demand, it is about creating powerful black market forces, it is about giving power to criminal syndicates.  And yes, I am not just talking about marijuana, but the war on drugs in general.
We have created a huge underworld organization to cultivate, transport and sell illicit drugs.  And we have done so out of the mistaken belief that interdiction efforts and law enforcement can curb the human demand for mind-altering chemicals. 
Again, I submit if we use a fraction of the resources that we use to catch, convict, and incarcerate these individuals, we could treat this as a health problem. We could put people in residential treatment for a long enough period so that they actually stand a chance, give them job skills and put them to work. We might find, amazingly, that the problem of addiction has gone down while the crime elements connected to their illegality have been, at the very least, reduced.
I view this not as a pro-pot endeavor. I view the war on drugs as an integral part of all sorts of bad policy decisions we have made that effect things as disparate as health care, social services, drug policy, and yes, my favorite, gangs.  Guess what fuels gangs?  Selling illegal drugs.  Guess what fuels the crime around the transportation of illegal immigrants?  Smuggling illegal drugs with the immigrants.
Further, I agree with Mr. Breton's concern that we are not ready to police drugged drivers, but we probably have a lot of them already.  I do believe that policing drugged drivers will be far easier than policing the sale of illegal drugs.
The question there is how much will the use of marijuana go up as the result of its legalization?  I am not sanguine on this point.  I agree the use will go up, but it is really not something that scares me.
David Musser, in a Davis Enterprise op-ed last week, cited a Rand Drug Policy Research Study that suggests that pot consumption likely would increase from 75 to 150 percent.  They cite not only greater access but dropping marijuana prices, since there would no longer be costs associated with evading law enforcement.
The price could be controlled, however, by regulating the industry and placing taxes on the drug.  The opponents' suggestion is that the taxes collected will be insufficient compared to the social costs, but observe a few counterpoints on that.
First, what we are really trading off here is the cost of current enforcement for the amount of tax revenue, assuming it can be regulated and taxed, versus the costs of legalization in terms of social costs.  I think opponents over-estimate social costs and vastly underestimate the costs to the current system of enforcement, courts, and incarceration.
Second, taxation of cigarettes was a means by which not only to fund programs to reduce smoking, but also to raise the cost of smoking for the individual.  Taxing marijuana could produce a similar result, toward a similar effect.
So I think, given that, it is unlikely that the use of marijuana will increase by 75 to 150 percent on a sustained level.  There will be an immediate spike as people are curious, but I think overall, we will see a more modest increase.
And really what is the fear?  The long-term health impacts of marijuana are certainly no more severe than alcohol or cigarettes.  People will not likely chain-smoke marijuana as they do cigarettes, for example.
Furthermore, people who smoke marijuana do not have the violent tendencies that over-consumption of alcohol can bring.  Unless we legalize marijuana bars, most people will partake of the drug in private residences, and the idea that a lot of stoned people will be either driving or walking around is reduced, and the threat they possess to others is less than the threat of drunk people.
Finally, Mr. Musser presents the Rand study's scare tactic that "the federal government would withhold highway or other federal funds to penalize the state for not abiding by federal laws."  That seems very highly unlikely.  The Obama Administration would likely not do that for several reasons.
First, they lifted federal enforcement efforts on medical marijuana.  Second, given the economy, federal funds for highways is vital to the state's economy and California is vital to the nation's economy.  Hurting California's economy would damage the President's chances for an improved national economy.
It is therefore unlikely that the President would withhold funding to California, and it is less likely that, in two to six years, a new President would do so after the fact.  So I find that logic not fitting with current political realities.
The bottom line for me is that if the Federal Government wants to enforce marijuana laws that is its choice, and the state has no obligation to expend state monies to do so.  And from a policy standpoint, our current drug laws are problematic, they have not worked, and we have dumped a tremendous amount of money that could be more wisely spent dealing with health issues rather than law enforcement.
—David M. Greenwald reporting