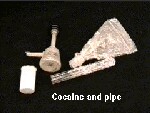 I was going through the list of hearings scheduled for today in the Yolo County Superior Court.  On a daily basis we have our interns watching these cases and it just struck me how many of them are no more serious than this one: "F poss controlled subs; M poss narc paraphern."  Or this: "F transp/sell cntl sub; M use cntrlld substance." Another one, "F transp/sell cntl sub; F poss controlled."  Another: "F poss controlled subs E commit on bail/or E commit on bail/or M poss narc parapher."  Another: "F poss controlled subs."
In all today, there are at least 30 to 40 hearings that have charges no more serious than for possession of a controlled substance.  Some of them have enhancements for prior prison.  Some of them have enhancements because they are violations of probation.  But at the end of the day, the genesis of these cases are drug possession.
Last week, we reported on a Yolo County Courtroom that, for three days, had to deal with a person who possessed 0.0118 grams of meth.  Now, all of the conservatives came out of the woodwork to argue that they got what they deserved, that drugs lead to other crimes.  Maybe they do.  But none of these 30 to 40 cases involved other crimes.
The individual who was convicted last week, like most drug offenders, will not go to prison, at least not yet.  Instead she will likely get a suspended sentence, and may go through Drug Court. She is also eligible for Proposition 36, which was a step forward in that it allowed first- and second-time nonviolent, simple drug possession offenders the opportunity to receive substance abuse treatment instead of incarceration.  That is a good thing.
However, with the state in budget crisis, the funding for Proposition 36 programs remain in doubt.
But here is the benefit of Proposition 36 and programs like it…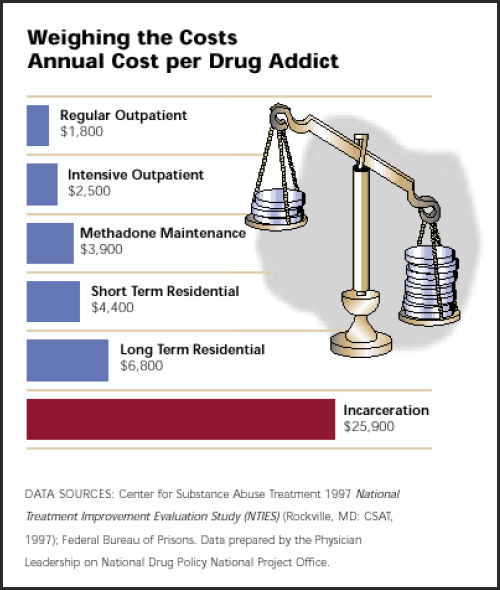 This chart is actually old, the cost of incarceration is closer to double that now.  But it illustrates the point on costs.
However, the truth is that costs of our drug policies are really closer to immeasurable.  I have been reading a book by Michelle Alexander entitled, "The New Jim Crow."
The problem that someone like Maria Pastor now faces is that she is a convicted felon.  That means that, even though she may not see the inside of a prison as the result of her crime, she faces very serious long-term consequences.  First, she cannot vote.  That is a fundamental right in our democracy, and that is taken away from her for at least a proscribed period of time.  In some states it would be permanent, she could never vote again.  Big deal, you say?  People have died for the right to vote, quite literally, and yet her right is taken away by possessing a small quantity of drugs.
The bigger problem from the standpoint of our society is that it will be very difficult as a convicted felon to get a job.  It will be difficult to rent an apartment.  It will be impossible to get public housing.  It will be difficult, if not impossible, to get a loan.
Ms. Alexander chronicles in her book that a huge percentage of convicted felons, even those who will not see prison time, end up homeless because they are unable to get work or get accommodations.
What does that mean?  Well, if you have an individual that is no longer able to get a job or find a place to live, he/she will likely return to substance abuse, and will likely return to crime.  We are talking about millions of people, if not tens of millions of people, each year.  As one can imagine, this becomes a self-feeding cycle.
As Michelle Alexander argues in her book, most of these people affected are racial minorities.  She cites well-known statistics that show that, while the proportion of whites to blacks is similar to that of whites to minorities using drugs, the arrest, conviction, and incarceration rates between the races are not comparable at all.
One of the most egregious policies that had a strong racial component was the disparity in sentencing between the sentences for powdered cocaine and crack cocaine. Crack cocaine is used disproportionately by blacks -something like 80 percent of those convicted are black – leading to complaints of discrimination. 
President Obama said during his 2008 president campaign that the sentencing disparity has "disproportionately filled our prisons with young black and Latino drug users."
In 1986, federal laws that gave crack cocaine offenders the same jail sentence as someone who possessed 100 times the same amount of powder cocaine.  Last week, President Obama addressed what both Democrats and Republicans have agreed is an injustice in drug sentencing.  It does not completely level the field.
The new law narrows the ratio to 18-to-one.  Not perfect, but better than previously.  It also eliminates the mandatory five -year jail sentence for first-time offenders charged with possessing five grams of crack cocaine.  Instead it would require a possession of 28 grams to trigger that sentence.
Said Laura Murphy of the ACLU, "Congress has just struck down a mandatory minimum for the first time in history and has sent the correct message that we cannot continue to use a one-size-fits-all approach to sentencing. The passage of the Fair Sentencing Act by both chambers of Congress is an important first step toward finally eliminating the sentencing disparity. However, the bill does leave in place a sizable sentencing disparity that we will continue to work to eliminate."
According to the ACLU, "More than two decades ago, based on assumptions about crack which are now known to be false, heightened penalties for crack cocaine offenses were adopted. Sentences for crack are currently equivalent to the sentences for 100 times the amount of powder cocaine, and the impact falls disproportionately on African-Americans. In recent years, a consensus has formed across the political and ideological spectrum on the crack and powder cocaine sentencing disparity issue with both Presidents George W. Bush and Barack Obama urging reform."
"Though this legislation is long overdue, it still leaves Americans with a sizable sentencing gap for the same drug. We must ensure that our laws are based on facts and not prejudice," said Jennifer Bellamy, ACLU Legislative Counsel.
The CBO projects a modest savings of $42 million over five years from these changes, not a huge savings in the scheme of things.
However, from the caseload alone in the state court system, it would seem that changes to the scope of drug laws and shifting these cases out of the legal system would save a tremendous amount of time, resources, and, yes, money for states like California that are reeling from billions in budget deficits.
We have to make our budget priorities in new times.  Just as we have to look at how much we pay our public employees, we also have to look at how we treat non-violent drug offenders.
—David M. Greenwald reporting