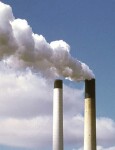 When PG&E pumped in millions in an attempt to prevent public power from gaining more marketshare into California, the California voters saw through the charade and voted to defeat the measure.  Now they will have a similar challenge this fall with Proposition 23.
In 2006, California moved to the forefront of green policies with AB 32, which not only improved our air quality but it encouraged the growth of profitable green industries.  Contrary to what industry advocates would have you believe, there is nothing anti-economic about environmental policies.
In fact, one of the biggest growth areas is green energy and green technology. Cities like Davis, in fact, are going to attempt to build their economic development around such innovative high tech and green fields.
AB 32 goes far beyond that, however, requiring statewide caps on emissions of greenhouses gases, the types of policies cities like Davis have already passed.  The AB 32 baseline is to get the state of California down to 427 million metric tons of GHG emissions, the level that was emitted back in 1990 or a 15-percent reduction from today's emissions.
According to an explanation in the Los Angeles Times, "By Jan. 1, the board must establish mechanisms for overall reductions, such as cap-and-trade rules, which essentially allocate emission levels to companies but allow them to buy credits from those not using up their own rights. Full implementation of all rules is required by Jan. 1, 2012. Pollution standards already adopted for new cars aim to cut emissions 30% in 2016."
One of the leading sources of GHG emission is the burning of petroleum, especially by automobiles and other vehicles.  That puts the oil industry as AB 32's biggest perceived target.
So they have developed Proposition 23 and attempted to cast it as a jobs measure.  Thus they project alarming job and economic losses once AB 32 goes into effect.  They argue that it will cost California's economy over a million jobs.
If you listen to the backers-only without any context, their argument seems almost common sense.  The state's unemployment rate, which is currently about 12.5%, would have to fall to 5.5% for four consecutive quarters.  Sounds reasonable right? 
One problem, according to the San Jose Mercury News, is that California's economy has only dipped to 5.5% unemployment for a full year three times since 1976.
The LA Times cites stats showing "the state's monthly unemployment rate hasn't been 5.5% or less since September 2007. Prior to April 2005 it was 5.6% or higher for 44 consecutive months. In other words, the rate has been 5.5% or less for only 37 of the 114 months since January 2001."
Moreover, UCLA forecasters "believe the rate got as low as 4.8% (in 2006) largely because the housing boom, which probably won't be repeated anytime soon, put 900,000 people to work in construction. California's natural unemployment rate in the future may be about 6%, Jerry Nickelsburg of the UCLA Anderson Forecast told me."
In other words, while the backers of Prop 23 claim that they are only "adjusting the timetable" of AB 32, in fact they are trying to kill it for ever.
The Times article goes on to cite a study drafted by two CSU-Sacramento business professors, contracted by the California Small Business Roundtable.  According to the Times, "They accepted the Air Resources Board's initial estimate that implementing AB 32 would involve costs of nearly $25 billion a year as a minimum. They threw in additional capital costs of $60 billion, $5 billion for new-home construction (for energy-thrifty homes) and $36 billion for fuel-efficient new cars and more."
There are serious problems with the study however.  For example, "The nonpartisan Legislative Analyst's Office points out that the study failed to mention that the board had also identified $40 billion in savings from AB 32 — for a net gain  of about $15 billion a year. Varshney and Tootelian said they deliberately ignored these savings as "too speculative to consider at this time," a neat trick, especially if you're trying to reach a preordained conclusion."
Furthermore the Times reports, "James Sweeney,  an energy economist at Stanford, notes that in calculating the additional housing cost per consumer, the professors estimated that AB 32 would add $50,000 to the cost of a new home. How so? They figured that was an increase of 14.9% over the median new-home cost in 2008, and applied it to every household in the state — whether new-home buyers or not. They didn't factor in any savings in power costs."
"There's nothing subtle about what's wrong with that paper," Mr. Sweeney told the Times. "It's such a hit piece that everybody I know in the community that looks at these things has just disregarded it."
Other studies instead find that the projected costs are not likely to be significant. The Legislative Analyst's Office, which concluded that the near-term effect would be negative and the longer-term effect "unknown," states that either way the effect "will probably be modest in comparison to the overall size of the state's economy."
However, one industry that it might cost is the oil industry.  That explains why Valero Energy based in Texas has already pumped in over a million dollars, which on this side of PG&E is still a lot of money.  Tesoro Corp, also based in Texas has spent over half a million.
As the Mercury News editorial this weekend suggests, contrary to the notion that AB 32 is a jobs killer, there is evidence that it is bringing jobs and capital to California.  They write, "With that many people out of work, though, it would be an absolute calamity to turn off the magnet that's attracting billions of dollars in job-creating investment. In 2009, 40 percent of cleantech venture capital went to California, where some 12,000 companies are working on ways that could help businesses and consumers reduce energy consumption. More than 500,000 people work in the industry, including 93,000 in manufacturing and 68,000 in construction."
For instance, Deutsche Bank executive Reuters that if Proposition 23 were to pass, "it would pour most of the $7 billion it has to invest in clean energy into China and Western Europe. Said Kevin Parker, global head of asset management: "(Congress is) asleep at the wheel on climate change, asleep at the wheel on job growth, asleep at the wheel on this industrial revolution taking place in the energy industry," writes the Mercury News.
They continue, California's lawmakers, thankfully, were not so derelict. They passed a forward-thinking law that has made California a top player in that industrial revolution, and now numerous Silicon Valley heavyweights have stepped up to protect it. The big tech companies — including Google and Apple — oppose Proposition 23, as do green companies like Sunnyvale's Serious Materials. Venture capitalist John Doerr has given $500,000 to the "No" campaign; Farallon founder Tom Steyer has pledged $5 million."
The Mercury News continues that venture capitalist Vinod Khosla explained why he and so many others want to preserve AB 32: "Proposition 23 will kill markets and the single largest source of job growth in California in the last two years. Not only that, it'll kill investment in the long term for creating the next 10 Googles."
The Mercury News concludes, "Supporters of Proposition 23 are right about one thing: Job creation is absolutely essential to California's future. Which is precisely why voters should reject the measure — it would kill the state's primary economic engine, now and for years to come."
—David M. Greenwald reporting