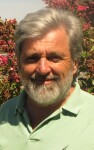 When Mike Nolan announcement in mid-July that he would run for the Davis School Board, it meant suddenly there were four candidates for three spots and the incumbents would now have to run for office and defend their records.  That is exactly what Mr. Nolan was hoping for.
He told the Vanguard in an interview that someone needs to be to run, just in order for there to be a performance review.  But he went further, first pointing out that he likes all three of the incumbents as people and calls them dedicated public servants who are worthy of respect and praise.
However, he also believes that they are a tight group and that sometimes it is difficult to get a dissenting voice heard with them.  They really operate at times like a corporate body, in that the three are so closely aligned that they push their colleagues to the periphery of decisions that are made by the school board.
Mike Nolan is a lawyer who began his practice in San Luis Obispo.  He now has four children who are all in Davis public schools.  While he joined the PTA in 1999, he never went to a meeting until his oldest went to Junior High.
People were looking for someone to join the Superintendent-Parents advisory Committee.  This was a body that would bring a lot of district-wide information to the Superintendent. He joined in 2006, at the end of the 2005-06 school year.  And he has served four tumultuous years that have seen four different superintendents and several budget crises.
However, his first issue was a rather mundane one.  There were no nets on the basketball hoops on school playgrounds and this was a source of complaint from a number of parents.  So he took up the issue and it turned out there had been a college student who was playing on the courts and went up to attempt to dunk the ball and got his hand caught in the wire net and lost a finger.  He sued the school district and the insurance company made the district take down the nets.
He was about to get cloth nets put into place when suddenly Superintendent David Murphy resigned and interim Superintendent Richard Whitmore had more pressing issues to attend to.
Since then more serious issues have plagued the school district, and in January 2008 the district was facing a huge budget deficit right after passing Measure Q.  Mr. Nolan pushed immediately for another parcel tax, but the district, for a variety of reasons, was not ready to do that just yet.  The Davis Schools Foundation was able to raise enough money to allow the district to continue to operate with minimal cuts, after a flurry of spring proposals that included the suggestion of closing Emerson Junior High.
Eventually the school district did consider a new parcel tax.  Mike Nolan told the Vanguard that with him as PTA President, Willett PTA was the first PTA to support the new parcel tax in 2008.
Another point of concern he expressed was a situation that arose in late 2008, just after the voters had approved Measure W.  The issue of school reconfiguration was placed on the agenda at 7:30 am on a Sunday morning.  This was the issue where the district would consider whether to switch the configuration to include ninth grade in the high school and whether to change the Junior Highs to 7-8 or 6-7-8.  The Sunday Meeting was advertised and supposed to be a workshop but there were a few substantive issues that somehow were also placed on the agenda. 
Mike Nolan and a number of concerned parents came down to the meeting to see what was going to happen.  Mr. Nolan was as concerned about the procedure as he was with the actual policy.  The parents who came out at 7:30 on a Sunday morning waited for an hour as the board met in closed session.  When they emerged, they took the issue off the agenda.  According to Mr. Nolan, the issue of reconfiguration has never popped up since that day.  He felt the whole event was a sign of disrespect, after all the parents and PTA members had done to pass Measure W.
However, the parents stuck around and saw what Mr. Nolan describes as micro-management, in which the district was firing  its lawyers, apparently against the advice and wishes of Superintendent James Hammond.  Superintendent Hammond wanted to consult with attorneys who were familiar with the school district, but according to Mike Nolan, the school board told the superintendent that he could now only call this new firm for legal advice.
Mike Nolan is also very concerned about the plans to have the next parcel tax in May as opposed to in November.  This will push the issue from the November election, when the three incumbents will face the voters for re-election.
It will be determined in December how the parcel tax will be structured.  Mike Nolan, however, believes that the public needs to be involved and organized before then, and that there should be a discussion not just regarding the amount, but also what the parcel tax should pay for.
Mike Nolan does not dispute that the parcel tax is needed, but he has two primary concerns about the timing.  First, a May election is right before the end of the fiscal year on June 30, 2011.  That means that if there is a problem with the election or they lose for some reason, they have no opportunity to attempt it again.  They will immediately have to enact massive cuts.
The second point is that if they instead ran it in November, the district would avoid the threat of having to pink-slip 100 people.  He said that Board Member Gina Daleiden argued at a meeting that if there were no such impending crisis, the public would not vote for the measure.  However, Mr. Nolan argued that in 2008 there had been no immediate crisis, and they got three-quarters of the vote without the threat of people being fired.
He called the current way of doing things a "brutal system."  When people get pink-slipped, there are many who leave in tears and most do not know if they are going to get their jobs back, so it is a heart-breaking time of great stress and uncertainty.  And this has happened several years in a row.  He described one ten-year veteran who knew she would be the first rehired and thus would have a job, but she had taught at the same school for ten years and might lose her classroom and her school because other teachers would get priority.
The idea that the district would have to fire hundreds of employees months before they know their finances is ridiculous according to Mike Nolan.  And the worst part, he says, is that we do not have to go through this, this election could be done in November and then the employees would not have to face pink slips for a fourth straight year.
As he said, "If there's a little screw-up in May, we're in real trouble."  In fact, no one has tried the mail-in ballot.  However, clearly it is cheaper in May to a do a mail-in ballot than it is in March to do a precinct election.  However, he pointed out, it would be cheapest in November when the cost of the ballot would be shared by a large number of jurisdictions and office seekers. 
He wants to fashion a parcel tax that will preserve our system now.  However, he also wants to push programs for kids who are not going to go to college.  He argued that we should be as concerned about kids interested in the manual arts and mechanics as we are about college-bound students.  He believes it is a mistake to focus just on really brilliant students, and that we also have to provide for ones who really do not like school.
He also expressed concern about bolstering the support staff, who he believes really run the schools, and he wants to see more money made available to repair existing infrastructure.
The Vanguard will have exhaustive coverage of the school board race as things begin to heat up.  The incumbents, due to the change in the school district's election cycle, have been in office since 2005.  The district faces huge challenges in the coming years and the public needs to be informed about the choices that they make.
—David M. Greenwald reporting