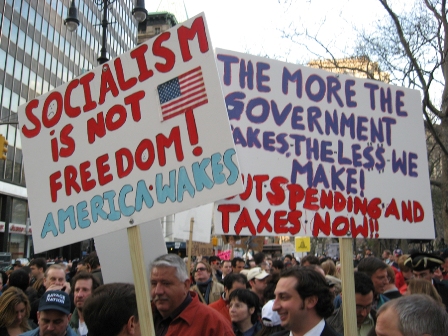 Every so often a letter to the editor comes along that so perfectly illustrates a point.  I found one in the Daily Democrat from Tuesday entitled, "Liberal Press Doesn't Understand Tea Party."  This ought to be good, I thought.
Writes Jim Hanney from Woodland, "Those of you in the liberal press, and the Daily Democrat has never made a secret about being just that, have often expressed a lack of understanding about what the Tea Party movement represents."
I will have to make a note of the fact that the Woodland Daily Democrat is a liberal paper.
Mr. Hanney continues, "We are often accused of being nothing more than Republican Party lackeys whose primary interest is getting ultra-conservative fringe candidates elected. While nothing could be further from the truth, which even the smallest effort researching the Tea Party would establish, the liberals find that position comfortable so they do nothing to dispel it."
Finally he gets to the point.  "But a recent front page article in The Democrat illustrated for your readers – far better than anything I could present – what it is that drives Tea Party members into the streets," he writes.
Seems he has a problem with our friend Fraser Shilling.
"You reported that Fraser Shilling, co-director of the UC Davis Road Ecology Center, has created an online map of California where people can enter the location and description of any road kill they see smashed on the state's highways and byways," Mr. Hanney writes.
He continues, "This study, probably federally funded, is being conducted in a California University that has seen massive cuts to its budget. The university claims that it is struggling to provide even basic services to undergraduates. But then they have on their staff a man who studies road kill? That is what makes Tea Party members angry, among many other equally ludicrous actions of our state government."
He then makes a snarky and inappropriate comment in closing.
Why do we care about this letter?  Because it really illustrates what I have found to be true in my last four years of writing this.  People fundamentally do not understand the difference between monies, revenue streams, one time funding, and frankly the importance of research.
Let us start at the top.  Not all money is the same.  This may be one of the most difficult concepts for people to grasp, but it is true.
A few weeks ago, it was reported that UC Davis has set new records for research money at the very time it was raising fees for students, furloughing and laying off faculty.  Unfortunately, the research money comes in the form of grants that can only be used for very very specific purposes.  It cannot generally be put into the general fund and used for salaries and normal operations in a university.
To make matters worse, most of it is one-time money, it is not going to sustain itself.  So it is not going to allow the university to fund itself on an ongoing basis, even if it could be used for general spending purposes – which it cannot.
Right there is a huge misunderstanding.  Not all monies are the same.
The second problem here is Mr. Hanney disparages the research of Fraser Shilling.  That is certainly his right.
UC Davis had a press release where Mr. Shilling explained the importance of this work.
"Thousands of animals are killed on California's roads every day, including endangered species. This is a threat to the state's natural legacy and, for some species, their very existence," said Shilling, a staff research associate and co-director of the UC Davis Road Ecology Center.
To collect data that could help transportation planners and conservation managers design more wildlife-friendly roads, Shilling and colleagues created a website where anyone can quickly record roadkill observations.
Now, perhaps to Mr. Hanney this is not worthy of grant money.  But in fact, as far as I can tell, if Mr. Hanney had actually read the article, he would have noted that there is no grant money involved.
"The work to date has been done on a shoestring: Shilling and his colleagues have donated about $20,000 worth of time to the California website. They are using university computing and Web resources. Maine Audubon is funding the cost of the Maine website."
Maine Audubon is likely operating on private donations.
So Mr. Hanney did not read the article very carefully  and jumped to conclusions.
But let us suppose he was right, that this project received grant money, would that be a problem?
Universities like UC Davis are researched-based.  That means that the professors come to this university to do research.  That is what makes this a world-class university.
Without grant money, research cannot be adequately performed.  And so if the professors had no access to grant money, they would not come to the university.
So Mr. Hanney writes, "The university claims that it is struggling to provide even basic services to undergraduates. But then they have on their staff a man who studies road kill? That is what makes Tea Party members angry, among many other equally ludicrous actions of our state government."
If this is what makes Tea Party members angry, then they are getting angry about things they appear to not fully to understand. If the university did not conduct this kind of research, then the university would not be attracting top-notch researchers.  It is that simple.  And without that, there would be no university.
It is not for Mr. Hanney and his Tea Party cohorts to decide and determine what kind of research gets performed, especially when he likely lacks an appreciation of the importance of much of the work, either to the field or to society as a whole.
To me this illustrates the problem not with government, but with Tea Partiers.  They are rebels without a cause.  They are mad as hell and not going to take it anymore, but they lack an understanding of what they are mad about.
The problems that we face have nothing to do with the fact that UC Davis uses grant money to fund research.  Without this research, we would not have a higher public education system that has been second to none in the world and that people from across the globe still come to utilize.
So it is an ironic letter that Mr. Hanney writes, when he becomes angry after making an assumption that a project was funded by grant money. That assumption proved to be wrong and to be a misunderstanding about how monies work and about the importance of research.  If that's the basis of the Tea Party movement, then that explains a lot.
—David M. Greenwald reporting