by Karina Piser –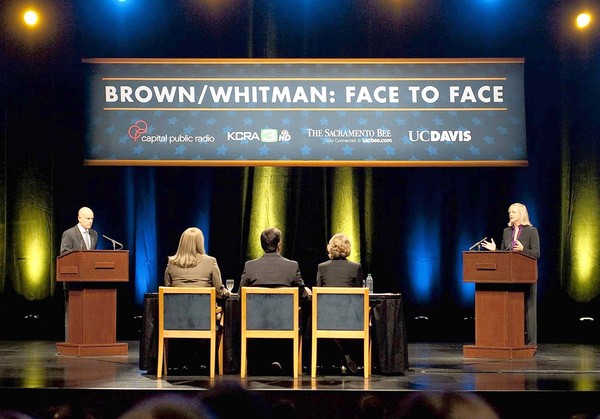 On Tuesday night, both candidates for California governor came together at the UC Davis Mondavi Center to debate key issues in the November election, such as education and the California fiscal crisis. Their backgrounds—which differ both in terms of experience and ideology—created an environment of heated exchange.
Meg Whitman's entrepreneurial background was at the heart of her political positions; where Jerry Brown focused on his identity as a Californian citizen and his devotion to public service, Whitman insisted that California's success in Silicon Valley should be applied to the rest of the state and its politics.
Both candidates are faced with a state in crisis. A state that once presented promise and hope is now in peril—the educational system is failing and unemployment is skyrocketing, especially in relation to California's neighboring states. 
Higher education is at the heart of the Californian budget crisis. 2010 has borne witness to a slew of budget cuts that have resulted in a whopping thirty-two percent increase in tuition that has forced many willing and active students to withdraw from their education. Despite intense protest at the time of the tuition increase, the change stood strong; the UC budget was simply unable to endure the fiscal crisis.
A UC student submitted a question to the debate, asking whether or not the candidates would roll back all funding cuts to UC, CSU and CC systems. Brown, who was the first to respond, acknowledged his inability to act immediately and totally on the issue.
In the first year, we must begin taking steps, he said. Brown is a UC alumni and believes that the system is the key to California's technological, intellectual and civic future. As governor, he will do what he can to "get real with legislators," he said. In an ideal world, Brown says that efficiency is key to solving the crisis, both at the government and university levels.
Whitman responded with similar compassion to students who have been forced to drop out of UC, CSU and CC as a result of the tuition hikes that took place earlier this year.
Higher education is central to California's state identity, she said, and is critical to the state's innovational edge in upcoming years. Her proposed plan is to put one billion dollars back in the UC system, through streamlining  to eliminate bureaucracy, increase efficiency and devote more money to higher education in California.
For her, the fact that California's public universities rank as some of the highest in the nation is a tremendous victory for the state.
Whitman's business experience propels her argument that managerial expertise must be applied to government efficiency, in order to reinvest money in education. It is important to ask the chancellors how to best use the money and how it should be invested, she said. Should it be devoted to research and faculty, or to reduce fees?
A significant portion of the debate dealt with the more personal aspects of each candidate's experience and campaign history. Meg Whitman's failure to vote in California was highlighted as a reason why her business experience does not necessarily render her a good political candidate.
When asked if her voting record may create gaps in her understanding of California politics and society, she restated her goals regarding welfare and employee pension reform, but did not directly address how her past would influence her potential future as governor.
Instead, she shifted the focus to Brown's connection to special interest groups, an issue also called into question during the debate. Despite her voting record, she would remain independent in her decision-making, she promised.
Where Whitman's voting past was called into question, so was Brown's past tendency to deviate from his role as governor; in the past, he ran for president twice within two years of taking office. His age and his wife would prevent him from any distraction, he said with a chuckle.
The last several months have seen a litany of television advertisements financed by each candidate, and these were of course called into question during the debate. Whitman in particular has been criticized regarding the validity of her ads' indictments against Brown, namely an ad featuring former president Bill Clinton.
The information presented in the ad was correct, she said, and claimed that its accuracy was only criticized out of lack of better defense from Brown.
Brown rebutted with a strong defense of his past political experience: in 1974, he was elected governor and turned a massive recession into a surplus. He highlighted his willingness to say no—his "spine of steel"—that enabled him to negotiate with the right people and not fall prey to his affiliation with labor unions.
Brown also pointed to his experience as mayor of Oakland, where he strongly advocated the creation of charter schools, two of which exist today and are successful. In Oakland he never separated himself from the city's reality, he said; he remained a citizen of Oakland rather than an elite politician.
Another issue on everyone's mind that was brought up during the debate is the question of campaign funding, which, for Whitman, is a rather controversial issue. During the debate it was made clear that she has spent more in her campaign than any other self-funded campaign in history—a whopping amount of 119 million dollars.
In response to the question of whether or not she was trying to buy her governorship, Whitman rebutted with the fact that she is "up against significant forces," namely the labor unions that have played a significant role in opponent Brown's campaign. As she did with each response, she repeated her three goals for California: jobs, government efficiency, and better education.
Campaign financing is not only a point of controversy for Whitman but an issue for the state of California at large. Brown was also questioned regarding his ability to remain independent in light of his ties to labor unions, to which he responded that he remains firm in his "no-nonsense approach" to civil service.
Despite his ties he remained frugal and vigilant, vetoing excessive pay raises for civil servants and was the first governor to call for a 2-tier pension system, he reminded Californians.
Brown also pointed to his campaign for attorney general—where many associations that Whitman accuses him of being overly-tied to, such as the California Teachers Association, supported the opponent—as evidence of his ability to defend himself and remain independent.
The candidates' final statements served as a reminder of the two competing and incredibly different backgrounds that would govern California. Brown, a seasoned politician, is a champion of the public sector, whereas Whitman prides herself in her entrepreneurial experience.
The outcome of the November election will be the product of a clash of values and experience that will ultimately determine the future of a state in crisis.
Karina Piser is a UC Davis student who will be covering the UC Davis campus and UC Students Issues for the Vanguard