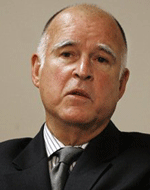 At a time when support for a death penalty is softening, and other states like North Carolina have joined the call for a moratorium on the death penalty, we see Attorney General Jerry Brown pushing hard for the death penalty to resume in California.
In 2006, a federal judge halted executions and ordered prison officials to overhaul lethal injection procedures.  The state adopted new regulations on August 29, 2010 but has not put the matter before US District Judge Jeremy Fogel.
A Riverside County Judge last month set an execution date of September 29 for Albert Greenwood Brown, who was convicted of abducting, raping and killing a 15-year-old girl on her way home from school in 1980.  Why the state feels compelled to rush to execute someone who has sat on death row for nearly 30 years is a curious question.
According to the Associated Press, California Deputy Attorney General Michael Quinn told Judge Fogel the new regulations authorize the state to execute Mr. Brown next week. 
Judge Fogel told the AP that he was concerned about the lack of time to decide an issue of this importance.
"There is no way any court can conduct an orderly review of constitutional claims in eight days," he said.  Nonetheless, the judge said he would rule by Friday.
Left unanswered is why the State Attorney General's Office is suddenly setting execution dates and pushing hard for the resumption of lethal injection.
But we can guess.  Polls released today show that Jerry Brown is locked in a tied race against his Republican opponent Meg Whitman.
The shocking fact is that Jerry Brown has been a lifelong and vocal opponent of the death penalty.  He vetoed the death penalty in 1977 and it was his appointees that were removed in 1986 for constantly overturning death penalty convictions.
However when he ran for AG in 2006, he told the voters he would uphold the law.  His campaign reminded the media of this on Tuesday.
"When Jerry Brown campaigned for Attorney General, he promised to uphold the law — and he has said the same thing as he has campaigned for governor," said Sterling Clifford, his spokesman. "He has done that."
Actually, he has gone above and beyond what the law would require, to the point where he is actively looking to restart the death penalty process that many believe is so flawed it ought to be scrapped.
From their perspective, Meg Whitman's campaign jumped all over the former Governor's apparently flip-flop.
"Even on matters of life and death, Jerry Brown is willing to play politics," said Andrea Jones Rivera, Ms. Whitman's spokeswoman. "Brown's newfound support for the death penalty after three decades of opposing it is as preposterous as his newfound appreciation for fiscal conservatism. None of this squares with Jerry Brown's record and must have his supporters scratching their heads."
A Look at the Death Penalty
Clearly this is a political move by the Attorney General.  But it is probably needlessly so.
Meanwhile, I watch as study after study shows the flaws not only of the death penalty, but of the entire criminal justice system in terms of ineffective counsel, racial bias and disparities, and of course the cost of executing people.
I know a lot of people argue that the problem with the death penalty is that it takes too long, but it has to take a long time, otherwise we are going to end up executing a lot more innocent people than we already have.
I follow death penalty cases across the country, and there are two developments I am currently following.  There was a case in Ohio, I have mentioned previously, where the Governor commuted the death sentence to life based on the uncertainty that the individual committed the crime.
That apparently will not happen in a Virginia case, and did not happen in a case in Texas where the individual was likely innocent of committing any crime at all.
Famed novelist John Grisham wrote an Op-ed in the Washington Post on September 12, talking about the Virginia case of Teresa Lewis.  She is not innocent.  She told police and the judge of her involvement in two murders.
She was involved with two other men, whom she said she hired to kill her husband and her stepson in order to collect a $350,000 life insurance policy.  But here's the kicker, she has an IQ of 70 – borderline for mental retardation.  She also has a "dependent personality disorder" and thus "complied with the demands of those" around her, "especially men."
Writes Mr. Grisham, "Lewis's lawyers likewise wanted no part of a jury trial. The evidence of their client's guilt was overwhelming, and they felt strongly that, after hearing all the facts and seeing the color photos from the crime scene, any jury would be in a hanging mood. They advised Lewis to plead guilty and to take her chances with the trial judge who would determine her sentence. They believed this judge would give her life in prison because he had just sentenced [another defendant] Fuller to the same. Furthermore, Lewis had no criminal record and no history of violence. She had cooperated with the authorities. And no woman had received the death penalty in Virginia since 1912."
But Ms. Lewis was sentenced to die.
Continues Mr. Grisham:
"Although much of this went unchallenged at Lewis's sentencing hearing, it has since been challenged on appeal. Lawyers for Lewis have presented evidence that:

(1) She has an IQ of just above 70 — borderline retarded — and as such lacks the basic skills necessary to organize and lead a conspiracy to commit murder for hire;
(2) She has dependent personality disorder and therefore complied with the demands of those upon whom she relied, especially men;
(3) Because of a long list of physical ailments she had developed an addiction to pain medications, and this adversely affected her judgment; and
(4) She had not a single episode of violent behavior in the past.

Her lawyers have also argued that Shallenberger, who committed suicide behind bars in 2006, masterminded the murders. They have pointed to evidence that he had an IQ of 113 and was known to be intelligent and manipulative."
But to no avail.  The Governor has declined clemency.  And the Supreme Court only garnered two votes to stop the execution, Justices Ginsburg and Sotomayor.
Meanwhile, the outcome of the Texas case is worse.  This is a story that we reported on earlier this month, but there are new developments.
Cameron Todd Willingham was executed for the arson murders of his children, despite evidence that there was no arson and thus no crime.  Governor Perry of Texas actually had the evidence before him that Mr. Willingham may have been innocent, but allowed him to be put to death anyway.
The Houston Chronicle in July published an article reporting on the Texas Forensic Science Commission's report.  "In a report prepared last year for the commission, fire expert Craig Beyler said the original investigation was so seriously flawed that the finding of arson can't be supported. He said the investigation didn't adhere to the fire investigation standards in place at the time, or to current standards."
It was expected that a Texas Forensic Science Commission would clear the investigator of professional misconduct – but that has not happened.
According to the AP, "A Texas panel on Friday declined to clear fire investigators of professional misconduct for determining that arson caused a 1991 fire that killed three girls and led to the conviction and execution of their father."
"Instead, the Texas Forensic Science Commission planned to meet in November to question fire experts about the professional standards used by arson investigators in the early 1990s. The commissioners are withholding judgment on whether investigators were wrong to say arson caused the blaze," the story continues.
"That decision came over the fierce objections of the commission chairman, John Bradley, who was appointed last year by Gov. Rick Perry. Bradley urged his colleagues to determine the investigators acted appropriately, and at one point he raised his voice and accused the commissioners of shirking their duties," they report.
"Bradley pushed his colleagues to reach a consensus. He argued that either there was insufficient evidence to determine professional misconduct or there was no misconduct, and therefore investigators met the standards of their day," they conclude.  "But the panel disagreed, saying there appeared to be evidence that the Corsicana Fire Department and the state fire marshal's office were not following the standards from the early 1990s."
So, here you have a person who was executed.  There was some evidence, even at the time of execution, that the fire investigation was flawed and did not follow existing standards.  The Governor of Texas knew about this at the time of the execution, but let it happen.
If there was no arson, there was no crime.  And so it seems an innocent man was put to death in Texas.
Meanwhile Jerry Brown, whose political career is about to be decided in November, is pushing to re-start a hugely flawed process that he has opposed all of his life.
—David M. Greenwald reporting