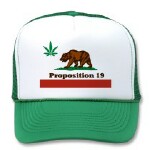 Why doesn't more law enforcement support the elimination of marijuana laws?  In private, most police officers will acknowledge they do not like marijuana laws.  Some do not like drug laws in general and do not believe that such laws work.
I remember last summer going on police ride-alongs on back-to-back days in Davis and Woodland.  In both cities we encountered someone in the park with marijuana.  In both cases, the police took the marijuana away, gave the individual a warning, but did not write up a citation.  It was explained to me that from the standpoint of law enforcement, possession charges are cumbersome and costly.
To process a case costs far more than the fine for possession, I was told.  Although the other day, I saw an individual get a nearly $600 fine for possession of marijuana.  But think about the costs of going through the court system, having law enforcement book stuff into evidence, and so on, just to get out of it only a $600 fine.
In candid moments, police officers have frequently told me that they would rather marijuana not be illegal.  They feel that marijuana users rarely present a danger to others.  They are not violent.  They do not cause the kinds of public nuisances that alcohol users create.
And yet, when you go down the list of Proposition 19 opponents you will get a list of sheriffs from 56 counties, including Ed Prieto, Yolo County's Sheriff.  You will get a list of DA's from 32 counties, including Jeff Reisig, Yolo County's District Attorney.  And for good measure, 35 police chiefs, although none from Yolo County.
However, like every profession, law enforcement is not a monolith and there is a group of law enforcement officials that are speaking out in favor of the initiative.  They are associated with a group called Law Enforcement Against Prohibition, a Massachusetts-based group that has organized an international coalition of pro-legalization ex-cops, judges and prosecutors.
But as the Sacramento Bee reported earlier this week, "the LEAP-connected law enforcement support doesn't appear to be too deep. The No on Proposition 19 campaign has racked up a substantial showing of law enforcement support itself."
On Monday in West Hollywood, retired deputy chief of the Los Angeles Police Department Stephen Downing,  former  deputy DA from the Los Angeles County District Attorney's Office William John Cox, former Torrance Police Department beat officer and drug identification expert Kyle Kazan, and retired Orange County Superior Court Judge James Gray were among  a group of retired law enforcement officers that endorsed Proposition 19.
The group held simultaneous press conferences on Monday in front of Oakland City Hall, and in West Hollywood Park near Los Angeles, to release a letter of endorsement signed by dozens of law enforcers across the state.
"At each step of my law enforcement career – from beat officer up to chief of police in two major American cities – I saw the futility of our marijuana prohibition laws," said Joseph McNamara, former police chief in San Jose and Kansas City, MO, now a speaker for Law Enforcement Against Prohibition. "But our marijuana laws are much worse than ineffective: they waste valuable police resources and also create a lucrative black market that funds cartels and criminal gangs with billions of tax-free dollars."
Former LAPD sergeant, and Los Angeles County supervising trial counsel and deputy district attorney William John Cox added, "This November, Californians finally have a chance to flip the equation and put drug cartels out of business, while restoring public respect for the criminal laws and their enforcement by passing Proposition 19 to control and regulate marijuana."
In the letter, the group writes, "As police officers, judges, prosecutors, corrections officials and others who have labored to enforce the laws that seek to prohibit cannabis (marijuana) use, and who have witnessed the abysmal failure of this current criminalization approach, we stand together in calling for new laws that will effectively control and tax cannabis."
"As criminal justice professionals, we have seen with our own eyes that keeping cannabis illegal damages public safety — for cannabis consumers and non-consumers alike. We've also seen that prohibition sometimes has tragic consequences for the law enforcers charged with putting their lives on the line to enforce it," the letter continues.  "The only groups that benefit from continuing to keep marijuana illegal are the violent gangs and cartels that control its distribution and reap immense profits from it through the black market."
One key point that they make is that they believe "that legalization will allow us to do our jobs more effectively and safely."
They argue, "In 2008, there were over 60,000 arrests for simple misdemeanor cannabis possession in California, yet nearly 60,000 violent crimes went unsolved in our state that same year. When we change our cannabis laws, police officers will no longer have to waste time on low-level cannabis arrests. We'll be able to focus on protecting the public from murderers, rapists, drunk drivers and burglars. Cannabis cases will no longer clog up court dockets. And room in our costly, overflowing prisons will be freed up when we stop locking people up just because they tested positive for cannabis while on probation."
They also believe that reducing the amount of effort to enforce marijuana laws will allow resources to help reduce other more serious crimes.  "Because of all the overhead and administrative savings that legalization will generate, our criminal justice apparatus will have more resources to keep more good law enforcers employed, serving the public in this time of fiscal turmoil," they continue.  "Ending prohibition will also put a stop to other crimes and problems caused by the illegal marijuana market, such as robberies, gang warfare, gun-running and house fires caused by underground growing operations."
Many have argued that Prop 19 will make marijuana more available to minors, but they argue the opposite.  "Controlling marijuana through a regulated system will also reduce its availability to kids," they claim.  "Right now, illegal dealers have no incentive to check IDs or avoid selling to juveniles, given that the market is illegal for everyone. But under adult legalization, licensed cannabis businesses will face penalties and consequences that will effectively deter underage sales. Indeed, a recent study from Columbia University shows that teens currently find it easier to purchase illegal marijuana than age-regulated alcohol."
The letter is signed by 21 current and former officials.
California's tax collector, the Board of Equalization (BOE), which currently collects alcohol and tobacco taxes, estimates that marijuana taxes could generate $1.4 billion in revenue each year, which would be available to fund law enforcement, healthcare, and other critical needs, the release cites.
Similarly to current alcohol and tobacco laws, the group's release points out, Proposition 19 will give state and local governments the ability to control and tax the sale of small amounts of cannabis to adults age 21 and older. As the California Legislative Analyst's Office (LAO), which provides non-partisan fiscal and policy advice, confirms, Prop 19 includes significant safeguards and controls: It maintains strict criminal penalties for driving under the influence of marijuana, increases the penalty for providing marijuana to a minor, expressly prohibits the consumption of marijuana in public, forbids smoking marijuana while minors are present, and bans possession on school grounds.
The California Legislative Analyst's Office (LAO) also says Prop 19 would enable California to put our police priorities where they belong, in that it "could result in savings to the state and local governments by reducing the number of marijuana offenders incarcerated in state prisons and county jails, as well as the number placed under county probation or state parole supervision. These savings could reach several tens of millions of dollars annually. The county jail savings would be offset to the extent that jail beds no longer needed for marijuana offenders would be used for other criminals who are now being released early because of a lack of jail space."
It is pretty clear that the public group of law enforcement officers is small and, looking at some of the names, tends to consist of outliers in the law enforcement community.  However, I would argue that they may well speak for a larger group that is simply not willing to put its names out there.  As I said at the outset of this article, there is a large sentiment from a lot in law enforcement that marijuana laws are a waste of time and money.  However, most are never going to say that publicly.
—David M. Greenwald reporting