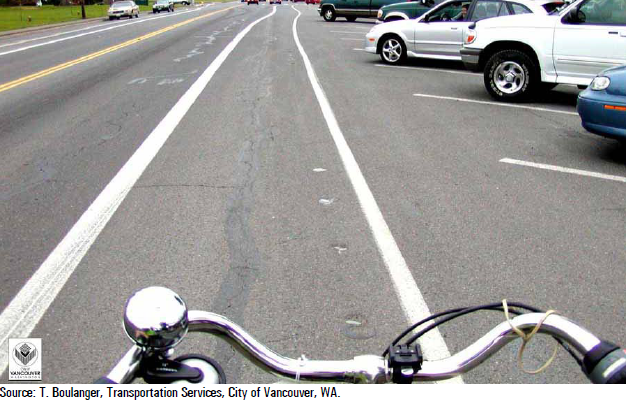 Back in August, Mayor Pro Tem Joe Krovoza asked the city to investigate the possibility of creating reverse-angle parking on Second Street, as part of the corridor improvements already under way.
There are concerns about the costs and push back from the business community on this front.  According to the staff report, "The cost of restriping Second Street is incorporated into the contract and budget for the construction now underway. Changing the orientation of the stripes would require additional funds for signs and any public education efforts."
At this time the staff is recommending that the city council not pursue reverse-angle parking on Second Street, but instead "initiate public and property owner outreach for a pilot project elsewhere, focusing on Fourth Street between C and G Streets, or a street with similar characteristics."
However, there are less costly alternatives to restriping.  "It is possible to stripe reverse diagonal spaces without changing surface improvements like bulb-outs and planters. This would be a less costly alternative and would have minimal impact on the construction schedule," the report suggests.
"With the improvements as planned, the reverse diagonal spaces would result in remnant triangles at the ends of some parking rows, rather than full parking spaces. Staff estimates that the total number of spaces on Second Street would be seven higher than existing, but thirteen fewer than under the proposed design," the report continues.
The staff reports a mixed response from downtown business with more negative than positive feedback.  "Some business owners felt the concept was worth trying; others felt that changing parking configuration would potentially drive away customers in an already difficult economy," the staff report said.  "Business owners were careful to say that they supported bicycles and bicyclists and recognize that the downtown should be welcoming for visitors using multiple modes of travel."
The report cites three clear advantages.
First it increases safety.  "Drivers have better visibility when leaving the parking space, because they are pulling forward rather than backing. The backing movement is into the parking space, which is less likely to become obstructed with a bicyclist or pedestrian during the maneuver."
The staff report cites a Nelson-Nygaard study of reverse-diagonal parking, which concluded that "This context-sensitive solution demonstrates that back-in angle parking can be effectively integrated into the downtown environment and co-exist along an arterial highway employing current, minimum design standards. In addition to creating more parking over traditional parallel parking, back-in angle parking can also be used as a traffic-calming/street-narrowing tool, can enhance pedestrian functionality and walk-ability within the downtown area and can work harmoniously with bicycle lanes, all resulting in a more attractive and intimate downtown corridor enhancing the downtown experience and leading to increased economic investment."
Second, it makes loading easier.  "Vehicles have their trunks and truck beds adjacent to the sidewalk, so loading purchases or other objects does not require the driver to walk into the street. In addition, for most vehicles, the car door is between the street and the passenger area, providing a barrier and directing children or pets toward the sidewalk," claims the staff report.
Finally, the report suggests that in replacing parallel parking with diagonal parking, the number of parking spaces would increase.
However, they are concerned about the unfamiliarity of reverse-angle parking, the volume of traffic, the business concerns regarding outdoor dining and  street furniture, and the fact that Second Street may not be the priority, given the relatively small number of crashes.
Staff concludes that the concept of reverse-angle parking "has merit and should be explored."
However, they disagree that this is the location for a pilot project.  "We believe a more appropriate location for a pilot should be a street with less traffic volume and less sidewalk activity like outdoor dining and outdoor retail displays. For example, Fourth Street is heavily used by bicyclists, has minimal outdoor dining, and carries far fewer trips than Second Street. We recommend that the City initiate public and property-owner outreach for a pilot project elsewhere, focusing on Fourth Street or a street with similar characteristics."
Commentary
I remain supportive of the concept.  I believe we need to change the way our streets are structured in order to better accommodate all modes of transportation.  However, as I am cognizant of community push back on other issues, I am on this one.  The public, at least from what I have seen, is not behind this concept yet.  They need education and awareness.  That is fine.
I think the staff's alternative concept is a reasonable compromise.  It gives Davis residents a chance to see the concept at work in a location that has less traffic congestion and is apparently less threatening to downtown business.
Frankly, Fourth Street has some areas that I have long believed need addressing.  The corner of Fourth and D has a blind two-way stop that I have pointed out time and again, with little action from the city.  Maybe putting reverse-angle parking and changing the stop to a four-way stop will improve safety there.
The city and community were reluctant to engage change on Fifth Street, as well.  It took a number of years for the idea of a road diet, which also is a bit counter-intuitive, to gain traction.
What I think a lot of people forget, in the issue of backing into a space, is that we have to back out of spaces all of the time.  Moreover, it is a similar motion to parallel parking, which occurs on most downtown streets and requires the same sort of traffic behavior.
The question is whether it is safer to back into the sidewalk or back into traffic, particularly when there are bicycles that are difficult to spot.  Anyone on a bike knows that backing cars is a huge danger that is not easily averted.  Having a car pulling out frontways, with the driver having an unobstructed view, is far safer.
The crash history on Second Street is probably understated.  First, the primary accident that will occur from back-outs is not car-to-bike collisions, but bike-to-ground collisions.  I have talked to a few people that have hit the deck on Second Street due to backing cars.  These are far less likely to be reported, but definitely a hazard.
Bottom line, the city is not ready on this issue and it is generally better to bring the community along in order to make new innovations work.  Fourth Street is a good start.
—David M. Greenwald reporting