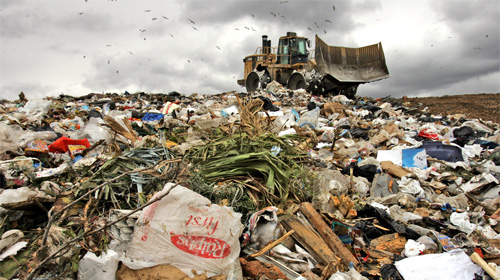 One of the more innovative and far-reaching environmental proposals was defeated by the State Senate this week, with the help of half a dozen Democrats, including Davis' Senator Lois Wolk.  The measure would have banned plastic carryout bags in supermarkets, drug and convenience stores.  The measure failed 21 votes against, to 14 votes in favor.
According to supporters of the bill, landfills are filled with 19 billion plastic bags a year.  Key lawmakers suggested that it would be just too costly a measure.
---
Assemblywoman Julia Brownley, from Santa Monica, was the bill's sponsor and she expressed disappointment.
"This is a sad day for California," Assemblywoman Brownley said.  "Communities across the state were waiting for the state to adopt a uniform, statewide ban on single-use bags before they adopt their own ordinances. The state failed them. But, this is an environmental movement that won't be stopped, even by big-money interests like the American Chemistry Council. It's not a matter of if, but a matter of when consumers bring their own bags and become good stewards of the environment."
In the meantime, according to a release from the Aseemblywoman, shoppers in California will encounter a confusing array of bag bans and restrictions that vary from city to city and county to county. For this reason, the California Grocers Association, the United Food and Commercial Workers, the California Labor Federation, the California Retailers Association and other business groups supported AB 1998.
Californians spend $25 million a year to collect and dispose of many of the 19 billion single-use plastic bags used by residents of the state every year. Local governments also spend money cleaning up the bags. For example, in 1994, the annual cost to clean 31 miles of beaches along Los Angeles County was over $4 million.
Four cities already have bans in place: San Francisco, Palo Alto, Fairfax and Malibu. Other communities that recently announced they are preparing to adopt bag ban ordinances, include Los Angeles County, Santa Monica and Manhattan Beach.
AB 1998 would have banned single-use carryout bags, beginning in 2012 for supermarkets and pharmacies, and in 2013 for liquor stores and convenience stores. The measure would have allowed stores to give away reusable bags for free until the ban took effect, after which shoppers who forget their own bags would have been able to buy reusable bags at the stores. The stores also would have been allowed to sell recycled paper bags of 40 percent post-consumer material at cost, not for any profit.
Stores would have been required to provide reusable or recycled paper bags to shoppers who cannot afford them.
AB 1998 promoted new green jobs for reusable bag makers, and would have established a grant and loan program from existing state funds to retain jobs in California for the manufacture of reusable, durable plastic bags. A grocery store recycling program for plastic bags that currently is in place would have been extended under the legislation.
Marine debris has injured or killed 267 species of wildlife worldwide. Plastic bags have been found in the stomachs of whales, birds and sea turtles, who mistake them for jellyfish. The bags also contribute to the great Pacific Gyre, a huge cauldron of plastic bits that float in an area twice the size of Texas out in the Pacific Ocean.
Senator Lois Wolk told the Bee that she would not support this bill.  "I prefer that we begin with incentives, and if that doesn't work, move to mandates," she said. "This is a windfall for the retailers."
Senator Wolk added that recycled grocery bags cost 6 to 10 cents each, a cost now absorbed by grocers that they would pass on to consumers if the legislation passed.
At a news conference at the State Capitol earlier, Assemblymember Brownley was joined by leaders from the California Grocers Association, the United Food and Commercial Workers union and various environmental organizations, as well as a trio of Hollywood actresses, Amy Smart, Rosario Dawson and Rachelle LeFevre.
"By passing AB 1998, California signals the nation its commitment to wean itself from a costly single-use carryout bag habit that's threatening marine life and spoiling our waterways," said Assemblywoman Brownley.
Last week, the Assemblywoman amended her bill  to protect jobs, offer no-cost and low-cost choices for carrying purchases, and preserve a convenient plastic recycling program.
AB 1998, as amended in the Senate Rules Committee, enables plastic bag makers in California to switch to production of environmentally-sound, reusable and washable bags, while protecting oceans, rivers and lakes from devastating plastic bag pollution.
"California is poised to lead a national movement against plastic bag pollution that is injuring and killing marine life and imposing a costly blight on our cities and open spaces," Assemblywoman Brownley said. "This is a strong bill that safeguards the environment, protects California jobs and gives consumers a no-cost option to carry their purchases. It has the support of a historic coalition: consumers, environmentalists, unions, grocers, retailers, cities and counties."
The problem with bills of these sorts is that our economic system takes into account only certain factors in cost.  There is no externality cost added for environmental degradation, clean up efforts, etc.  Thus it is easy for Senator Wolk, who has a strong environmental record, to talk about how much money will be passed on to consumers while ignoring how much money current policies cost taxpayers at various government entities in clean up costs.
The reason is simple.  The costs of clean up are separated from the cost of purchasing the product, but if it were attached it might be clear or at least more clear that such measures would save money in the long run.
Clearly, California is not ready for such a strong progressive message, but this is an issue that perhaps our community can look into.  Moving toward reusable bags and changing the culture will eventually save us all money, while helping the environment.  It is just a matter of changing our habits.
—David M. Greenwald reporting