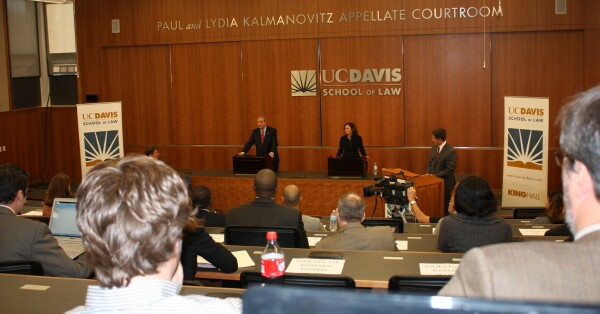 The debate on Tuesday might have been the only chance Californians will have to look at both candidates for Attorney General, as it was their only scheduled debate.  While Steve Cooley said after the debate he hopes they can schedule another one, perhaps at a law school near San Diego, that decision is out of his hands.
That is a shame because the debate was held during the noon hour, meaning working people could not view the event, and the Office of Attorney General figures to be hugely important as we go forward.  Not only will we have to deal with serious reforms in the legal system, but also go into areas such as environmental law where, traditionally, the AG's Office has not gone.
Steve Cooley, as District Attorney in Los Angeles, has been more of a maverick than a staunch conservative.  He has angered many by refusing to appeal, for instance, three strikes cases.  However, on Tuesday, he had clearly moved to the right, appealing to the law enforcement crowd.  Locally his guest contingency included Retired Yolo County Chief Deputy DA Ann Hurd, Deputy DA Steve Mount, Davis Police Chief Landy Black and Captain Darren Pytel of the Davis Police Department.
The Vanguard spoke with UC Davis Law School Dean Kevin Johnson for his take on the debate.
"I found both to be dignified and well-prepared," Dean Johnson said in an email following the debate.  "They were on their toes."
"Each candidate focused on what they believe to be their strengths," the Dean continued.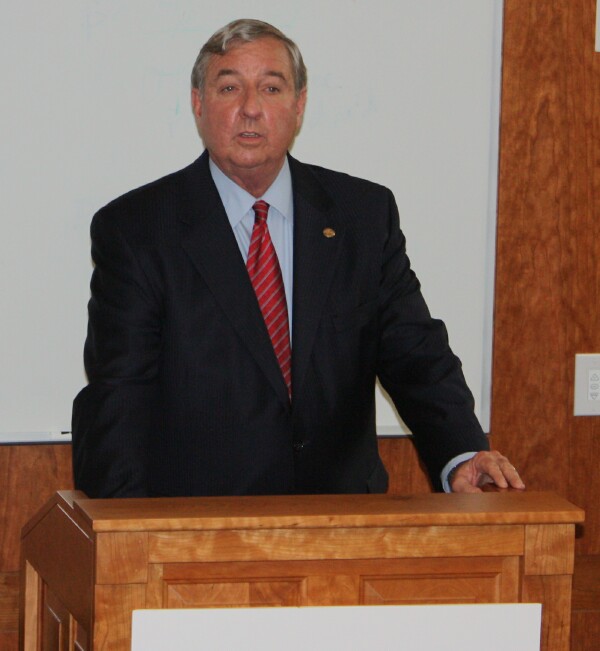 "Steve Cooley emphasized his support for the death penalty and that he was backed by 47 (all, he said) of the law enforcement organizations," he pointed out.  "Kamala Harris focused on her innovative approaches to issues such as recidivism and her 'new' approach to issues of law enforcement, such as truancy, the environment, high-tech crimes, etc.."
It was here that we drew our first distinction.  Steve Cooley continually pointed out his support from law enforcement and his stance on the death penalty.
While the death penalty is largely supported by Californians, most prosecutors have not attempted to exploit the fact that a large number of people, in polls, actually prefer life in prison without parole to the death penalty.  Instead, they do as Jerry Brown has done and argued that they will enforce the law.  That is precisely what Kamala Harris attempted to do.
She argued that four of the last nine Attorney Generals have been personally opposed to the death penalty, but have vowed to enforce the laws on the books.  She said she would be no different.
After the debate,  she said the Attorney General must assume leadership on many issues, this is not a one-issue race or office.  She argued that her position on the enforcement of the death penalty was the same as Mr. Cooley's, and Jerry Brown and those before him.
While Mr. Cooley offered strong support for law enforcement, he was never asked how he would reconcile this support with law enforcement with the fact that he has to have oversight over law enforcement to effectively run this office.
Kamala Harris, in fact, cited that one of the big issues that was not asked during the debate was the fact that there have been more than 30 cases in Los Angeles in recent years cited for prosecutorial misconduct and jury discrimination.
However, the big issue that did arise was the difference in the approach that Kamala Harris would take versus Steve Cooley.  Ms. Harris sees the office in a very different way – Kamala Harris argued that the AG is not simply a position that blindly follows the will of the voters, but rather has a leadership role as well.  She sees the office not just as following the will of the voters but as a bully pulpit and a means to educate the public on serious issues.
But Mr. Cooley has a very different approach.  On Proposition 8 for instance he argued, "It should be defended by the Attorney General whether the Attorney General agrees with the initiative or not.  You are the people's lawyer and that is the people's will."
Likewise on AB 32, he argued, "I am not approaching this issue from an ideological position as my opponent seems to be, but from a professional lawyer position."
He continued, "Those are important considerations, but it's their [referring to the voters] choice.  I'm their lawyer."
Kevin Johnson told the Vanguard, "They both had major differences about the role of the Attorney General as a state official."
"Harris emphasized that the Attorney General is an elected official who must exercise independent judgment, a leader not a follower," he said.  "Cooley suggested that the Attorney General was the lawyer  for the public, which is the "client'" (especially when it comes to the propositions)."
Dean Johnson argued that Mr. Cooley's conception of the Attorney General's role "might be problematic."
He referenced Alberto Gonzalez, the AG under George Bush.  "Recall that U.S. Attorney General Alberto Gonzalez (as well as others in the AG's office, such as John Yoo) viewed themselves as simply the lawyer for a client (in their case, the President)."
He pointed out,  "As Kamala Harris said, the Attorney General is more than just an attorney for the client and must be a leader, not a follower, and exercise independent judgment." 
Mr. Cooley's view runs into problems because he chose to take a position on Proposition 19, which would legalize marijuana.
"Proposition 19," Steve Cooley argued, "is flawed in many respects."
He said that he is opposed to the initiative. He continued, "The question is will I defend it?  My initial take on it is that it's preempted by federal law.  It is probably unconstitutional…  My instincts are that it is unconstitutional, let alone the fact that it's a public safety issue and public health issue.  I really strongly oppose Prop 19 for many many reasons.  I would really strongly advise that it's unconstitutional."
Kamala Harris said, "I think that Proposition 19 is the perfect topic to bring up in follow-up to the last discussion, because my opponent has taken a position on Prop 19, and in fact opined that it is unconstitutional.  So I would assume he has done a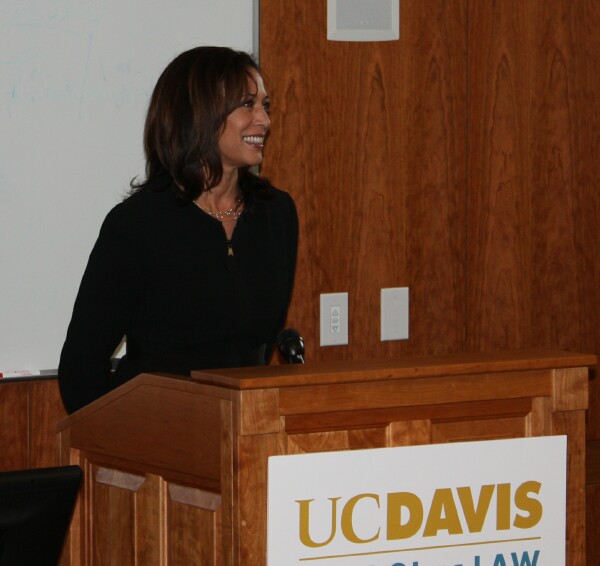 constitutional analysis of Prop 19."
When asked about the seeming contradiction in his stand on Prop 19 and on other initiatives, Steve Cooley argued that he's been a prosecutor for a long time, he has a certain amount of expertise on criminal justice and public safety issues, and he has historically taken a position on such issues and believes that people look to people like him to share his views on such issues.
For Kevin Johnson this parsing of their views reveals an inconsistency and a problem in Mr. Cooley's view.
"His distinction makes no sense to me," Dean Johnson told the Vanguard.
"The environmental concerns implicated by Proposition 23 is a "public safety" issue, albeit a complicated one," he continued.  "Is Cooley really saying that he is not an expert on environmental issues but is an expert on drug enforcement and thus can take a position on Prop 19?"
Finally, going back to the death penalty, Steve Cooley has tried to seize on anger by the family of Isaac Espinoza, a San Francisco police officer who was shot and killed in 2004.
Ms. Harris angered the Espinoza family and many in law enforcement when she announced she would not seek the death penalty in that case.  She did so just days after the shooting and before the officer was even buried.
The family issued a statement blasting Kamala Harris for her arrogant contempt. 
"Kamala Harris' arrogant contempt for the sacrifice of law enforcement officers, for the rule of law and for the will of the people has disqualified her from being California's chief law enforcement officer," the statement reads in part. "Officer Issaac Espioza left behind a wife and a young daughter. He chose to be a police officer because it is an honorable profession, fighting crime and upholding the law."
The statement goes on to argue, "Harris wants the Top Cop title of the State, yet she would not stand up for an officer who sacrificed his life in the line of duty."
For her part, Ms. Harris has acknowledged that she made the decision too quickly and has since set up a panel in her office to review potential death penalty cases – a practice that many other offices follow.
However, the attacker in the Espinoza case was found guilty of second-degree murder, which would have precluded the death penalty anyway.
Kevin Johnson argued that this case does not damage her argument that her policies on the death penalty will be similar to those of her predecessors.
He told the Vanguard, "That was an individual case that required independent prosecutorial judgment."
On the contrary, the Dean found her position politically courageous.
"Note that, politically, she would have made more political hay if she had sought the death penalty in a case involving the death of a police officer," he said.  "Her position, given her political aspirations, was in certain respects courageous."
There is a tendency to ask who won these debates, but that is in the eye of the beholder.  Personally I think both candidates accomplished what they had hoped to.  The voters have a clear contrast and can figure out which path they wish to go down.
One path largely supports the status quo, with the current problems in the criminal justice system and with law enforcement.  The other path looks at reforming the system, by examining the causes of recidivism and ways to change it, and by looking at new areas of the law that are vital, such as the environment.
The voters will have the final word in November as to which vision they have for the AG's office.
—David M. Greenwald reporting