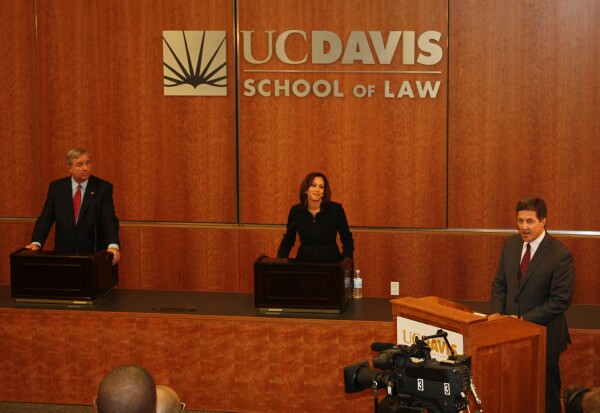 California's Attorney General candidates met for their first and perhaps only debate on Tuesday at the UC Davis Law School.  It was north versus south, liberal versus conservative, as LA District Attorney, Republican Steve Cooley, faced off against San Francisco District Attorney, Democrat Kamala Harris.
Throughout the debate, Steve Cooley would often refuse to take a position on anything, offering instead that he would defend what the voters supported, whereas Kamala Harris argued that the AG is not simply a position that blindly follows the will of the voters, but rather has a leadership role as well.
The debate clearly emphasized the stark differences in the two candidates, and on the rare times when they agreed, for instance on eliminating Three Strikes Legislation, they quickly agreed and moved on to areas of disagreement.  They differed on the death penalty, the role of the office and the defense of Proposition 8, among many other stands.
From the drop of the hat, Steve Cooley went on the attack – illustrating a stark difference on the issue of capital punishment and attacking Kamala Harris for failing to pursue the death penalty in a case involving the killing of a San Francisco police officer.
Mr. Cooley argued in his opening statement that, while they share some similar values, in areas of how they discharge their duty they are starkly different.  One of the differences, he argued, was the death penalty.  "My opponent," he said "absolutely ideologically opposes the death penalty, which is the law in California."
"This particular position of hers was underscored when she refused to pursue the death penalty against a killer, a gang member, AK-47 yielding gang member, who shot down Officer Isaac Espinoza.  She declared her opposition to pursuing the death penalty in that case, before he was buried."
He continued, "Underscoring that dramatic refusal is the fact that today with us are the widow, the brother, and sister of Officer Isaac Espinoza.  They are supporting me, along with 47 law enforcement organizations, because they know the next Attorney General of California, they know will uphold the law."
Kamala Harris argued from the start, "The Justice system is broken and it needs to be fixed.  In this race there are two clear choices and it is the choice with going along with the status quo, or  innovation."  In her statement she went beyond simply criminal justice to talk about the environment and the need to aggressively prosecute polluters. 
She also emphasized the need to deal with recidivism, as she argued that the next Attorney General must shut down the revolving door that turns 70% of offenders back into prisons within three years of release.
The first two questions focused on the death penalty.  Mr. Cooley was asked if, given the fact that no one has been executed in California for five years, should we simply admit failure.  In the start of a theme, Mr. Cooley responded that the public and voters will decide whether or not they want to have the death penalty.  He argued that prosecutors are obligated to follow their will.
Ms. Harris, on the other hand, argued that work can be done to improve capital punishment as well as many other issues in the criminal justice system in California.  She then turned to her pet issue, the issue of recidivism and said, "Let's look at the revolving door.  The reality in California is that we release 120,000 prisoners a year, and three years from when they are released, 70% recidivate."  She argued that this system is extremely expensive and that San Francisco has created an innovative model which has reduced the rate of recidivism.
Steve Cooley responded, "In this particular instance, innovation is fine as long as it is well thought-out and well-executed."  He continued, "She did not respond to the issue of the death penalty very well at all in my opinion, because she wants to avoid that issue because she's absolutely, consistently, religiously refused to follow the constitution."
He added, "I think in a sense that has put the residents of San Francisco City and County and the state in certain jeopardy."
When pushed further on the issue, she said the reality is that she is personally opposed to the death penalty, but she will follow the law.  Ms. Harris pointed out that of the last nine attorney generals, four have been personally against the death penalty and they have carried out their duties.  She vowed that her office would be no different in this regard than Attorney General Brown's Office.
The candidates were asked if they would support an Arizona-style law if it were passed by the legislators.
"States do have the right to pass any legislation they please, that legislation then has to be tested against constitutional principles," Steve Cooley argued.  "The Arizona law is an example of that right now."
He argued that they would get guidance from the courts on this issue.  He then shifted the argument to an attack on San Francisco's sanctuary city laws, arguing that this was inappropriate.
He was pressed on whether he supported the Arizona legislation and he said no, but he would defend it if it were to pass.
Kamala Harris argued that she was opposed the Arizona legislation as it undermined the ability of local law enforcement to do its job.  She also argued that we have much to do as a nation to lead, to allow people to get into this country legally.
When pressed on the Sanctuary City law, she said that she will not support any laws that will shield criminals.
The candidates took a starkly contrasting stance on Proposition 8 and how their offices would handle its defense.  Mr. Cooley argued, "It should be defended by the Attorney General whether the Attorney General agrees with the initiative or not.  You are the people's lawyer and that is the people's will."
Ms. Harris argued on the other hand, "I agree with Attorney General Jerry Brown and Governor Schwarzenegger that now that Proposition 8 has been found to be unconstitutional by a federal district court judge that we should not use the precious resources of California to defend a law that is unconstitutional."
Cooley flatly responded that there is not any established law with any kind of binding authority therefore, "this is an issue that should be resolved in the appellate courts, perhaps the Supreme Court of the United States.  The two main defendants, the Governor and Attorney General, are abandoning their responsibility as defendants and we are not going to get the resolution on this very important issue."
However, Ms. Harris disagreed with what she saw to be Mr. Cooley dodging taking a stance on tough issues.  "It is incumbent on someone who is elected to hold these positions that we are clear with the people that vote us in and the people that we represent that we are honest and analytical and clear and transparent about our position on pressing issues that face the state."
She went on to talk about Proposition 23, "We currently have Texas oil companies coming in to do a full-on assault on California's environment.  This is a very pressing issue.  The harm that environmental crime exacts on its victims is as imminent in many situations as any other crimes we can imagine or watch on television.  And the Attorney General of the State of California must be clear about one's position on whether we will agree and enforce AB 32."
Steve Cooley argued that this was not an enforcement issue but a timeline issue, that Prop 23 only looks to delay the implementation of AB 32 and that is the choice of the voters, not the AG's office.  Whatever the voters decide, he would enforce.  He argued, "I am not approaching this issue from an ideological position as my opponent seems to be, but from a professional lawyer position."
He continued, "Those are important considerations, but it's their [referring to the voters] choice.  I'm their lawyer."
However, when the issue of Proposition 19 came up, Mr. Cooley has already taken a strong position on that, which seemed at odds with his view that the voters ought to decide.
Kamala Harris said, "I think that Proposition 19 is the perfect topic to bring up in follow-up to the last discussion, because my opponent has taken a position on Prop 19, and in fact opined that it is unconstitutional.  So I would assume he has done a constitutional analysis of Prop 19."
"Proposition 19," Steve Cooley argued, "is flawed in many respects." 
He said that he is opposed to the initiative. He continued, "The question is will I defend it?  My initial take on it is that it's preempted by federal law.  It is probably unconstitutional…  My instincts are that it is unconstitutional, let alone the fact that it's a public safety issue and public health issue.  I really strongly oppose Prop 19 for many many reasons.  I would really strongly advise that it's unconstitutional."
When asked about the seeming contradiction in his stand on Prop 19 and on other initiatives, he largely dodged the issue.  He argued he's been a prosecutor for a long time, he has a certain amount of expertise on criminal justice and public safety issues, and he has historically taken a position on such issues and believes that people look to people like him to share his views on such issues.
The issue turned to that of the prison system, incarceration rate and whether California is spending too much money.  Steve Cooley largely defended the current system, and argued that California has the lowest crime rate in years, that it [at least in  LA] is at the lowest level since 1956.  Thus, he believes that all law enforcement is working well and that the right people are being incarcerated.  That said, he did argue that we can look for some alternatives "for the appropriate candidates", but that we should not give up on incarceration as a basic tool of public safety.
Kamala Harris argued that anyone who commits a crime must be held accountable and should face appropriate consequences.  However, she argued that we should look beyond a single criminal case.  "The reality is that on an annual basis we release 120,000 prisoners every year and within three years of their release 70% recidivate.  It's the highest recidivism rate in the country."
She argued that it's a failed system and that there must be change.  She said that in SF she created a re-entry initiative that has reduced the re-offense rate for that population from 54% to less than 10%.
Kamala Harris, in addressing the issues of overcrowding, lack of medical care and the prison receivership, argued, "There are inadequate resources in the prison system to deal with the responsibilities it has."  She continued, "There is the fact that the prison system is handling twice the number of people that it was built to handle."  Once again she argued that to resolve this and other problems we must address the revolving door and reduce the likelihood of re-offending.
Mr. Cooley, on the other hand, took the approach that the three-judge panel that put the prison system into receivership was flawed  "I do not concede for a moment that a three-judge panel is smarter, more reliable, or better in an exercise in judgment than our elected governmental leaders.  My experience with these panels and their recommendations are that they are very costly, often times very ineffective, and I would appeal the decisions of the three-judge panel all the way to the Supreme Court."
Ms. Harris was asked about what power the Attorney General really has to stop the revolving door of crime.  She argued that she has really three powers.  The first is technical and statutory.  The second is to use her office as a bully pulpit and engage in public conversation and public education.  Finally, she would have the power to convene and bring together leaders to seek to address the issue.
The two candidates are largely in agreement on three strikes.  Mr. Cooley's office has often been discouraged by Mr. Cooley from pursuing relatively minor three strikes cases.  His office has often not appealed reductions in three strikes sentences where the defendants received 25 to life for relatively minor crimes.
Ms. Harris said we agree on three strikes, let us move on.
There was one other interesting exchange, Mr. Cooley was asked if he would take both his pension from being a DA and Attorney General, in essence double-dipping, he said, "Yes I [would], I earned it."  He said this would supplement the incredibly low salary that the Attorney General makes.
Kamala Harris' response was, "Go for it, Steve."
Steve Cooley argued that Jerry Brown has exceeded his authority in prosecuting polluters, that he has overreacted and gone beyond his jurisdiction.
Kamala Harris responded that she will enforce AB 32 and that Prop 23 is a huge issue in this race.
—David M. Greenwald reporting