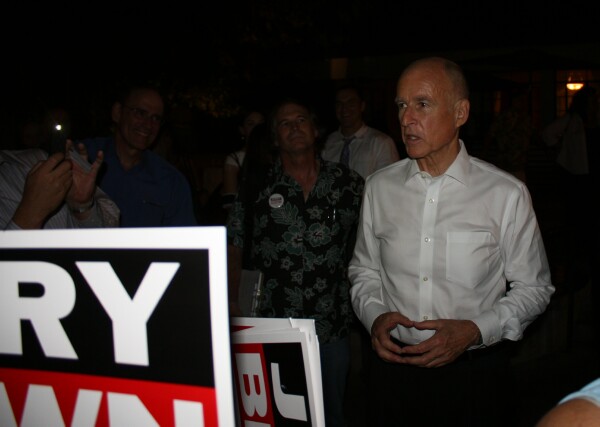 Californians may want to a build a mote around the state, protecting it from the tidal wave that is about to hit the rest of the country.  Fueled by anger and frustration over a lingering economic downturn and a dysfunctional government, voters around the country are ready to turn out the incumbent party.  However, that does not appear likely in California.
The Field Poll this week shows Jerry Brown, the Democratic gubernatorial candidate, opening up a 10-point lead over his Republican opponent Meg Whitman.
The Field Poll is considered the premier statewide poll and it shows growing strength of support for Brown from Latinos, women, and independent voters.
In addition, a full fifth of voters have already mailed in their ballots, closing the window of opportunity that is already quite narrow.
"Whitman is the new candidate, the new person, and she's the one who had to introduce herself to voters," said Field Poll director Mark DiCamillo.
She has had to do so, and it has been a largely negative view, with 51 percent of likely voters holding an unfavorable view of her in the poll, compared to just 12 percent back in March 2009 when she first appeared on the scene.
Pundits will point to the illegal immigrant fiasco and show the decline in support among Latinos, but it is probably more simple than that.  Ms. Whitman spent huge amounts of money and failed to really connect with California voters.
There is also another factor, in the year of the outsider, in that Meg Whitman wants to portray herself as the ultimate outsider, having worked in the business world.  But Jerry Brown, in a recent commercial, played that into a huge negative when he juxtaposed the words that Meg Whitman has used with similar words that Governor Schwarzenegger has used.
The message was clear, Governor Schwarzenegger did not turn things around, in fact, he has been part of the problem.  All politics is local and the voters in California have at least seen that there is no clear solution in simply having someone from outside of politics step in.  In fact, there is a downside as the current Governor has failed to be able to get the stakeholders together to pass a budget on time or one that in reality balances the budget.

Boxer Takes a Strong Lead As Well

In the meantime, everyone has always believed they could knock off Barbara Boxer, but they never seem to do so.  Now, we see her opening up an 8-point lead over Carly Fiorina, in the latest Field Poll.
"With each poll, she gathers just a little bit more support, and she's certainly in the most comfortable position now than she's been in the past six months," said Mark DiCamillo, the poll's director.
Mr. DiCamillo went on to argue that, given California's political breakdown, a Republican like Ms. Fiorina would have to do very well with independents in order to win.  But in this poll, independents are breaking by 49-32 for Barbara Boxer.
Moreover, in a race with two women, Ms. Boxer leads by 15 percentage points over Ms. Fiorina.
"What it says to me is that the women are going home to their partisan loyalties rather than crossing party lines in this race," DiCamillo said.
One of the key ads launched by the Boxer campaign is one in which Boxer hammers her opponent for laying off workers while CEO at Hewlett-Packard. 
The ad hammers Fiorina claiming, "Fiorina shipped jobs to China, and while Californians lost their jobs, Fiorina tripled her salary, bought a million dollar yacht and five corporate jets."
The most devastating portion, in a subsequent ad, was when one of the workers described having to train the new outsourced workers to do the job that they were replacing her on.
The Fiorina campaign countered that tax policies, not companies, were the primary cause of jobs being outsourced. The campaign additionally pointed out that Boxer has accepted thousands of dollars in funding from companies that have outsourced jobs or laid off workers.
Nevertheless, ads like this hit on a true source of anxiety for voters who are angry at Democrats because of the economy but worried about jobs going overseas, since there appears to be a job shortage in this country.
Mostly, I think Republicans just underestimate Barbara Boxer as an effective campaigner, and they really have not come close to knocking her off since her narrow victory in 1992.
AG Race Appears to Be a Crapshoot
The Field Poll will be out this weekend for the AG's race.  Right now the Kamala Harris campaign is trumpeting a Suffolk University poll that shows Kamala Harris with a one-point lead in the race against LA DA Steve Cooley.
This race is a tough call, and if the staff breaks strongly at the top for Brown and Boxer, it could push more perilous campaigns over the top.  Nevertheless at this point, I would say the smart money is on Cooley, generally moderate over his liberal counterpart.
"The public Suffolk polling confirms private polling that shows Harris has the momentum in this race and is significantly cutting into Cooley's lead in the Republican's home county of Los Angeles," said the Harris campaign in a news release.
Cooley spokesperson Kevin Spillane downplayed the significance of the poll, naturally, saying "Suffolk University has a reputation for being among the less reliable polls and doesn't have much history of polling in California. They have historically skewed much more Democratic in their numbers than other public polls. Multiple private polls have Cooley up 8 to 9 points ahead and climbing. The LA Times Poll that came out last weekend had Cooley up 5 points. No other poll has had Harris ahead."
The last Field Poll had Cooley ahead by four points, most polls I have seen have Cooley ahead, and I expect that he will eek out a win.
One interesting note is that apparently the Cooley campaign expects Brown to win.  The SF Chronicle Political Blog points out a fundraising that will take place the day after the election.  In it, it says, "Steve is the only Republican ahead in the polls and the only candidate strong enough to stand up to Jerry Brown and the Democratic establishment during the next four years."
There you have it.  California is not going with the rest of the country this time.  What that will mean for all of us, I do not know.
—David M. Greenwald reporting