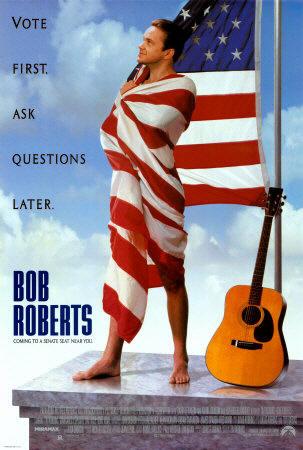 I had an interesting moment this week, after talking with Tom Torlakson and then going over my recording of his speech and interview.  Mr. Torlakson is currently an Assemblymember, and is running to replace Jack O'Connell as the next Secretary of Public Instruction.
He has a calm and quiet confidence, almost optimism, about him.  He was able to speak passionately, yet clearly and rationally.
The problem I fear is that his calm and reasoned voice will be drowned out by the insanity around us.
I flashed briefly the other morning to an exchange from the movie
Bob
Roberts
.  Bob Roberts would be right at home in 2010 America.  In 1990 he was the conservative anti-1960s-generation anti-hero, a right-wing folk singer espousing the planks of the right and fomenting their emotions, demagoguing the platforms of his opponent and liberals.
In the movie, he ran for Senate in Pennsylvania, as he went from media appearances to rallies that were more like folk-rock concerts.  During his debate, the movie perfectly captured him and his opponent. Bob Roberts appeared as the almost-maniacal demagogue, spewing forth hate and anger, while the opponent and incumbent, Senator Paiste, calmly rattled off the liberal agenda from the prior twenty years. That litany rang completely hollow, and was drowned out by the tidal wave of anger and hate.
During the showdown debate, Senator Paiste declined to engage in a smear campaign, declaring that he did not believe in and never would engage in negative campaigning.
Bob Roberts spoke, "Ladies and Gentlemen, why can't you get ahead?  Why can't you have the home of your dreams?  The fast car, a nice vacation?"

Senator Paiste, "Let's tackle the homeless problem.  Let's tackle child care, health care."

Bob Roberts: "Why has your American Dream been relegated to the trash heap of history.  I'll tell you why: because of the wasteful social programs of Brickley Paiste."

Senator Paiste: "Let's put people back to work.  Create jobs, encourage industry.  I can see a brighter future.  But we have to work hard and, dare I say it, sacrifice."

Bob Roberts: "And I remind the public that Brickley Paiste still has not told us how he will vote on the use of force in the Persian Gulf."

Senator Paiste: "We need a strong America, dedicated to issues that matter.  We need to care about people."

Bob Roberts: "Let's cut taxes, let's make it possible for the working man to keep the money that he earns."

Senator Paiste: "Because that is what politics is really about.  Reality, not image."

Bob Roberts: "Vote for me and I will bring the values of the common man to bear in Washington, DC.  I will bring youth and experience and passion.  And belief."
In that exchange, Senator Paiste looked like a man for whom time had passed by and Bob Roberts evoked energy and youth, in the midst of his scaled-down rhetoric.
On Monday Tom Torlakson told the crowd calmly, "I'm asking this question to group after group, why are we here?  Why are you here?  It's because, despite the double-digit unemployment, despite the horrible foreclosures, despite the cutbacks that are gripping and destructive to education, fundamentally aren't we all optimists? We're here because we believe that we can be a force for change, individually linking arms with like-minded citizens, we can turn things around in the right direction."
Later he said, "We owe a lot to teachers.  I'm fed up with the blame game, pointing fingers, blaming teachers, the teachers are the problem," he said.  "Teachers aren't the problem, teachers are the solution."
Compare that, however, with the venom spewed by those such as Christine O'Donnell.  Ms. O'Donnell, you may recall, knocked off former Congressman and Governor Mike Castle, by riding the Tea Party movement.
This is the woman who likened masturbation to adultery.  And reportedly told her opponent, "You know, these are the kind of cheap, underhanded, un-manly tactics that we've come to expect from Obama's favorite Republican, Mike Castle…Mike, this is not a bake-off, get your man-pants on."
But Ms. O'Donnell seems more like the latest version of Sarah Palin – a lightweight, weighed down by her own lack of understanding of complex political issues.
The real voices in the wilderness are those of people like commentator Glenn Beck. 
This morning Dana Milbank, a columnist with the Washington Post wrote, "In August, I wrote that while it's not fair to blame Beck for violence committed by his fans, he would do well to stop encouraging extremists."
Mr. Milbank goes on to call Beck "dangerous," "because his is the one voice in the mass media that validates conspiracy theories held by the unstable."
He continues, "It's not that Beck is directly advocating violence… but he's giving voice and legitimacy to the violent fringe."
It was Mr. Beck's religious rally in front of the Lincoln Memorial at the end of August, in front of an enormous and impassioned crowd, that ought to give you the sense that the more moderate elements in our society may be talking in the proverbial wind tunnel, drowned out by a wave of extremism.
Mr. Beck spent the last year calling Obama a racist with "a deep-seated hatred for white people."  Now he argues that he said this poorly, and that he has come to see Obama as an advocate of "liberation theology," which he said pitted victims against oppressors.
It might be easier to view Mr. Beck as just another voice shouting in the wilderness, were it not for the thousands, if not millions, following his voice.
As I wrote a few weeks ago, I see the Tea Party phenomena largely as another angry white anti-intellectual stream, making use of modern communications technology to move beyond what people like Father Caughlin or Huey Long were able to do in the 1930s.
Richard Hofstadter's "Anti-Intellectualism in American Life" could easily have been written to include the Tea Party movement, as it is simply another anti-immigrant, anti-government, anti-intellectual movement.
Unfortunately, the real problem is how the rest of the country responds.  Brickley Paiste was a distinguished and dignified gentlemen, who failed to see the threat that Bob Roberts represented, before it was too late.
For me, this is not a partisan issue, and the responsible leaders on both sides of the aisle have been slow to act and move against this dangerous and unstable force.
Should we be angry?  Of course we should be angry.  We are suffering through one of the worst economic stretches since the Great Depression.  To some extent it is self-inflicted.
We can argue about the ability of President Obama to deal with the current problems that face this nation.  We can debate about the effectiveness of his policies.  But we also have to understand that most of the problems facing this nation now are problems that faced this nation in September of 2008, at the time of the economic collapse that almost brought down this nation's entire financial system.
Unfortunately, Barack Obama has become a Brickley Paiste.  Failing to recognize the danger that Glenn Beck and the Tea Partiers represent to this nation, until it is too late.  He has not responded to the lunacy – and it is simply that – that he was not born in Hawaii, that somehow his parents had the foresight to forge documents of birth because they knew that a young man of mixed ethnic heritage would become President of the United State. He has not responded to the lunatics who claim he is a Muslim (as though that mattered anyway).
I find it amazing that people are so bent out of shape about a very modest health care initiative, but at least that can be a rational political issue.  The rest of this nonsense is simply nonsense.  But, like the good people during the McCarthy Era of conspiracy theories, few decent people have stepped up to say, "sir, have you no decency?" and "enough is enough."
Democrats are hoping against hope just to hang on.  But they are fooling themselves.  Just as they fooled themselves in 1994.  They have no idea the depth of the anger and suspicion that exists in this nation and that has been unfurled due to two things: bad economic times, and the failure of good people to say "enough."
—David M. Greenwald reporting