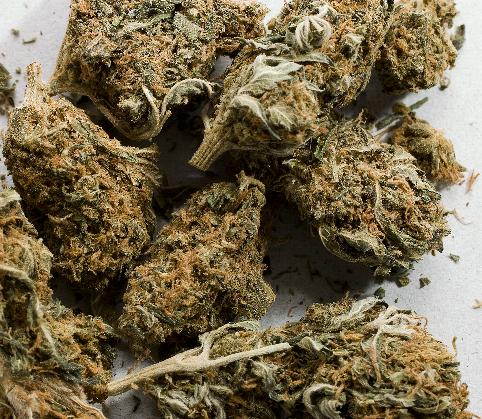 As California debates as to whether to legalize marijuana, Govenor Arnold Schwarzenegger has signed into law SB 1449 that will now reduce possession of an ounce or less of marijuana from a misdemeanor to an infraction, with a maximum punishment of a $100 fine.
Even as a misdemeanor, possession of up to an ounce of pot was still punishable only by a $100 fine and no jail time. But offenders also faced arrest, a possible court appearance and a criminal record.
The Governor argued that this was not about supporting marijuana but rather about saving the state money, at a time when it was cutting back drastically on services.
"I am signing this measure because possession of less than an ounce of marijuana is an infraction in everything but name," said Governor Schwarzenegger. "The only difference is that because it is a misdemeanor, a criminal defendant is entitled to a jury trial and a defense attorney. In this time of drastic budget cuts, prosecutors, defense attorneys, law enforcement and the courts cannot afford to expend limited resources prosecuting a crime that carries the same punishment as a traffic ticket."
The bill authored by Senator Mark Leno was supported by the Judicial Council of California and by the California District Attorneys Association.
"Marijuana possession has a unique status under current law, as it is the only misdemeanor that is not punishable by any jail time," said Senator Leno.
"Serious unintended consequences have surfaced as a result of this mischaracterization," the Senator wrote.  "As the number of misdemeanor marijuana possession arrests have surged in recent years, reaching 61,388 in 2008, the burden placed on the courts by these low-level offenses are just too much to bear at a time when resources are shrinking and caseloads are growing.  Defendants may demand an entire jury trial – including the costs of jury selection, defense, and court time – for a penalty of only $100."
"Keeping this misclassification in the Penal Code lacks common sense, especially in light of the fact that minor marijuana offenses can be completely expunged from the criminal record just two years after conviction," wrote Senator Leno.
"In light of this and the state's current budget crisis, SB 1449 has the potential to save precious few resources by imposing the very same financial penalty, while keeping these low-level offenders out of court," he continued.
"Though classified as a misdemeanor, conviction of marijuana possession subjects a defendant to no greater punishment than that associated with being found guilty of an infraction. SB 1499 will correct this anomalous and wasteful law."
However, the state's major law enforcement and police associations were strongly opposed to it.
Opponents said reducing possession to an infraction would discourage people cited for the offense from seeking state-funded drug treatment, as provided for drug offenders under a ballot measure passed in 2000.
I would point out, however, that most people caught in possession of marijuana are not in need of drug treatment and the state should save its resources for drugs like meth and cocaine.
"Californians increasingly recognize that the war on marijuana is a waste of law enforcement resources," said Dale Gieringer, director of the California chapter of the National Organization for the Reform of Marijuana Laws and co-author of the state's landmark medical marijuana law.
Authorities made more than 61,000 arrests for marijuana-related misdemeanors in 2008, the latest year for which data exists, California Department of Justice records show. Over the prior ten years, such arrests averaged about 48,000 until 2006, when the figure exceeded 50,000 for the first time.
While police groups opposed the change, many police officers have privately told me that, given the maximum fine for marijuana possession, the state lost money prosecuting such cases.
Given existing penalties for possession of marijuana, this seems a commonsense approach.  Now, possession of marijuana in quantities of less than an ounce is effectively decriminalized.  At $100, this is merely an opportunity cost associated with possession, and in reality, unless one is utterly foolish and smoking one's pot in the park, one is probably never going to get caught with marijuana anyway.
While an ounce does not sound like a lot, an ounce of marijuana is a quantity high enough that only dealers would likely possess more than an ounce at any one point in time.
The real focus at this point turns to Proposition 19, which would take marijuana possession to the next step and legalize the possession of up to one ounce of marijuana for personal use, and of cultivating gardens up to 25 square feet.
Recent polls show a possibility that measure may pass.  As we noted last week, all major newspapers have opposed the measure, as has the Republican Party, and even the Democratic Party has taken a neutral position on the measure.
According to the AP yesterday, supporters of the measure have raised $2.4 million, with $1.5 million coming from Oakland medical marijuana entrepreneur Richard Lee.  He argues that legalizing marijuana will boost the state's economy and undermine violent Mexican drug cartels, which profit from the black market pot trade. 
On the other hand, opponents have only raised a little over $200,000, mostly from law enforcement, suggesting either that they do not believe that Prop 19 has a chance to pass or they otherwise do not see it as a priority.
Meanwhile, some retired law enforcement officers have argued that the passage of Proposition 19 will allow police to devote resources to other, more dangerous crimes. 
The Service Employees International Union has taken the stance that the law could help the state raise additional tax revenue to save threatened public programs.
However, the Legislative Analysts' Office questions this.  "The federal government could prosecute individuals for activities that would be permitted under this measure," the LAO wrote in their fiscal analysis of Prop 19.  "To the extent that the federal government continued to enforce its prohibitions on marijuana, it would have the effect of impeding the activities permitted by this measure under state law."
"Thus, the revenue and expenditure impacts of this measure are subject to significant uncertainty," they write.
Where most of the money could be saved would be in the reduction of state, correctional, court and law enforcement costs.
"The measure could result in savings to the state and local governments by reducing the number of marijuana offenders incarcerated in state prisons and county jails, as well as the number placed under county probation or state parole supervision. These savings could reach several tens of millions of dollars annually. The county jail savings would be offset to the extent that jail beds no longer needed for marijuana offenders were used for other criminals who are now being released early because of a lack of jail space," the LAO report reads.
The state district attorneys association and leaders from both parties worry that Prop 19 would lead to an increase in driving while under the influence of marijuana.
Also, the California Chamber of Commerce says the law would make it harder for employers to discipline workers who are high while on the job.
While these may seem to be unlikely occurrences, I think there is a legitimate concern that at this time the proposition is unlikely to generate tax revenue. However, along with the new framework for SB 1449, it ought to reduce greatly many law enforcement costs.
An analysis of 13 polls since May show that the average poll has Prop 19 narrowly ahead, 47.4 to 43.2 opposed, and a low number of undecideds at 9.4%.
On the other hand, a recent Reuters/ Ipsos poll has Prop 19 losing by ten points.
Nate Silver, who runs the FiveThirtyEight.com blog, and is a polling guru, finds evidence of a social phenomenon in the polling.  People are more likely to admit support for the initiative in automated polls than in live-operator polls.
Wrote Mr. Silver in July, "What if voters are more likely to admit their tolerance for marijuana to an automated script, which may create the feeling of greater anonymity? Marijuana usage remains fairly stigmatized in polite society in America, enough so that even liberal politicians like Barbara Boxer, Dianne Feinstein, Jerry Brown and Barack Obama have refused to state their support for legalizing the drug. But, as most Americans between ages 20 and 55 have smoked marijuana, they may not consider it such a big deal in the privacy of their homes — or the privacy of the ballot booth."
On the other hand he argued, "Perhaps this hypothesis is overstated, and drug use does not carry the same stigma in California that it does elsewhere in the country."
Bottom line, Prop 19 is too close to call and I would not be comfortable projecting results until we see actual live vote totals.
—David M. Greenwald reporting