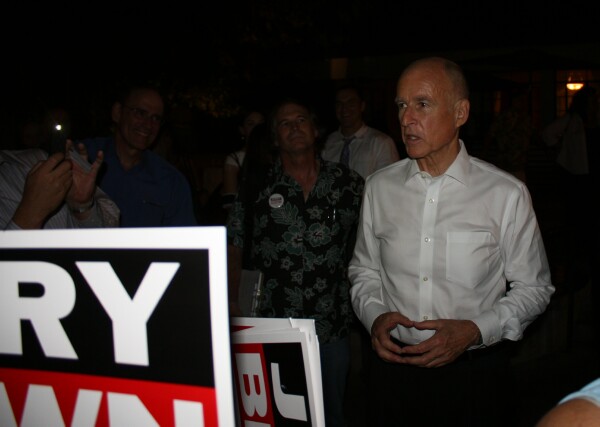 The Associated Press this morning is reporting on the latest Public Policy Institute of California polling on the California's Governor's race.  The PPIC poll, released late yesterday, shows that former Governor Brown now holds an 8-point lead over Meg Whitman,  44 percent to her 36 percent among likely voters.
In addition, they found that Senator Barbara Boxer continues to hold a small lead of five percentage points over her challenger.
Proposition 19 is failing by about five percentage points, 44 percent to 49 percent.  Proposition 23, which would suspend California's landmark greenhouse gas emissions law until the unemployment rate falls to 5.5 percent for a year, has support from just 37 percent of likely voters, with 48 percent opposed. It is funded by out-of-state oil companies.
In general, single polls can be misleading, and it is far more important to look both at trends and at the average results.  The best place to find that is Real Clear Politics.
Real Clear Politics shows five California statewide polls since October 12, and Jerry Brown has an average lead of 4.6 percent in those polls.  It is actually stronger than that, because the only poll that has Whitman with a lead is the Wilson Research poll, which is designated as a Republican polling company.  The other four polls show Brown with at least a four-point lead, and the three released yesterday show Brown up by 5, 7, and 8 points. This includes a five-point lead in the Rasmussen poll, which tends to lean right.
The PPIC poll found that 55% of the voters are dissatisfied with their choice for governor.
"As they view their ballot options on Election Day, voters are united in their unhappiness with elected officials and the direction of government—but divided about the leadership they want to help meet the challenges in their lives," said Mark Baldassare, PPIC president and CEO in a press release on Wednesday.
The PPIC also found that the major parties are viewed unfavorably, and the Tea Party rating is down (we will talk about that this weekend).
The PPIC reports, "Likely voters' discontent with their elected officials is echoed in their discontent over the direction of the state and nation. Solid majorities say California (77%) and the United States (60%) are headed in the wrong direction. The Democratic and Republican parties don't fare well with likely voters either: A majority (56%) say the parties are doing such a poor job that a third major party is needed."
How is the Tea Party movement viewed in California? According their poll, "Likely voters' negative impressions have increased in the last year, with 35 percent viewing it favorably and 47 percent viewing it unfavorably today. The unfavorable rating has increased 10 points since March."
However, the Republican Party is viewed the most unfavorably.  It has a higher unfavorable rating (62%) than either the Tea Party (47%) or Democratic Party (51%).
The question for today is where the Governor's race is heading, and at this point it looks like it is Jerry Brown's to lose.
In 1994, Michael Huffington parlayed what was then a record $30 million and a strong anti-Democratic mood into a near upset of Senator Dianne Feinstein.  However, since then, money has been far less effective at buying elections.  In part, the voters have become more sophisticated about political ads. 
But the other part is that candidates who spend large amounts of money generally do so because they are covering up for lack of name recognition and lack of public record.
Earlier this week, the Milken Institute, an independent think-tank, sponsored a panel to discuss the race (you can view the video here ).
The consensus on the governor's race was that while it was not too late for Whitman to turn it around, the speakers believe Brown is on track to win.
Some of the problems that the panelists cited have to do with the poor ad campaign that Meg Whitman has put on.
Four main points were raised that we will discuss briefly.  First, Bill Carrick of Carrick Consulting said Whitman lacked an overarching narrative.  That may be true, but it is tough to evaluate because she has simply put on so many ads.  Part of that narrative is that Jerry Brown is too experienced, that he is a career politician.  Now that narrative in many places may resonate, but the problem is that we already have a governor without political background and most people at this point do not view the current governor as having been a solution to the problems.
Second, USC's Susan Estrich said Whitman's ads were "cold" and failed to show her connecting with people.  That point is also difficult to evaluate.  Certainly, attack ads have worked in the past.  And, moreover, most of the public is not all that tuned into this election.
Third, she alienated voters by campaigning far too long and spending too much, Edelman's Steve Schmidt said.  I think that is partly true.  Some voters are turned off by that.  But it is far from clear that there is a backlash brewing. It's a close race right now that is paralleling partisan divisions, if not slightly closer.
Finally, Don Sipple of Sipple:Strategic Communications said Whitman's fatal flaw may be timing: Like Gov. Schwarzenegger, she has no political background, and voters in this atmosphere won't "replace Schwarzenegger with another Schwarzenegger."  This point makes the most sense to me.  As I mentioned earlier, this would be the year of the outsider, except the current governor was an outsider who was not particularly successful.
I have my own theory.  Even in a Republican year, the state is leaning Democrat.  Jerry Brown has been around for forty years, he is not the most popular guy in the world, but most people think he is generally competent.  They do not know if Meg Whitman is.  They do not know much about her. But basically people are uninspired by the choices and the voters seem to be breaking with their proclivities.  That would point to about a ten-point win for Brown, give or take.
I do think that Gov. Schwarzenegger hurts Meg Whitman's chances because I think people see that it does take experience to govern.  That is why I think term limits hurt us. 
I do not think we are going to fix the state's problems until we get rid of term limits, have competitive districts for elections and get rid of the two-thirds requirement.  But I do not see any of these things happening in the near future, so I suspect California will boom or bust with the economy, and have problems when the economy is down.
—David M. Greenwald reporting