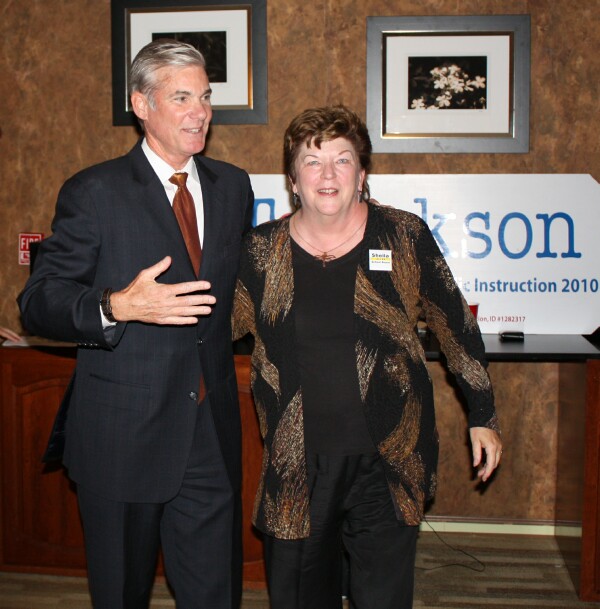 Assemblymember Tom Torlakson, candidate for the State Superintendent of Public Instruction told a good-sized crowd at the Palm Court Hotel on Monday night in Davis that he is a teacher and therefore fundamentally an optimist, despite the challenging fiscal and economic times.
"I'm asking this question to group after group, why are we here?  Why are you here?  It's because, despite the double-digit unemployment, despite the horrible foreclosures, despite the cutbacks that are gripping and destructive to education, fundamentally aren't we all optimists? We're here because we believe that we can be a force for change, individually linking arms with like-minded citizens, we can turn things around in the right direction."
Assemblymember Torlakson also told the crowd that he is tired of the blame game, putting the problems on the backs of teachers. 
"We owe a lot to teachers.  I'm fed up with the blame game, pointing fingers, blaming teachers, the teachers are the problem," he said.  "Teachers aren't the problem, teachers are the solution."
He said that the level of cutbacks is more severe to schools than during the Great Depression.  "We're not there, this is a state of great wealth and capacity, but somehow we've lost focus and lost priorities, we haven't had the leadership in the Governor's Office to bring about a sense of priorities for us to have the education system that we need."
He also said that around the state he has heard about more concern and readiness to be involved in the business community.  "I am also seeing business come to the table, worried and ready to commit some resources to help.  We just need to guide them in that direction."
Tom Torlakson also spoke of the need to invest in Green School, through a bond measure that can save schools millions.  "I have a plan to get hundreds of millions of dollars in solar, in plugging up the energy leaks, redoing the h-vac system, and getting that solar out there.  I've seen school districts across the state that are investing.  And those hundreds of millions of dollars of new energy generation will save money, to go into the classrooms."
Assemblymember Torlakson told the crowd that while we have focused much of our assessment on math and reading, we have lost sight of the importance of other subjects.  He spoke of the need to insure the inclusion and prominence of art, drama, and music.
The Vanguard spoke briefly with Assemblymember Torlakson following his talk on Monday night.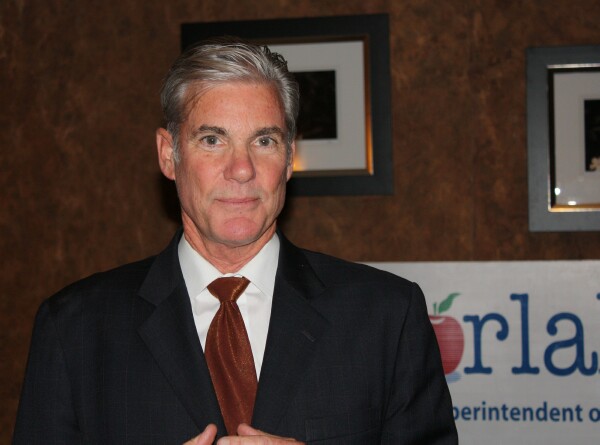 Assemblymember Torlakson told the Vanguard that we have a huge challenge to educate the public about the "dire straits our schools are in." 
"They've lost one-third of their funding in the last three budget years.  We have to fight these cuts in Sacramento and the public needs to know the devastating effects that have occurred," he continued.
"Classes that were 22 are now 35 students – way too crowded," the Assemblymember said.  "The computers that we need aren't there.  The text books that we need aren't there.  The school year has been shortened."
"So many bad things have happened in the schools.  The public needs to be aware of this and tell their legislators, armed with facts, to stop the cutting.  Tell the Governor to stop the cutting," he continued.
He also spoke of the importance of preschool.  "Preschool is incredibly important to a young person's development as a person.  Brain development is critically important."
"Just the socialization, getting going, starting to learn, stimulating at a time when the brain is thirsty for knowledge,"  he said.  "For three- and four-year-olds, having preschool is critically important to giving those students a successful start in school."
"If you combine three- and four-year-olds in preschool with wrap-around quality childcare, during the day so they have a full day while their parents are working, and then you have a full day of Kindergarten it will fight the drop-out rate incredibly and increase the graduation rate incredibly."
He continued, "It will help close the achievement gap we are seeing where so many young people get off track early."
The big problem facing the school is, of course, the budget.  If elected, Assemblymember Torlakson said he will push for a greater prioritization of education in the state budget and developing a plan that the public can buy into and support.
"As I go across California," he said, "I see the public wants more career education.  They want young people to be prepared for the workforce."
By helping those students not headed for college, he believes it will stimulate more young people and encourage them not to drop out of school.
The Assemblymember, himself a former teacher, also expressed a deep love for teaching and seeing students learn.
"It's really magnificent when you see a young person excited in their learning and discovering in themselves talent and aspirations towards a dream and a place they would like to go," he told the Vanguard.
"I want to see school be fun again, where we have art and music and drama and some kids will find their way in those career fields and discovering their inner talents there," he continued.  "I want to see schools having career education choices."
"But overall why I want these things for our schools is because it will get kids excited about learning and discovering their inner talents."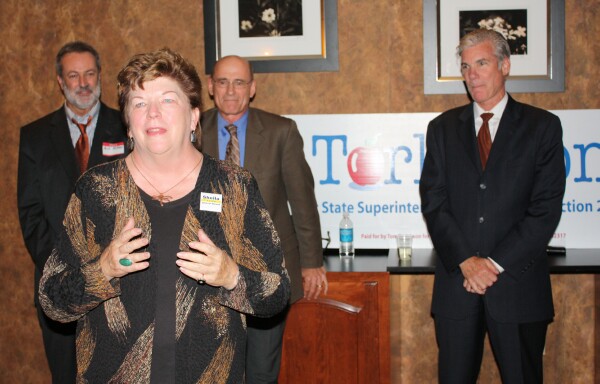 Delaine Eastin, served as State Superintendent of Public Instruction from 1995 until 2003.  She is still the only woman to have held this position.
She introduced Assemblymember Torlakson with some remarks of her own.  She told the crowd, "I happen to believe after the Governor's race, the most important race among our statewide constitutional officers is the race for Superintendent for Public Instruction."
She talked about the fact that he was an office holder both in the Contra Costa Board of Supervisors and later in the legislature, "But he was also a teacher."
"When I look at the future of the Republic, I have to tell you I worry," she told the assembled group.  "I have never been more frightened for the fate of this state and this nation than I am tonight because of our real weak-kneed approach to public education."
"Somebody has to be in the office of public instruction of education who not only sees and loves the growth and development of children as well as their education.  But someone who has a brass backbone and will stand up for the kids when the going gets rough," she continued.
She related the need for budget priorities to a story she told of her family when she went to UC Davis in the 1960s.
"We have been going through a time when people are saying kids get the biggest share of the state budget and they'll have to suffer cuts along with everyone else," said the former Superintendent of Public Instruction.
"I just want to tell you that isn't the way I was raised," Ms. Eastin said.  "I went to UC Davis in 1965 out of a machinist household.  My mother and father wanted a new car, they had a '55 Studebaker that was really quite a beater, it had driven across country a few times and they weren't making Studebakers anymore for a few years, and my father was afraid they wouldn't get parts for it."
She continued, "They also had a need for a new couch because my brother and I had practiced our gymnastics on the old couch, my mother really wanted that.  And they wanted to go to the family reunion in Kentucky and they wanted to send their daughter to Davis.  This is where family values come in.  They didn't buy a new car.  They didn't buy a new couch.  They didn't go to Kentucky.  They sent their daughter to Davis."
Very passionately, she looked straight at the audience and said, "I have to tell you that this state has got to get clear and it's got to get clear really fast.  We cannot simply say that we haven't got as much money so we're just going to cut everything a little bit.  Because that is not what you do in your household."
For Assemblymember Torlakson one of the problems is the misplaced promise of Proposition 98.
"The focus has been lost for some time since Prop 13, Sacramento is in control and in charge of budgets and the amount of funding has gone down overall.  Prop 98 was supposed to be the salvation or at least an ample source of dollars to fund education, but it was supposed to be the floor not a ceiling, and now it's a ceiling, a cap," he told the audience.
"I believe we need to go to the ballot in 2012 and reform Prop 98 and this rollercoaster of uncertainty, the money that the state owes the schools that it's not paying back," he said. 
"When I came to Sacramento as an upset and angry county supervisor, because the state kept ripping off our property tax, we worked hard to pass Proposition 1A.  I was the author of 1A, to protect cities and counties… from property tax raids," he continued. 
"But you know today… cities and counties have a higher priority in the state budget than schools.  Because they can only borrow three times per decade and have to pay back in three years with interest money that's borrowed in an emergency.  With schools, money keeps going to the state they can get pay back pushed out into the future, so the state owes schools $12 billion now."
Mr. Torlakson also wants to make it easier for communities to raise local funding by pushing to lower the requirement to 55% to raise money through a local parcel tax.
Delaine Eastin closed the talk by reminding the public of the importance of voting in this election and making sure the public knows about this particular race.  She pointed out it is at the bottom of the ballot and that in the primary there was a one-million vote drop-off from Governor to State Superintendent of Public Instruction.
Mr. Torlakson will face former Superintendent Larry Aceves in November.  The office is a non-partisan office.
—David M. Greenwald reporting