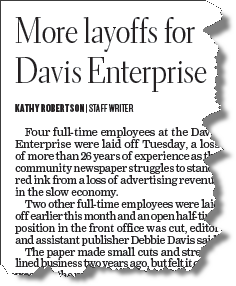 I inadvertently got into a debate over the difference between reporter and blogger with one of the reporters from the Davis Enterprise.  As it turns out, there was a sore spot left over from last week's story on the Enterprise newsroom cuts and the inexplicable blame that was placed on Bob Dunning.
It appeared the blame was placed there by Editor Debbie Davis.  The crux of the story was run in the Sacramento Business Journal, which appeared to have interviewed the Davis Enterprise publisher.  The key statement was, "The cuts also follow loss of an advertising contract with Hanlees Toyota, and fall-out from a column written by Bob Dunning. Classified advertising is down, too, due to the sluggish economy."
Not my words.  But apparently I am to blame for repeating them.
The reporter told me in a Facebook conversation, "Not a single person blamed Bob for the layoffs, David. Not one. From some unfortunate phrasing in a graph.or so, by the reporter from the Business Journal, who did call, and an apparent leap of imagination, you ended up with an editor using a longtime columnist and friend as a scapegoat for a painful decision."
I'm sure I'm not supposed to be quoting from a Facebook conversation either, although Bob Dunning certainly would, so I would consider it fair game.
My fault though?  What about the traditional journalist who had the "leap of imagination?"
In fact, I did contact Mr. Dunning and Ms. Davis.  Mr. Dunning responded as he always does – to his credit.  Ms. Davis didn't respond.
The crux of my story, of course, was to show that it was illogical that Hanlees would pull their ad based on a Dunning column, but apparently that does not matter.  As I wrote, "I simply see no plausible explanation that Dunning's column led to Hanlees' pulling their advertising."
What is really the objection here?  That I repeated a mistake from an actual reporter – if it was a mistake?  I'm sorry I just do not get it.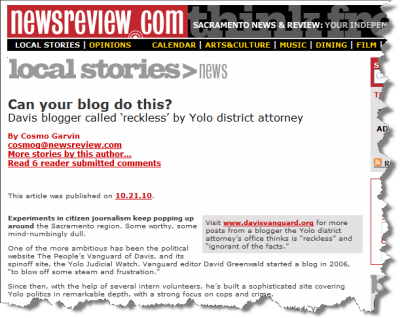 But this gets me to my main point.  If this bothers you, why not talk to me?  Why not post a response?  Why not email to correct the record?  Instead I get a whole bunch of silence.
I am sorry, but you cannot have it both ways – you cannot not to talk to me and then complain when I get a story wrong.
I have the same problem with the DA's Office.  The DA's Office will not talk to me.  You can say, hey, I criticize them.  Great, they are a public agency, they are going to get criticized.
I criticize the City of Davis, guess what, they talk to me.  I criticize UC Davis – they always make sure they get a quote in response.  I criticize every public entity in this county, and they all talk to me, except the Yolo County DA's Office.
I ran a story on grants and the DA's Office.  The story was entitled, "Vanguard Investigation Finds Evidence of Exaggerated Crime Figures in DA Grant Applications."
The DA's Office is pissed off at me.  They wrote to other media entities calling the allegations "libelous," according to Jonathan Raven.  He told Cosmo Garvin of the News and Review, that our article was "at the very least, a reckless disregard for the truth and even malicious conduct."
However, at the same time, the Yolo DA never once offered to sit down with me and show me the error of my ways.  Never once did anyone from that office respond to an email request for information or a comment.
As Mr. Garvin wrote, "After he published, the agency chose not to respond to the Vanguard or to Greenwald directly, but instead sent a strongly worded statement to local mainstream media outlets claiming "his allegations are all false.""
Mr. Garvin continued, "In fact, the district attorney's statement uses 'false' in all caps and bold six times as it dissects Greenwald's article. To take one example, the DA says that Greenwald conflated Yolo County arrest statistics with those of the Yolo Narcotic Enforcement Team, a multijurisdictional drug enforcement agency. "The blogger was most likely ignorant of these facts," the statement explains."
We are working on a follow-up and a response to the DA's two-page release sent to all media entities except for the Vanguard.  We believe that most of the corrections by the DA were wrong and missed the point.  We stand by most of the story.  In fact, we have bolstered the story with additional evidence.
That is aside from the point.  If you want to complain about our coverage, fine, talk to us.  Go on the record.  Respond to requests for information.  Because if you do not, then you have no right to complain. 
I had a long conversation with Chief Deputy DA Jonathan Raven back in February or so, when we first launched the judicial watch project.  He was concerned that our reporting would be biased, and said they would wait to see how we covered things before choosing whether or not they would respond.
That is the wrong approach.  In fact, it becomes self-defeating.  If I cannot weigh in on the DA's position on something, it makes it more difficult to accurately represent the position.
At the end of the day, I may agree with the DA's Office or disagree, but at least they'll have had their say.  Now, they are trying to have it both ways.  They are refusing to communicate with the Vanguard, and then complaining about our coverage.
If you want to complain, fine, talk to us, maybe we'll agree with you.  But you won't know unless you try.  The alternative is that you are going to have to spend a lot of extra time refuting allegations that arise – because we are not going away, we are going to continue to monitor public agencies and tell people what is going on in their county and their community.
Sometimes reality is unpleasant.  Sometimes we also make mistakes and we would like to correct those mistakes, but that requires cooperation and communication.  Without that we are left to respond to second-hand information, after the fact.  There is a better way to do things, but the ball is now in their court.
In any case, I have never claimed to or aspired to do traditional reporting.  I do not have a problem with reporters, I read newspapers all of the time.  I find the format to be a bit limiting, personally.  My goal is to report the news, but also go beneath the headlines and the spin that one gets from self-serving quotes from official stories.
Neither Jonathan Raven nor Debbie Davis are going to tell me the "truth" regarding what happened in their respective organizations, instead they will give their perspective and their take.  That's fine, it's in fact valuable and I wish they would do that.  But it also only goes so far.
We need to look beneath that rhetoric.  As I argued a few years ago, sometimes fair and balanced is actually less accurate.  Most newspapers attempt to achieve balance through a balancing of quotes.  They get one side, then the other.  People accuse them of bias when they disagree with the newspaper, but the truth is, reality can be biased.  The truth may well be somewhere in the middle of two opposing viewpoints, but it is by no means certain that it is directly in the middle as opposing to leaning toward one side or the other.
In the end, we are what we are.  People who want to read traditional news coverage will go to traditional news services.  Those interested in a different perspective and coverage of things that are not being covered elsewhere go here.  The steady growth in this site in both popularity, readership, and influence is a testimony to the fact that something is missing elsewhere.  I don't disparage the job that most reporters do, and I understand it is a labor of love that pays little.  I may disagree with them, but that's what makes this a great country.
—David M. Greenwald reporting