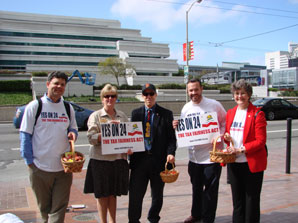 Davis has often lamented the fact that Dixon, rather than Davis, got Genetech's expansion.  In 2008, Genentech, a company based in South Francisco, decided to put a 140,000 square foot research facility in close proximity to UC Davis.  But instead of building it in Davis, they built it in Dixon.
At the time, the facility was expected to house 120 employees starting in 2010 and expand to 160 employees in 2016.  This was before the collapse of the economy in September 2008, and the plans have since been dropped (perhaps demonstrating the problematic nature of any investment by a large company).
But at the time it was a sore spot for many who advocated using existing business park land, such as that at Cannery Park, to house such future business endeavors.
"Davis has dropped the ball when it comes to economic development and high-tech industry," Councilmember Sue Greenwald told the Enterprise back in 2009. "Dixon has the new Genentech research facility, Woodland's developing an incubator business and Davis is turning its only industrially zoned land into housing."
This should be read as a cautionary note, rather than a criticism of local public officials attempting to bring in new high tech business.  However, we need to recognize that there is a downside to companies like Genentech. 
One of the big problems facing California is a lack of revenue at the state level and a lack of fairness in the corporate tax structure.  During the last two budget sessions in 2008 and 2009, in order to get a balanced budget, the Republican minority was able to exact corporate tax loopholes that allowed businesses to lower their state tax liability.
Proposition 24 would have repealed those tax loopholes.  Proponents called it the "Tax Fairness Act" that would have repealed corporate tax breaks while opponents called it the "Jobs Tax" that would cost businesses billions of dollars.
Explains the San Francisco Chronicle Politics Blog, "The tax break in question is the single sales factor. Prior to the change, the state determined income tax owed by businesses based on three factors — the value of a businesses' properties in the state, the payroll in California and the amount of sales done here.
"Under the single sales factor approved by lawmakers, businesses can base that calculation solely on the portion of their national sales that take place in California. That change will save businesses more than $650 million per year by 2012, according to the Legislative Analyst's Office."
They continue, "Put another way, that means passing Prop. 24 would have kept more than $650 million in the state's general fund from the eliminating of the single sales factor alone. Along with the other tax breaks targeted by Prop. 24, that number would have risen to $1.3 billion, according to the legislative analyst."
Who was one of the single largest opponents of the measure which was rejected by 58% of voters?  Genentech.  Genentech spent over $1.6 million to defeat the measure.
They argued that losing the tax breaks would cause job losses in California.
The voters bought into the argument, but the punch line came this week.
Genentech just announced that they will have their cake and eat it at the same time, because they got Proposition 24 defeated and still announced that they are laying off more than 800 workers in California – the bulk of them at the South San Francisco facility but many in Vacaville as well.
Robin Snyder, spokesperson for Genentech, sent out a blast saying, "The job reductions announced this week come in response to a challenging business environment for the biopharmaceutical industry, combined with recent setbacks in the late-stage pipeline. We continue to hire and to make significant research investments in California that we hope will lead to breakthrough treatments for cancer and other serious diseases."
She continues, "We believe the enactment of smart tax policy by the state legislature and the rejection of Prop. 24 by the state's voters will help ensure expansion and growth for Genentech in California in the years to come."
Indeed.
Jean Ross of the California Budget Project is not buying it.  She is calling it "payoffs for layoffs," after a Massachusetts lawmakers' term, in which Raytheon, a backer of their tax policy, announced major job reductions in the state.
She writes, The firm is presumably one of the handful  of companies that will enjoy tax cuts in the tens of millions of dollars each year from Proposition 24's defeat."
She continues, "Company officials no doubt knew of the potential layoffs when they stumped the state arguing against Proposition 24­, implying that rejection of the measure would keep jobs in California. As it turns out, California may face the worst of both worlds: loss of jobs and loss of over a billion dollars a year in tax revenues that could have gone to support schools, health care, and other public structures essential to the state's future."
The punch line is that Genentech can advocate for the tax loopholes AND cut jobs.  We have bought into the argument that somehow these measures will save jobs, but there is little evidence of that in practice.  Genentech was actually following the same mode of operations in California as Raytheon was in Massachusets.
Part of the problem is that we give away the store, with no assurances from business that they will keep jobs and expand jobs in the state. 
Writes Jean Ross, "As the law now stands, Genentech can qualify for the tax break and eliminate the jobs of ­California workers because the lawmakers who drafted the state's law gave large and extraordinarily profitable corporations a "no strings attached" tax break: firms are not required to add jobs in California or even maintain current employment to qualify for a substantial reduction in their tax bill to the state."
She continues, "Genentech's announcement offers an important lesson for those who support corporate tax breaks in the name of jobs."
Indeed, and the entire tale is cautionary for Davis as it rightly embarks on attracting high tech business.  Had we gotten the Genentech deal we would have a big empty facility right now.  And we would have brought in a business that was antagonistic, just as Target is, to Davis' community values.
If we are going to do this with full support, we have to choose wisely and act cautiously.
And our lawmakers need to grow some backbones and stop giving away the store to businesses, under the guise of saving jobs.  Very few businesses would benefit from the tax break, but we now we are going to have to cut additional money from schools and other needy programs, while Genentech is not expanding their operations but laying off additional workers.
—David M. Greenwald reporting