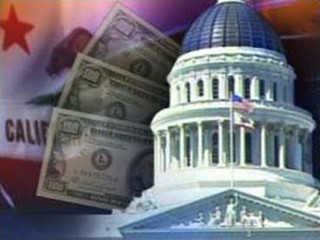 We already knew it was going to be a problem because the last budget passed was largely smoke and mirrors covering up a deficit as high as ten billion dollars.  But now we know it is much worse than that.
According to the Legislative Analyst's Office, a non-partisan agency that scrutinizes the state budget, "Our forecast of California's General Fund revenues and expenditures shows that the state must address a budget problem of $25.4 billion between now and the time the Legislature enacts a 2011-12 state budget plan."
Why does California face such a huge budget shortfall?  In part, it is because tax rates are slated to drop, the federal government's stimulus money runs out and last month's budget was full of holes.  While the economy improved slightly, it was not enough to generate sufficient revenues to overcome  budget problems.
The report states, "The budget problem consists of a $6 billion projected deficit for 2010-11 and a $19 billion gap between projected revenues and spending in 2011-12. Similar to our forecast of one year ago, we project annual budget problems of about $20 billion each year through 2015-16."
"We continue to recommend that the Legislature initiate a multiyear approach to solving California's recurring structural budget deficit," the report reads. "In 2011-12, such an approach might involve $10 billion of permanent revenue and expenditure actions and $15 billion of temporary budget solutions. In 2012-13, 2013-14, and 2014-15, another few billion of permanent actions each year could be initiated, along with other temporary budget solutions, and so on until the structural deficit was eliminated."
On top of that, solutions that were used previously are not longer available to state lawmakers.  "I think it's going to be much, much more difficult than last year," said Legislative Analyst Mac Taylor said at a news conference yesterday.
"Clearly, they adopted some solutions that I think they knew – and most people knew – were risky.  I don't think people are shocked that we are going to end the year with a deficit. I think people may be surprised a little bit about the magnitude of the total number," Mr. Taylor continued.
Incoming Governor Jerry Brown knew that this was going to be a challenge.  He has already vowed not to raise taxes without voter approval.
"The governor-elect is acutely aware of the challenges our state faces and met with Department of Finance officials last week to start work on a budget that will require a great deal of sacrifice," Brown spokesman Evan Westrup told the press on Wednesday.
One tool that the Governor will have at his disposal is that the legislature, so long as they do not raise revenues, can approve the budget with a majority vote.
But already he will be challenged.
The current deficit projection assumes receipt of the constitutional minimum in the next fiscal year – which is $2 billion less than this year.
According to the LAO report however, "additional savings from Proposition 98 will be very difficult."
They argue, "Because the Proposition 98 minimum school funding guarantee is affected by this drop, our budget forecast already reflects a $2 billion fall in the minimum guarantee between 2010–11 and 2011–12."
The report continues, "This reduction would come at the same time that school districts exhaust the billions of dollars of one–time federal money they have received through the stimulus program and other legislation."
Here is the kicker, they will have to cut billions to schools without having it impact the current budget deficit.  Writes the LAO, "For these reasons, it may be very difficult to achieve substantial additional budget reductions in Proposition 98 in 2011–12, compared to the levels already reflected in our forecast."
They summarize, "In other words, if the Legislature funds schools at our projected minimum guarantee in 2011–12, it would mean billions of dollars in programmatic cuts to education but not contribute a single dollar to closing the $25 billion budget problem."
On Monday we said education was in a state of emergency.  It is so much worse than that now.
Already DJUSD was looking at a $3.5 to $7 million deficit, but that was before the projected deficit for the state doubled.
Already, UC was talking about another 8 percent fee hike.
Already, CSU is discussing another 15 percent fee hike.
Now what?
"The state faces a basic choice: begin to address today's huge, frustrating budget problems now . . . or defer the state's budgetary and policy problems to future Californians," the LAO argues.
However, the problem has been the patchwork of temporary fixes hoping to punt the ball down the field in hopes that either it becomes someone else's mess or the economy will rebound and fix itself.
Writes the LAO, "The Legislature and the new Governor will be tempted in the next few years to continue patching over the budget problems with temporary fixes. Unless plans are put in place to begin tackling the ongoing budget problem, it will continue to be difficult for the state to address fundamental public sector goals—such as rebuilding aging infrastructure, addressing massive retirement liabilities, maintaining service levels of high–priority government programs, and improving the state's tax system."
According to the LAO, now is the time to fix the budget problems, "One major reason to stop passing the state's problems to future Californians is that the state's long–term fiscal liabilities—for infrastructure, retirement, and budgetary borrowing—are already huge."
The problem is these delays increase costs.  Writes the LAO, "The costs of paying down these liabilities already are reflected, to some extent, in the state's recurring deficits, but these costs will only grow in the future. By deferring hard decisions on how to finance routine annual budgets of state programs to future years, the state risks increasing further the already immense fiscal challenges facing tomorrow's Californians."
One solution that the LAO recommends is a multiyear approach to the budget.  "We continue to recommend that the Legislature initiate a multiyear approach to solving California's recurring structural budget deficit," they write.
"The solutions needed to balance the budget will mean unavoidably painful sacrifice by today's Californians. The benefit of this sacrifice would be putting the state on a sound fiscal footing. That sound footing may allow future Californians to live in a place where the annual state budget process is a chance to improve government's ability to serve its residents," the LAO concludes in its summary.
For local government and Californians, this is a crisis that will not end.
—David M. Greenwald reporting